Russia and China agreed to cooperate in coordinating propaganda. TEXTY discovered evidence in leaked correspondence
The Intercept news outlet, which specializes in investigations, discovered evidence of cooperation between Russia and China in the field of propaganda. Leaked correspondence from the Russian State Television and Radio Company (VGTRK) reveals that government officials and media executives from Russia and China discussed the exchange of news and social content as early as 2021. TEXTY publishes the main excerpts of the investigation. These documents are also available in the Aleph database that provides access to leaked correspondence of Russian officials.
Within the first few days after Russia's full-scale invasion of Ukraine, Chinese officials and media outlets picked up the lies spread by Russia about "American biolabs" in Ukraine. The Chinese Communist Party tabloid Global Times produced two splashy spreads: one partially credited to Sputnik News and another featuring a quote from Russian President Vladimir Putin. In both cases, they loudly proclaimed: "What is the US hiding in the biolabs discovered in Ukraine?". Since the war broke out in February, experts have been struck by the similarity of narratives in Russian and Chinese media. Documents found in hacked emails from Russian state broadcaster VGTRK show that China and Russia have pledged to join forces in media content by signing cooperation agreements at the ministerial level.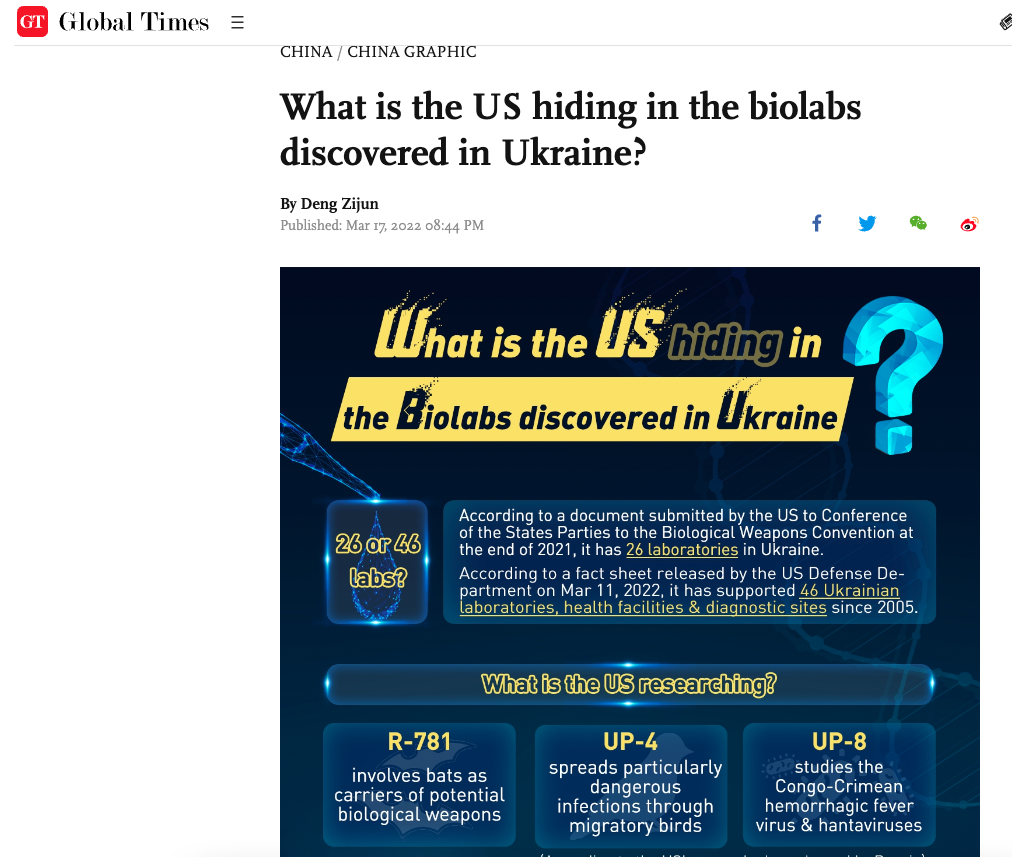 A bilateral agreement signed in July 2021 makes it clear that cooperation on news coverage and narratives is a big goal for both governments. At a virtual summit that month, leading Russian and Chinese government and media officials discussed dozens of news products and joint ventures, including exchange of the news content, trade of the digital media strategies and joint production of television shows. The effort was led by Russia's Ministry of Digital Development, Communication and Mass Media and China's National Radio and Television Administration.
In the propaganda agreement, the parties pledged to "continue cooperation in the field of information exchange, promoting objective, comprehensive and accurate coverage of the most important world events." They also detailed plans for online and social media cooperation, a space which both countries have used to spread disinformation, pledging to strengthen "mutually beneficial cooperation on such issues as integration, the application of new technologies and industrial regulation."
The Russian state broadcaster's email system was hacked at the beginning of 2022, when after the Russian invasion hackers targeted more than 50 Russian companies and government institutions. [In summer 2022, TEXTY uploaded many of these leaks to our own server and converted them into a user-friendly software for searching - read more about this here].
The signatories to the 2021 Agreement include major state media outlets, as well as online media and private business companies. Among those who have signed up were Chinese telecommunications giant Huawei, which has a streaming service; Migu Video, a gaming company under the state-owned China Mobile; and SPB TV, a Swiss-headquartered streaming service owned by a Russian national.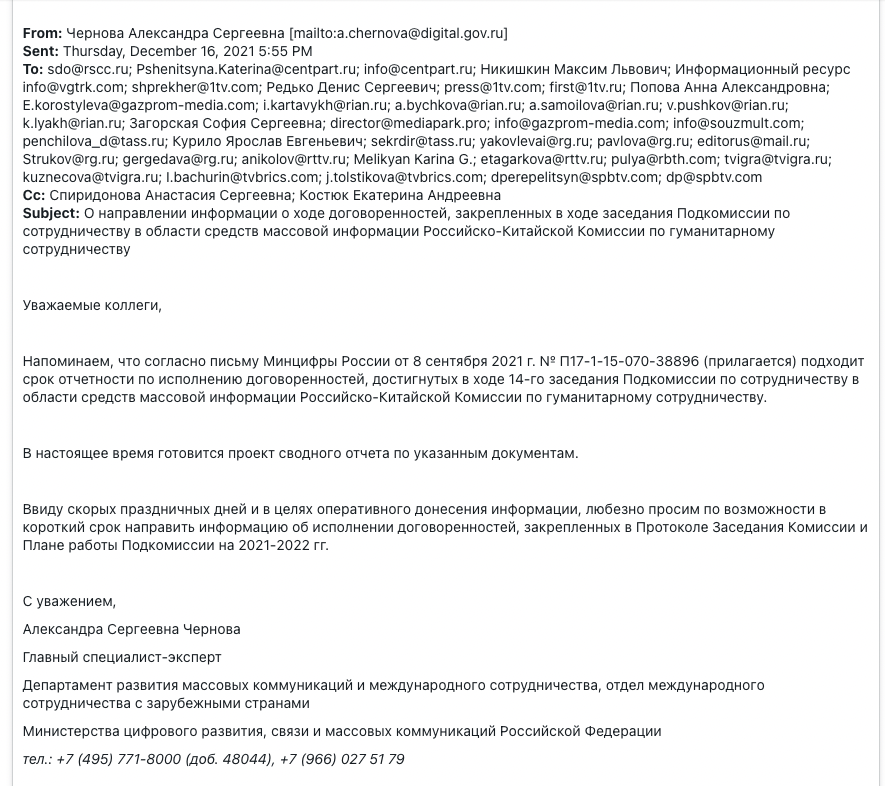 The agreement lists 64 joint media projects that have been either already launched or under development. Some of them are light-hearted. In early 2021, CCTV and Riki Group released a cartoon called "Panda and Krash" about a panda and a rabbit in a toy shop racing towards adventure with a robot and an elephant in tow.
Other projects were more substantial. State news agencies TASS and Xinhua pledged to share materials, while other state media outlets agreed to publish supplements promoting the other country.
Monitoring of Chinese and Russian news suggests that the two countries have been holding annual meetings on media cooperation since 2008. The partnership appears to be largely aimed at domestic audiences. But both China and Russia have significantly expanded their overseas media presence over the past decade, and the agreement names channels with a large international presence, including BRICS TV, RT and Sputnik (all headquartered in Moscow), as well as state-owned Chinese outlets China Daily, Global Times and CGTN.
Sources say that such agreements are made partly for show and that China has the upper hand in this partnership. "The Chinese control all the big projects," said a Russian source with knowledge of the meetings, who declined to be named because of possible repercussions from their employer.
Some of the products discussed are mainly of interest to China. TASS agreed to run an interview with China's leaders Xi Jinping and Li Keqiang and to organise events commemorating the 100th anniversary of the Communist Party of China, which are unlikely to be of interest to the Russian audience.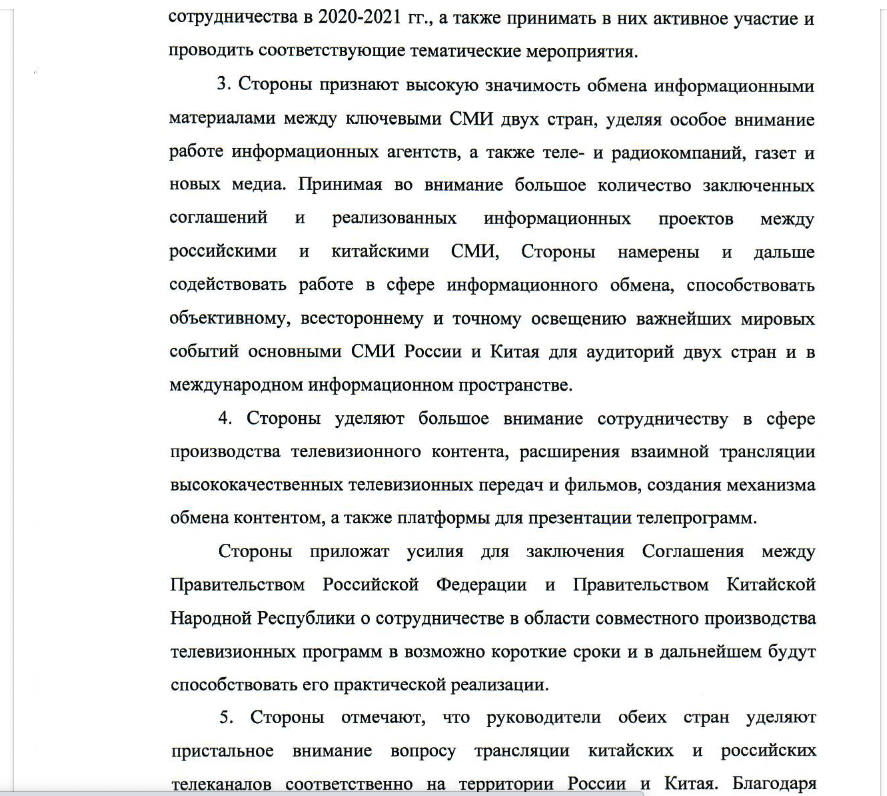 Russian state media, including the state newspaper Rossiyskaya Gazeta, were previously reported to publish more than 100 articles a month sourced from China Media Group, a state media conglomerate whose media coverage is mentioned several times in the agreement.
A month after the agreement was signed in 2021, a journalist from China Media Group wrote to VGTRK's general email address proposing a partnership. "We can conduct relevant interviews or reports according to your needs," the journalist wrote in English in one of the hacked documents. "At the same time, we can also modify your content accordingly and distribute it throughout China."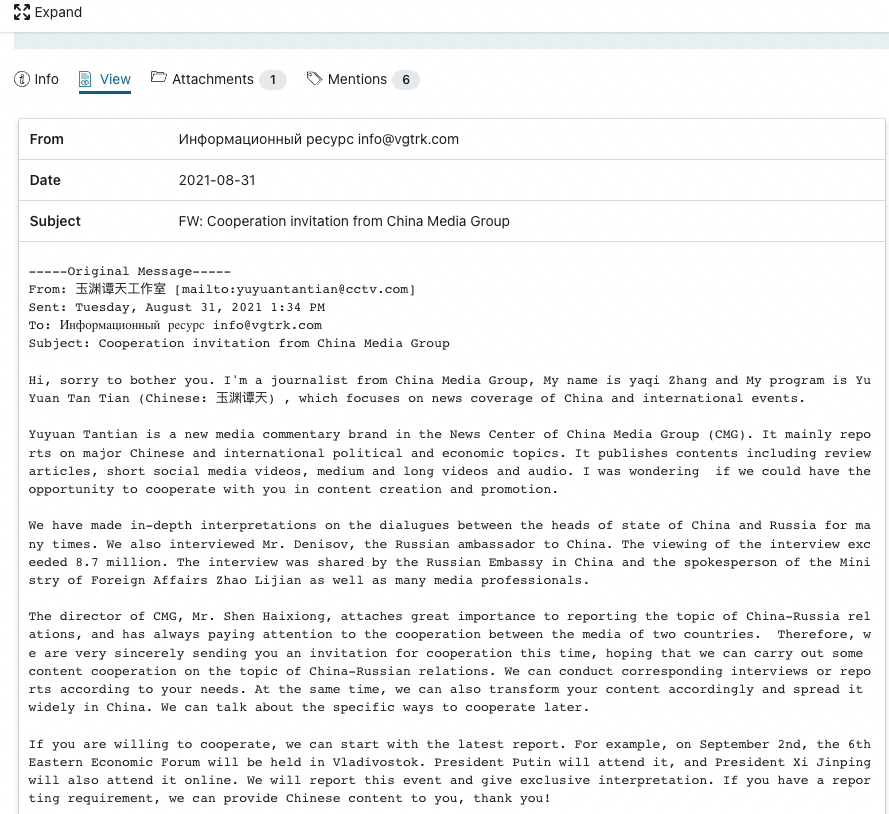 Hacked emails show that some journalists working for Russian state media helped spread Chinese narratives. In March 2021, Aleksandr Balitskiy, Beijing bureau chief for RTR, VGTRK's international service, sent a script for an upcoming segment about how people in China are boycotting foreign brands that have taken a stance on forced labour in Xinjiang.
Hacked emails end as of spring 2022. But over the past few months, the Russian government has repeatedly brought the biolab conspiracy theory to the UN Security Council, asking it to set up a commission to investigate this issue. The Chinese press amplified Russia's efforts.
"This may have happened only because the story with the biolabs has helped to promote China's goals. The agreement does not contain detailed plans for complex information operations. Such documents are "signed to publicly strengthen the partnership, but the actual details are not worked out", experts say. "The vague wording may be intentional because it makes it harder to track the projects and hold anyone accountable," The Intercept investigation details.
***
Earlier, in the hacked correspondence of one of the law firms, The Intercept journalists discovered Yevgeny Prigozhin's request to Interpol to remove him from the wanted list. You can also try to find previously unknown information in these dumps. The database of VGTRK's leaked correspondence is available on TEXTY website. This and dozens of other datasets of emails from Russian officials may become a source for new investigations. To get access to the database search please fill out this form.