"Lessons of love". How Russian schools work in Mariupol, and what they teach the children
Mariia and her two children moved from Donetsk to Mariupol two years ago. Back in Donetsk, she had a job, an apartment and a husband. In Mariupol, she has her parents and uncertainty. How to earn a living, where to live, how to send children to school when they do not have any Ukrainian documents? But she dared to do it. Donetsk has been slowly degrading under the last few years of the occupation. Young people kept leaving it - some to Ukraine, some to Russia, just so as not to stay there, in the territory of lawlessness and uncertainty.
You can also read this article in Ukrainian (first published on the website 0629.com.ua)

Translated by Dmitry Lytov & Mike Lytov
Everything somehow got better in Mariupol, on the Ukrainian side. At the school where Mariia sent her children, they were greeted very warmly and helped with documents. The children had a smooth transition to their new class, and her daughter resumed dancing. NUSH – the New Ukrainian School – was good to the children.
But as soon as they got used to the new reality and accepted it, Russia launched a full-scale attack on Ukraine. Mariupol was under a complete blockade. In March, as Mariia escaped from the burning Mariupol, she had no options other than returning to Donetsk. And there, she again sent her children to a local school: wherever they may be, the children should not go without education.
And again, they faced a new reality: "Your home is the Donetsk People's Republic (DPR)", "The DPR Flag Day", "Russia - forever"...
Two thousand Ukrainian teachers in Mariupol
What happens in a child's head when they are forced to change their views so drastically? How does the teacher feel under the new circumstances, who told these children about Ukraine yesterday, and now says that there is no Ukraine? Today, about a thousand Ukrainian teachers remain in the occupied Mariupol. Most of them agreed to cooperate with the occupiers.
We tried to talk to some of them. "I don't want to discuss it," was the most common response we heard after our questions.
"Teachers in the occupied territory understand very well that they have betrayed the country, and they do not want to discuss it. They do not want to talk even with their colleagues, if they do not support their decision. They do not want to talk to us, and we do not want to talk to them either. You know, it's like a couple who decided to separate. We used to live and work together, and now we decided to live our lives separately. And every day this split between us only grows," explains the director of the 27th gymnasium Maryna Yizhakovska.
Her friend, right-hand woman, colleague and partner, Olena Komleva, who worked as a deputy for many years, agreed to the occupiers' offer to take the position of principal of school 27 to replace Yizhakovska. And she began to call teachers to return to work. Some responded and returned, even from abroad. Today, in 27 schools, only "their own" employees work. Teachers of the Ukrainian language have requalified for teaching Russian and are also working.
"Everyone's motives are different," explains the principal of another school on the condition of anonymity. (In general, teachers don't want to share their opinions about their colleagues publicly. They probably don't want to burn bridges completely). Some are held by the graves of relatives, others by property, a surviving apartment, or old parents. You have to live somehow, that's why they agree to work."
The money factor
But one should not forget about another important factor - money. In Mariupol, teachers receive a monthly salary of 25,000 to 32,000 rubles (400 to 515 USD). By Mariupol standards, this is not bad money. However, Russian teachers who agree to come and teach in the occupied parts of Ukraine are paid 150,000 rubles each (about 2400 USD). But those strangers do not come to Mariupol, so there are no reasons for envy.
All of the Mariupol teachers agreed to take advanced training courses during the summer.
"Actually, these are not exactly courses," Ukrainian language teacher Svitlana K. told us. "They are more like familiarization with the Russian curriculum."
Svetlana had to stay in Mariupol because of her parents. She says that she hates work, but she has to earn money somehow. Now she teaches Russian instead of Ukrainian. In the summer, she took classes in Russian retraining in Rostov-on-Don.
"We lived in wonderful conditions - a luxurious hotel, we were taught by Russian teachers. What exactly was taught - I would not like to discuss it. We were issued certificates of completion of the courses. Without this document, they are not allowed to teach at school," she explains.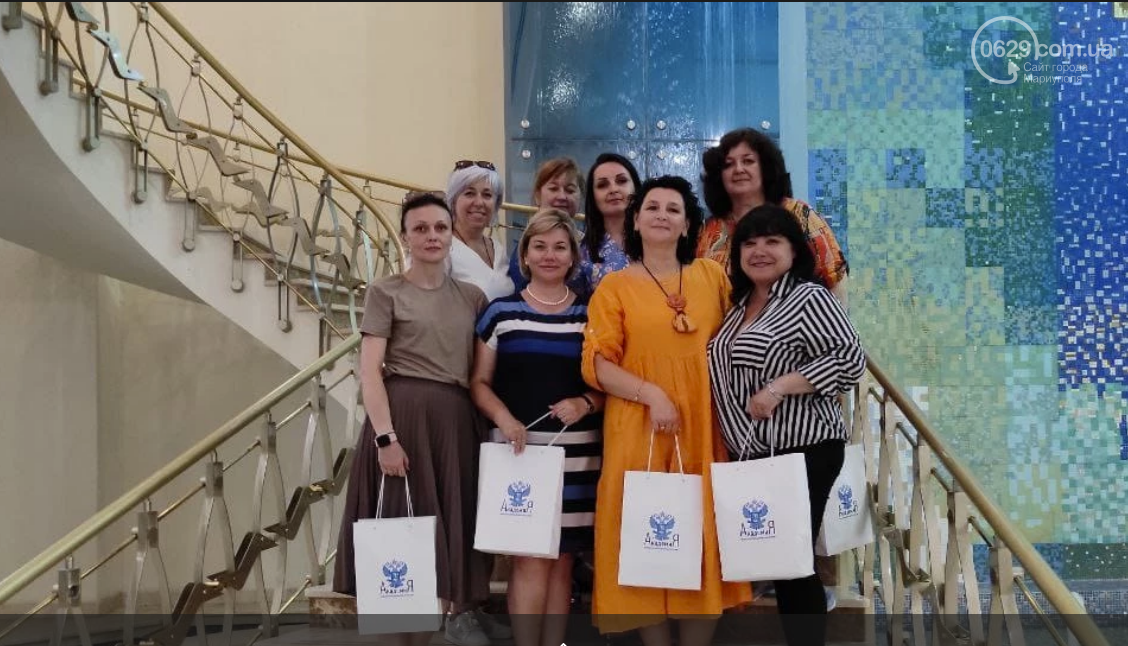 "History of Russia and regional components"
We managed to find out that the people of Mariupol were mainly sent to study in two directions: teachers went to Rostov-on-Don, while principals of schools, vocational technical high schools and kindergartens were sent to St. Petersburg.
Even Russian journalists were not allowed to visit these classes. However, the journalists of the Russian online media 161.ru managed to talk to some course participants from Mariupol, Luhansk and Amvrosiyivka, all in the Donetsk region.
They said that the organizers of these training courses paid the most attention to the teachers of history and the Russian language. In addition, teachers from Donetsk and Luhansk regions were divided into separate groups, and then they were further divided into those from the territories occupied in 2022 and in 2014, respectively.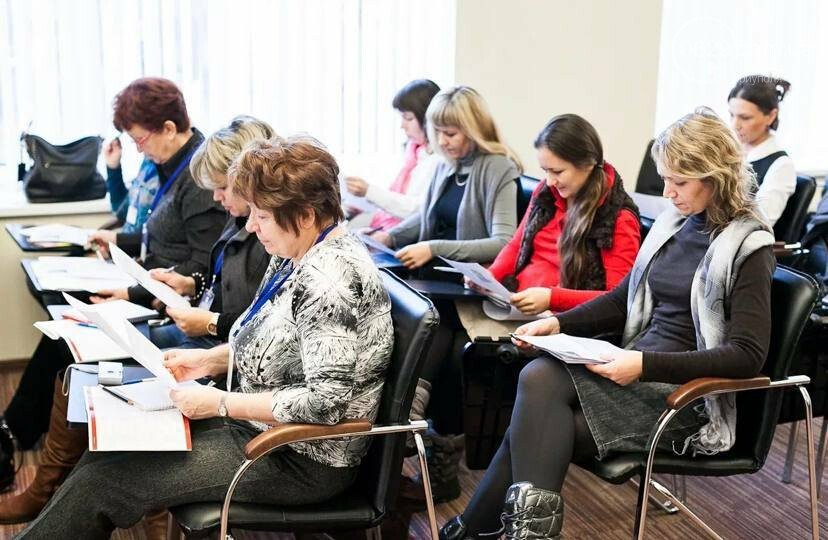 History teacher Ihor Boyko, who works at the Biloyarivka village school in the Amvrosiyivka district near Donetsk, told the newspaper that he had to go through the change of the name of his subject three times. At first, Boyko taught Ukrainian and world history, and after 2014 his subject was named "History of the Fatherland''. Along with the name change, all children had to switch to Russian textbooks.
Currently, from September 1, he teaches "History of Russia and its regional components". "The history of Ukraine has not been taught in Donetsk schools for a long time," says Boyko. "They only touch on certain topics common with Russian history. Western Ukraine is completely out of the scope of the course now, because a large part of it did not belong to the Russian Empire. This is the logic."
Therefore, history teachers in Mariupol have to relearn the course from scratch and study the textbooks that the occupiers brought to the city back in August.
Ukrainian philologists teach Russian
It is not easy for Ukrainian teachers who are retraining to teach Russian.
"The Ukrainian language remains in Mariupol schools. We were allowed to teach it, but it is only optional in the curriculum," says Svitlana. " In some schools, parents insisted that this optional course be mandatory (which in itself sounds a little strange – "a mandatory optional course"), in others they left it as it was. But even where this optional course was made mandatory, it only happens once a week. Of course, such a load will not allow teachers, as Ukrainians say, to "earn their bread with butter". Therefore, all of us, Ukrainian philologists, must retrain to teach the Russian language."
Whether the Ukrainian language will be further preserved in Mariupol, even as an elective course, is difficult to say now. As Tetiana Kondrashova, a teacher of the Russian language at Luhansk school No. 13, tells in an interview with one of the Russian media outlets, Ukrainian was taught in the Luhansk region at first. There were many willing to study it. Children aspired to enter Ukrainian universities. But two years ago, the Ukrainian language and literature were completely removed from the school curriculum — not even electives and clubs were left, she says.
She says that in Rostov, teachers attended 3 lectures daily, each lasting an hour and a half. Mostly they talked about the peculiarities of exams in Russia and gave examples of tasks.
An example of a test task from a history course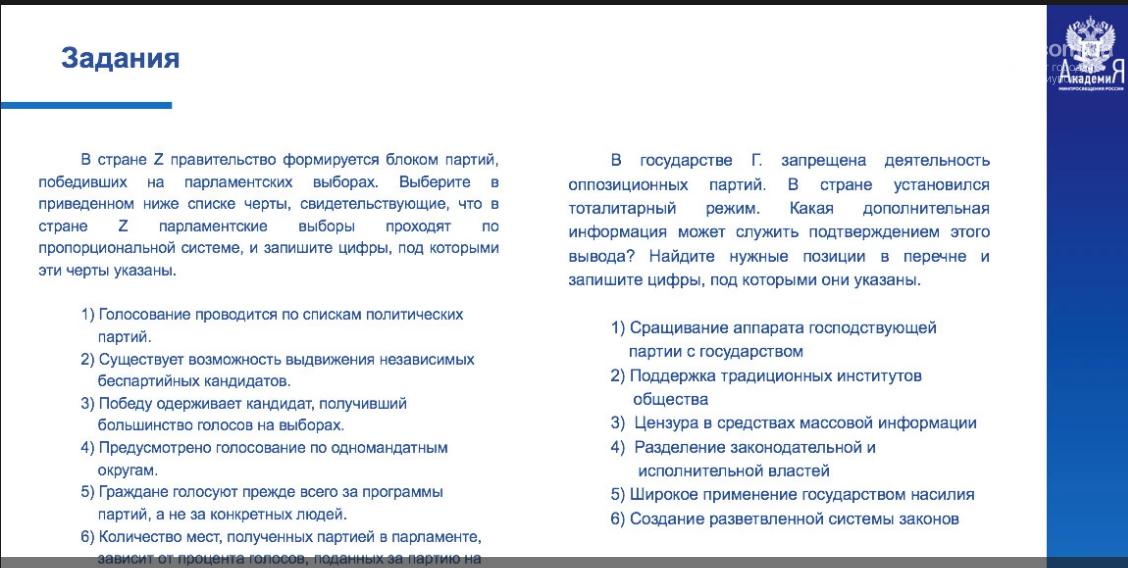 "This is for the sake of unification of Slavic peoples"
Another important part of the lectures was explaining how to talk to children about the war and the relationship between Ukraine and Russia.
Teachers really don't want to talk about this part of their curriculum. The only thing historian Ihor Boyko said in an interview with journalists was that they should convey a specific message during the classes: "this (the war) is for the sake of unification of the Slavic nations. For unification, to say it briefly. Not for the absorption of the Ukrainian state. This is the perspective."
He notes that in 2014-2015, children in schools in the occupied part of Donetsk region still argued with teachers about such interpretations. However, no one in Donetsk is arguing about it now. Children simply repeat what their parents say at home.
We do not know how the children in classes in Mariupol react to the "new concept of worldview". Because parents are not allowed to go to school. All schools in the city were surrounded by fences. The entrance is guarded by the military. Parents bring their children to the gate every morning, and at the end of the day they pick them up. They cannot control how the educational process takes place.
"I tell my daughter every day to keep quiet and do her homework. And not to take part in provocative discussions," says Tetiana. Her daughter is 14 years old and enrolled in school # 41, which is located on the left bank of Mariupol, and it is one of the few that was almost unscathed by shelling. So on September 1, the occupiers put it to work.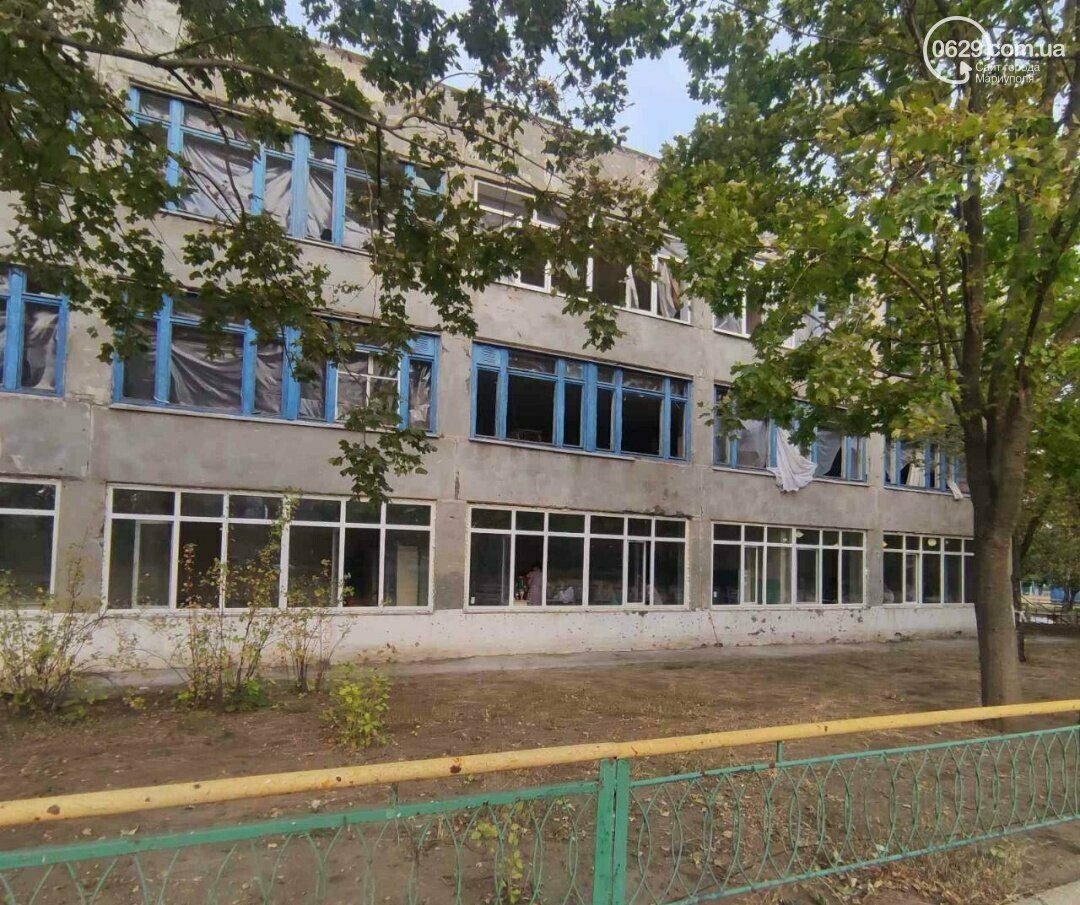 What parents say
Tatiana is not too concerned about the quality of education her daughter receives. She believes that this is enough for admission to Mariupol universities.
"Why did I send my daughter to a Russian school? Just because there are no other schools here. By the way, I already received a 10 thousand ruble (about 160 USD) incentive for the fact that the child started studying. It's also not bad," she explains her decision to stay in Mariupol instead of evacuating the child to another region.
The woman says that everything suits her at school, children are not put under much pressure, the Russian national anthem is played at school only on holidays, not every day. So, she thinks, everything is fine.
Another mother, Viktoriia V., with whom we spoke, sent her son to the first grade at a school in the Central district this year. She says that she couldn't keep from laughing when she read the greeting from Pushylin (head of the Russia-controlled Donetsk People's Republic), which was put in gift bags distributed to children on September 1. However, the situation is not funny at all.
"I can't leave the city. I have an undamaged apartment. Should I give it away
to the occupiers? They are now starting to resettle people in empty apartments in Mariupol. I don't want to lose my home. And my parents are here too, I'm scared to leave them. They actually wanted to leave two weeks ago, they had had enough of everything. But due to the new permit system that the occupiers introduced from October 1, we were unable to get a pass. So we are staying here for now. And the child needs to learn.
On September 1, the first bell holiday, the school management tried to hand our children Russian flags, but the parents opposed it. So they had to agree with us. The Russian national anthem is also not played at school.
The Russians tried to provide us with all the necessary stationery. However, there is no food at school, despite the promise. Instead, once every 20 days, a food kit is given to each child. It is good, better than those that were distributed here to everyone as a humanitarian aid. There were various cereals, pasta of normal quality, mainly produced by "Khutorok", 4 packs of juice, a couple of cans of condensed milk and 8 packs of milk that wouldn't expire for a long time.
Regarding educational subjects, first-graders are not told anything about the war. And children are now smarter than adults. My son himself witnessed all the events, understands everything and also watches Ukrainian programs on YouTube.
We try to support the Ukrainian language in the family. We have a day of the Ukrainian language - when we talk to each other all day so that our son can hear, learn the language, and learn to speak it.
I still hope that the occupation does not last forever. This is my land, my city. Leave me the f... alone! Why should I give them away to someone? Let them go, not me," says Victoria.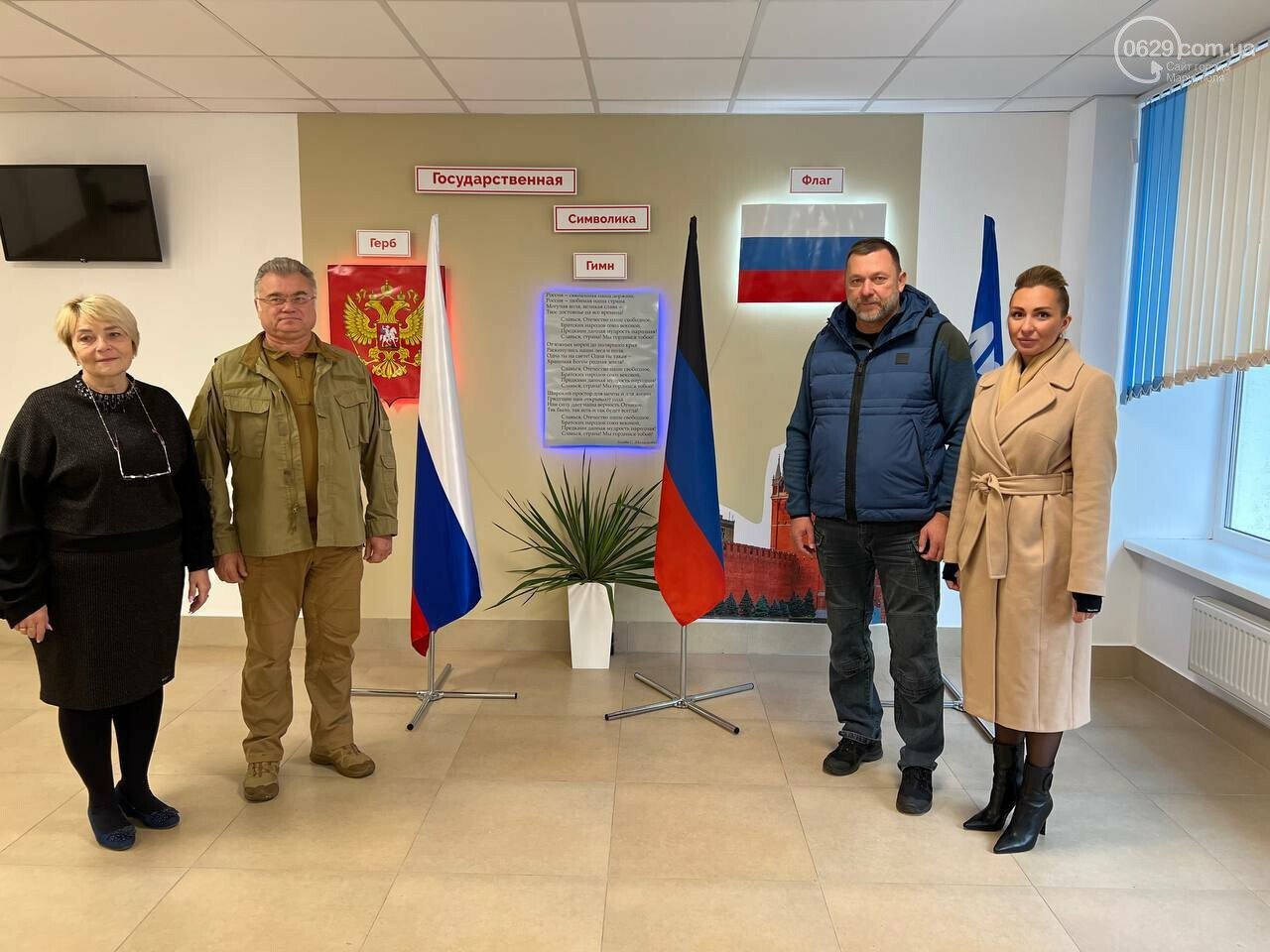 However, despite the optimistic opinion of parents that their children are not pressured with politics, some fundamental changes did take place in schools. The new school management definitely pressures and forces children to forget the name of the country in which they were born.
First, the Russian tricolor, the Russian coat of arms and the Russian anthem's lyrics are now displayed in the lobby of every school that opened in Mariupol.
Second, children are told that their country is called Russia at every lesson, be it science, history, and even Russian language.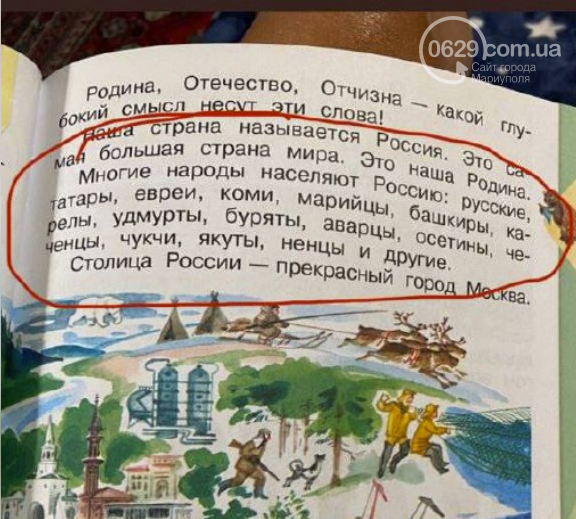 "All the textbooks in Mariupol are new. And they are Russian textbooks. The Russians brought not only Russian textbooks, but also all the necessary stationery. They provided everything! Unfortunately, I cannot say how much the teaching program differs from the Ukrainian one, I have not researched this issue," — says Olena I., a school methodologist from Mariupol.
However, parents believe that the curriculum has become easier.
"The system is very Soviet-fashioned, like what I remember studying in my childhood. It's easier than what's taught at modern Ukrainian schools," says Tetiana, the mother of a 14-year-old schoolgirl.
In addition to the external influence on the child in the form of portraits of Pushylin or Putin on the walls along with the Russian tricolor, there is also a more direct and crude tool of "re-education" of Ukrainian children. From September 1, all Russian schools introduced a new subject - "Conversations about important things".
"Recoding" of children
Every Monday at 8am, they talk with the children about, so to speak, important things that Russian propagandists use to "recode" the child.
The Russian occupiers were not ashamed to speak out loud about recoding.
At the end of August in Moscow, State Duma deputies presented a report "On the Nazification of education in Ukraine." It was about the fact that for the past 30 years, so-called "Nazis and nationalists" have been consistently raised in Ukraine, and now the task of Russian teachers is to re-educate Ukrainian youth back to normal. A separate forum was dedicated to this. And it was then that the word "recoding" was first heard.
It was for the purpose of recoding that the Russian Ministry of Education invented these "Conversations about what's important."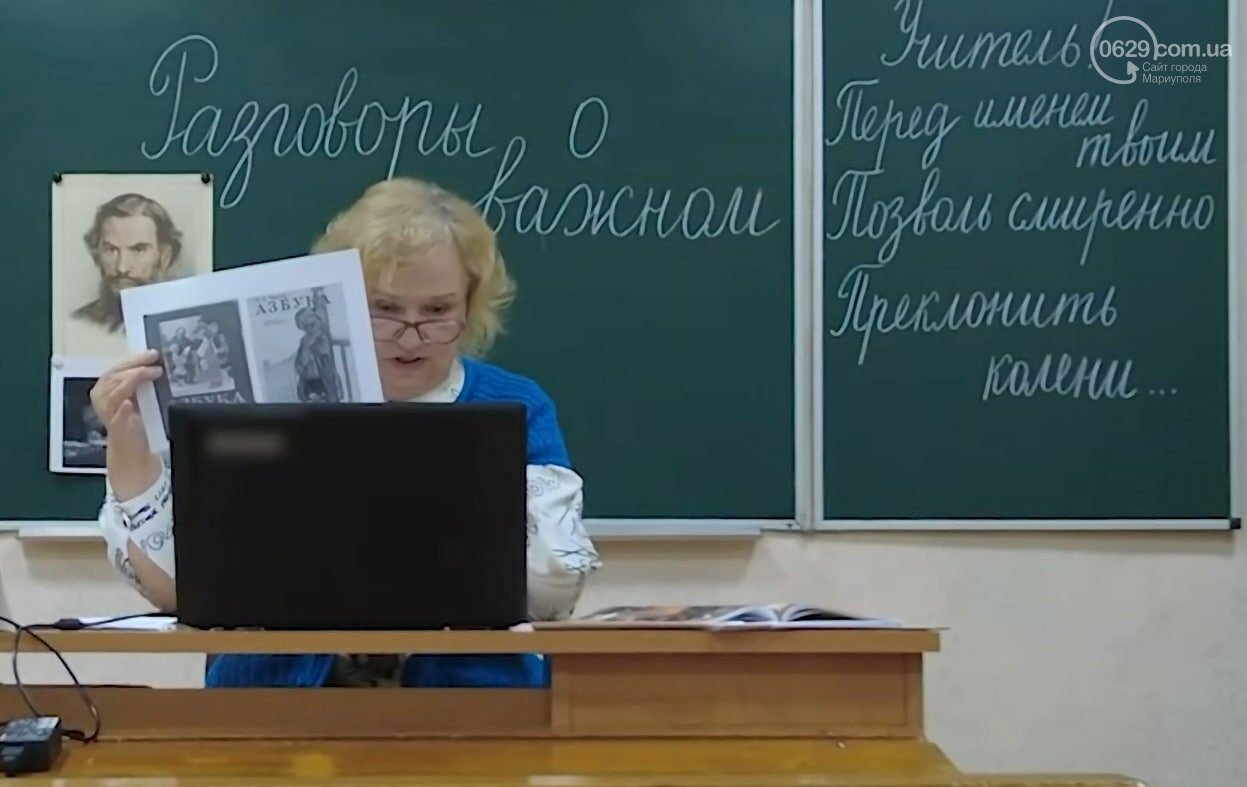 These lines from Nikolay Nekrasov's comedy were supposed to awaken respect for teachers in the hearts of Mariupol schoolchildren. And more importantly, the trust in what they say. However, there is no trust, but there is irony, which prevents children from taking all these "important conversations" seriously and teaches children to lie. Because last year the teacher asked the children in class to write a support letter to the defenders of Ukraine, and now with the same enthusiasm she says about the need to support the "defenders of the DPR" - it only makes the children smile and think that lying is the norm.
However, teachers do not give up and continue to instill love for Russia.
The Russian online media outlet "Important Histories" found out that there is a certain gradation by age, showing exactly how teachers should teach different age groups. "Discussions about the unity of the country, about how it is necessary to preserve and protect one's culture, one's people" will be held with students of grades 1-2. Students of grades 3-4 will be told that loving the Motherland means, in particular, "to perform military duties, to be in military service." The curriculum for grades 5–7 includes a mandatory conversation about the "special operation". High school students will hear from the teachers that "truly patriotic people are ready to defend their Motherland with weapons in their hands."
In the schedule for September, four topics were planned throughout the territory of Russia, as well as in the territories occupied by it: "Knowledge Day" ("forming an idea about the benefits of self-realization"); "Our country is Russia" ("formation and concretization of the concept of homeland"); "165th anniversary of the birth of Tsiolkovsky"; and "Old People's Day" ("formation of traditional family values").
Can a child resist this amount of ideological influence?
We talked about it with psychologist Olena Murza. She has been engaged in child psychology for many years. She learned from the best specialists how to help children in crisis situations. She participated in the work of Rinat Akhmetov's Humanitarian Headquarters to provide assistance to displaced persons, as well as victims of shelling of the Skhidnyi neighborhood of Mariupol in 2015.
Olena Murza says that how a child survives all these breakdowns and challenges depends largely on the parents.
If the parents talk to the child and explain why they found themselves in such conditions, why they now have to be under the Russian flags and not say out loud about their position, then the child will understand everything and pass this difficult period without problems.
However, the psychologist notes, most of the parents who understand the importance of such dialogue left Mariupol. And those who will now remain in the city, for the most part, do not see the need for such explanations. And this can lead to very serious consequences, Olena Murza believes.
"A child under the age of 5 depends 100% on the position and mood of the parents. If the parents remain calm even in crisis situations (although we are all human, and I understand that during the shelling it was almost impossible), then the child may not even notice that something terrible has happened.
At the age of 5 to 10, she is 70% dependent on her parents' opinion. If a child at this age is not adequately explained what is happening, an internal war may begin in them, which may have very long-term consequences in the future.
11 years and older - here the child is already less dependent on parents, only by 50%. However, I observed that in crisis conditions, even those children who in peacetime did not find a common language with their parents flocked to them and listened.
Therefore, in any case, the role of the parents in the behavior of the child and in their perception of the world is very important, - the psychologist is sure. — I can confidently say: if parents find time for adequate explanations for their children, everything will be fine with them. But if the parents themselves begin to accept the situation as normal, if they tell the children or demonstrate by their behavior that this is a FORCE that has come to Mariupol and we have to obey it, even if it is very evil and bad, then the child's psyche breaks. A servile behavior is formed in them, which will affect their whole life.
If the parents sincerely submit to the occupiers, the children will get increasingly confused as to what is good and what is evil. And in this case, we will be dealing with very serious mental disorders."
Therefore, the psychologist believes, it depends on the parents what will happen to the child next. And that's why, Olena Murza is sure, when the Ukrainian authorities return to Mariupol, psychologists will have a lot of work to do. And a lot of that work will have to be done with the adults first, as children's parents.
"Unfortunately, we neglected this aspect back in 2014-2015," says Olena Murza.
She says that there was another significant mistake made not only by Ukrainian psychologists, but also by numerous international organizations, i. e. blocking questions about who was to blame for the conflict during psychological assistance.
"Both during our work at the Rinat Akhmetov's Humanitarian Headquarters and during our cooperation with UNICEF, we were forbidden to discuss this issue with children - who started the war, who is evil, who is right and who is guilty, and what needs to be done to restore justice. Children asked us about it during rehabilitation, but instead of explaining, we were instructed to answer: "We don't discuss these topics." But the children still had those questions. And some parents told them that it was the Ukrainian army to blame because they fired at someone. So the child eventually no longer understands at all whether there is truth in the world. This is such a replacement of concepts.
After the Second World War, Astrid Lindgren wrote the book "The Brothers Lionheart", which brought her the Janusz Korczak literary prize. In this book, the writer shows children in a fairy-tale form that there is evil that cannot be defeated with a smile, contrary to the theses of the Soviet animation films. Using the example of fairy-tale heroes, she shows that there is such evil in the world that can be defeated only by force. Otherwise, it will consider you weak and destroy you. That was the lesson the great children's writer learned after the Second World War and taught to others. And we should also pass the same message to the children now. And not only to them, but to adults as well. We need to talk to teenagers as equals, and to read such fairy tales to children...
During the shelling in Mariupol, I sat in the basement along with several people from the East. And they were all sure that it was Ukraine that shelled the Skhidnyi neighborhood on January 24, 2015. At that time, no one from the authorities gathered people, nor did they explain what happened. I was very surprised then. No one had created a public platform to discuss these issues. But Russia did. Its entire propaganda television machine works to explain to people what happened on a level that these people understand.
I am sure that if we do not create such a public platform for discussing problematic issues now, if we do not discuss all these messages about Azov combatants who purportedly shot civilians, which are widely spread in occupied Mariupol, then in 5 years every other person in the city will believe that it was indeed the Ukrainian Armed Forces that destroyed the city," the specialist is convinced.
This is worse than shelling
Mariia, who was forced to return to Donetsk with her two children, does not discuss the painful issues with them. She thinks that her children, after so many years of war, already understand well who is right, who is guilty, who kills whom, who shoots whom. She believes that her children have adapted to the new circumstances. What will happen to her and her children tomorrow, she does not know. However, she hopes that she will have enough strength to move further, to the west, as far as possible from the war and these endless questions that life poses to her every day.
Whether other children from Mariupol will get a chance to return to their normal life depends on their parents and how long the city will remain under occupation. The longer Russian propaganda influences the minds of the children, the worse the consequences will be.
"What those traitorous teachers are punching into the heads of the children in Mariupol is worse than shelling," says the director of Mariupol school # 34 Oleksandr Lytvynskyi. The irreversibility of the punishment is what he expects from the authorities and what worries him the most.
Unfortunately, the teachers in the occupied territories, with whom we managed to communicate, do not consider their actions a crime, and justify themselves by the need to somehow live; they do not think at all about the irreversible damage they inflict on unformed children's souls every day.
But the law has a different point of view on this matter. According to Article 111-1 of the Criminal Code of Ukraine, a teacher who implements Russian standards of education is a criminal. The punishment is from 2 to 5 years of imprisonment with confiscation of property and a ban on teaching for many years ahead.
Such severity of the punishment shows that the state finally began to understand the value of what a teacher does. Lost money, looted cities, destroyed houses can be returned and restored. As well as lost territories. The children's minds and hearts damaged by the work of traitors can forever remain a lost treasure for the country.