A "suspended" bulletproof vest. How Ukrainians are helping the army while saving the country's economy
"I bought three pigs for the evacuees and offered to make smoked sausages for the soldiers to keep their spirits up," says Yana Rudenko, a businesswoman from Chernivtsi, a city in western Ukraine. When full-scale war broke out, she put her business on hold and set out to help those in need. Later on, a helping hand reached out to her own business. Yuriy Barnovych, an IT specialist from Lviv, another city in western Ukraine, came up with a way to combine fundraising for the Ukrainian army with supporting the country's economy. The team Yuriy gathered is currently implementing the 'Support Ukrainian Army' initiative.
Translated by Dmitry Lytov and Mike Lytov. Ukrainian version is here
"Suspending" a bulletproof vest instead of a coffee
Yuriy, who works as a programmer, began engaging in traditional volunteering from the first days of the war: looking for requests and fulfilling them as soon as he could. In the first month, he and his friends and colleagues raised 1 million UAH (about 34K USD). They mostly bought anything available in bulk to save time and money – for example, a van full of socks for several Ukrainian battalions. Yuriy Barnovich with the first purchases for the Armed Forces of Ukraine.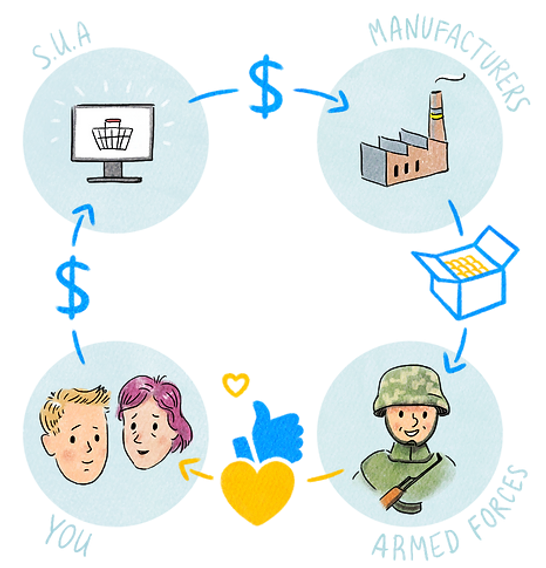 Through wholesale trade websites, he met the Ukrainian manufacturers working with the Armed Forces. Many of them used to make something completely different in the past but quickly switched to supporting the army.
Then he realized the importance of buying from suppliers in his own country.
"First, it is much faster to make something in Ukraine than to find something similar abroad in the quantities we need. Second, it is cheaper, and therefore, you can get more for the same money. Third, it supports our economy and creates jobs, including for internally displaced persons, because many companies employ them," he says.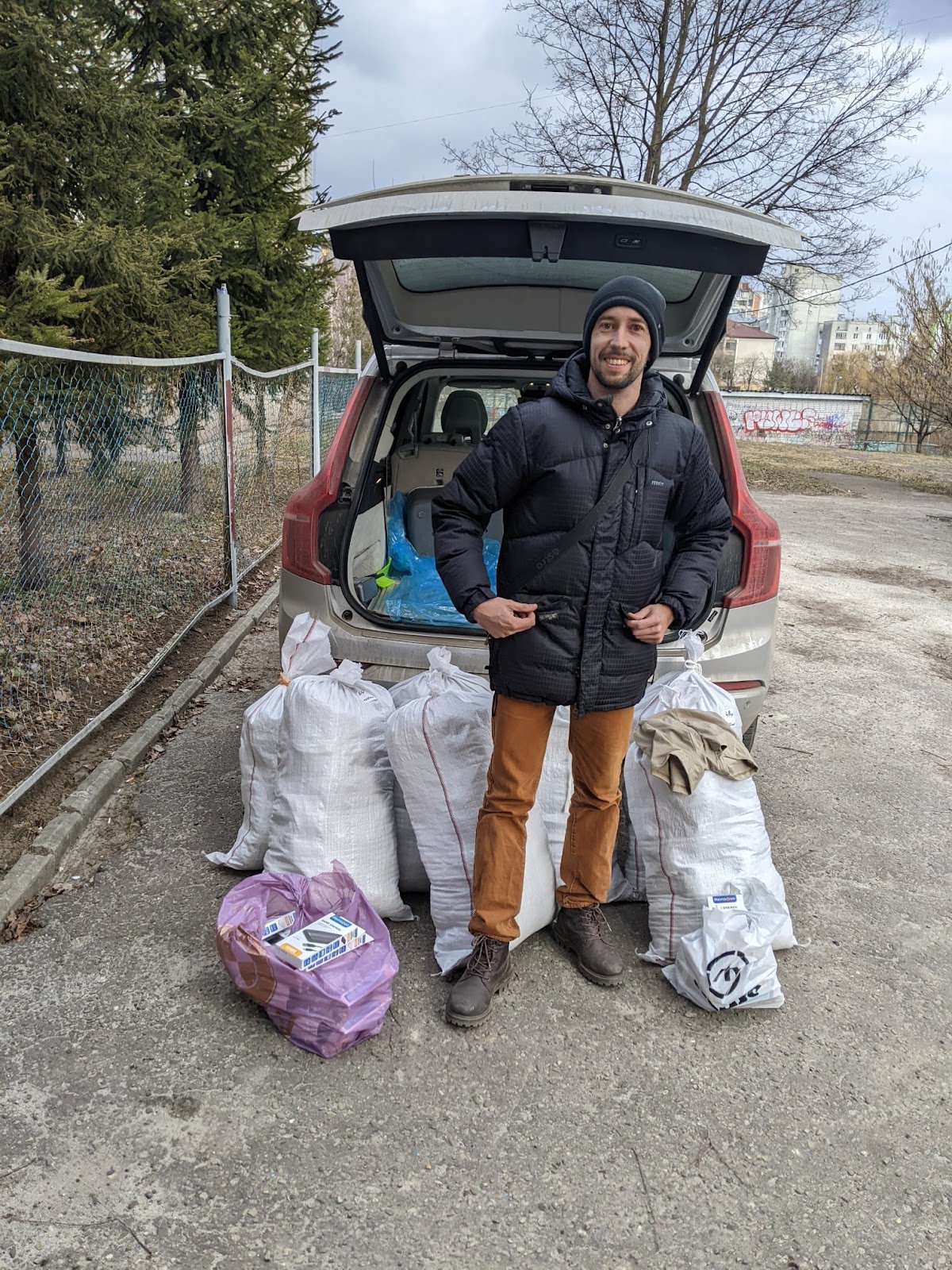 This inspired him to create a project that would focus on financing such enterprises while helping the army at the same time.
"I have discovered a niche that no one else has occupied. Large funds are mostly focused on equipment, drones and complex high-tech things. However, they generally overlook ammunition and load-bearing vests, despite a need for them existing from the first days of the war: for territorial defence and newly recruited soldiers; for those who come for rotation; as well as for newly created units and soldiers who lost ammunition in battle, etc. "In a few days, he created an online store based on the "suspended coffee" principle, where people can choose a product and buy it not for themselves but for those who need it. Currently, 15 companies are represented on the platform. A few more are pending integration.
Only companies that have already transferred products to the Armed Forces in the past and have positive reviews are approved to participate. These companies either contacted the platform themselves, or Yuriy already knew their products beforehand.
For example, the Kyiv-based company Ambient Acoustics has been creating monitors for audio systems (such as "advanced speakers"), hearing protection systems and professional headphones for more than ten years. Their clients used to be Ukrainian musicians who had to put off using acoustic equipment after the full-scale invasion.
However, the company did not stop in response to the invasion and instead began to produce active headphones, which can hear quiet sounds while muffling loud noises (such as gunfire) to protect the hearing of the soldiers while still allowing them to listen for anything important. Their products are among those that can be "suspended" and donated to the Ukrainian Armed Forces. A pair of headphones costs 15,000 UAH (about 500 USD). "What I created looks like an online store; in fact, it is not a store, but a fundraising platform. On each page, we write that you do not make a purchase for yourself, but instead, you donate a certain product," Yuriy explains.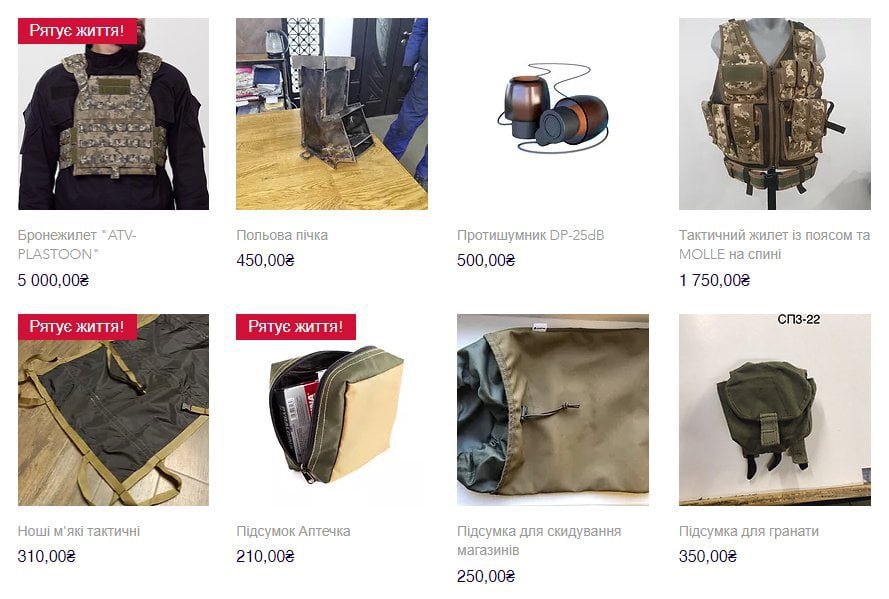 All payments go to a charitable fund, and then the company invoices the goods that were paid for. All invoices, as well as photos of things delivered to the destination, are published in the reports.
Among the products listed on the site are earplugs and active headphones ("anti-noise"), load-bearing vests, bulletproof vests, tactical vests, knee pads, raincoats, ammo pouches, compasses, balaclavas and more.
Production swap: military stoves in place of doors
TermoPlus Enterprise from Chernivtsi is another company that joined the platform.
Until February 24, they made doors, gates, original BBQ grills and other metal products. From the first days of the full-scale invasion, work was suspended so as not to risk the lives of workers. Their office premises were converted into a temporary shelter for people fleeing the war.
"I thought it would be temporary, but "temporary" soon became "permanent", and now we have accepted almost 2,000 people," says company director Yana Rudenko.
To keep the evacuees in a good mood and to make them feel useful, business owners made meat smokers and offered residents of temporary shelters to become involved in meat production. "I bought them three pigs and offered to make smoked sausages and ribs. Because I understood that if a person is not occupied with anything, they begin to fall into depression," says Yana Rudenko.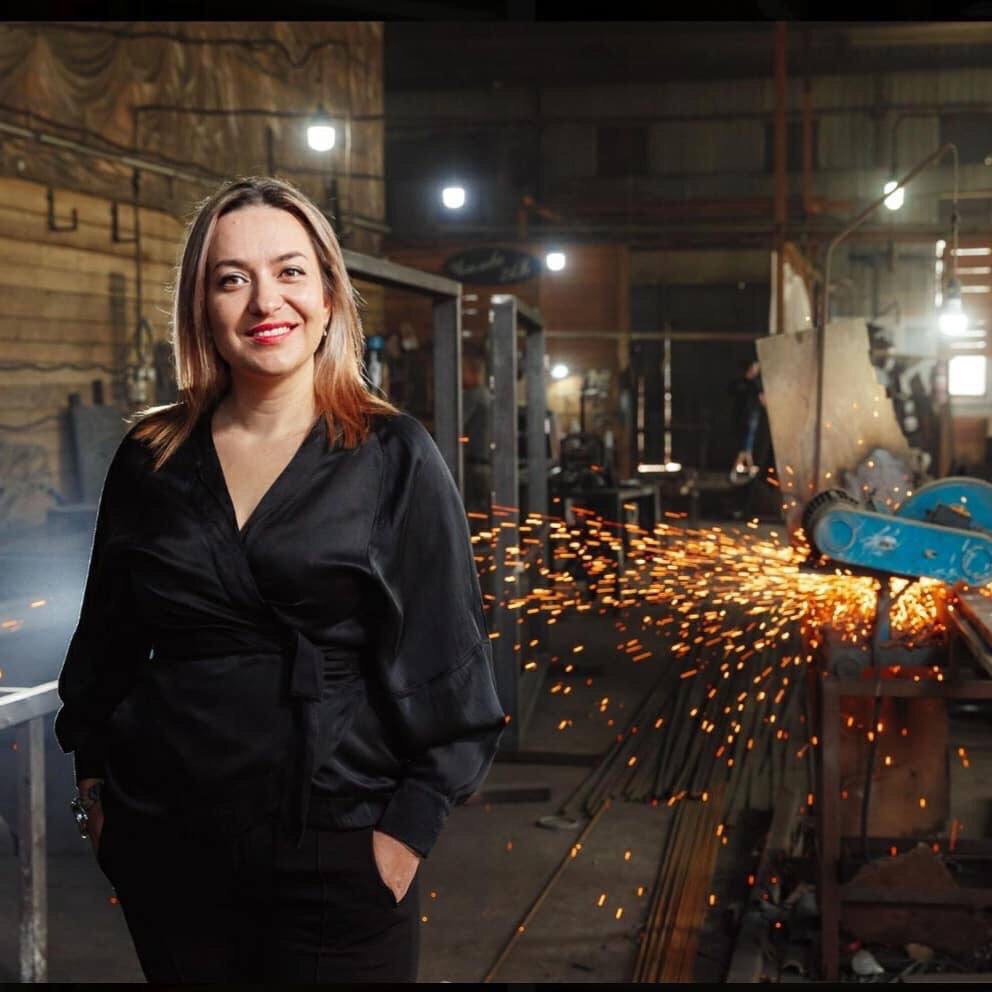 Since she knows many metal suppliers thanks to her business contacts, she looked for material for those who made plates for bulletproof vests.
"How can a military man go on if he is either hungry or has a stomach ache," the businesswoman muses. She then tells how she started the production of stoves for the military so that they could cook hot meals and make tea in the trenches.
Back then, stoves worth 500 UAH (about 17 USD) were on sale, but they needed a gas cylinder, which is difficult to deliver to the front. That's why they have developed their own lightweight model: the weight of the stove is 3.5 kg, and it can be disassembled and packed in a special bag to carry.
The first stoves were made in March and handed over to the military from Chernivtsi.
In addition to the light and compact stoves, they also manufactured large stationary ovens weighing 18 kg (40 lbs) – they were sent to the front and to city residents who had to live outdoors and cook for themselves in the yards (for example, residents of Bucha).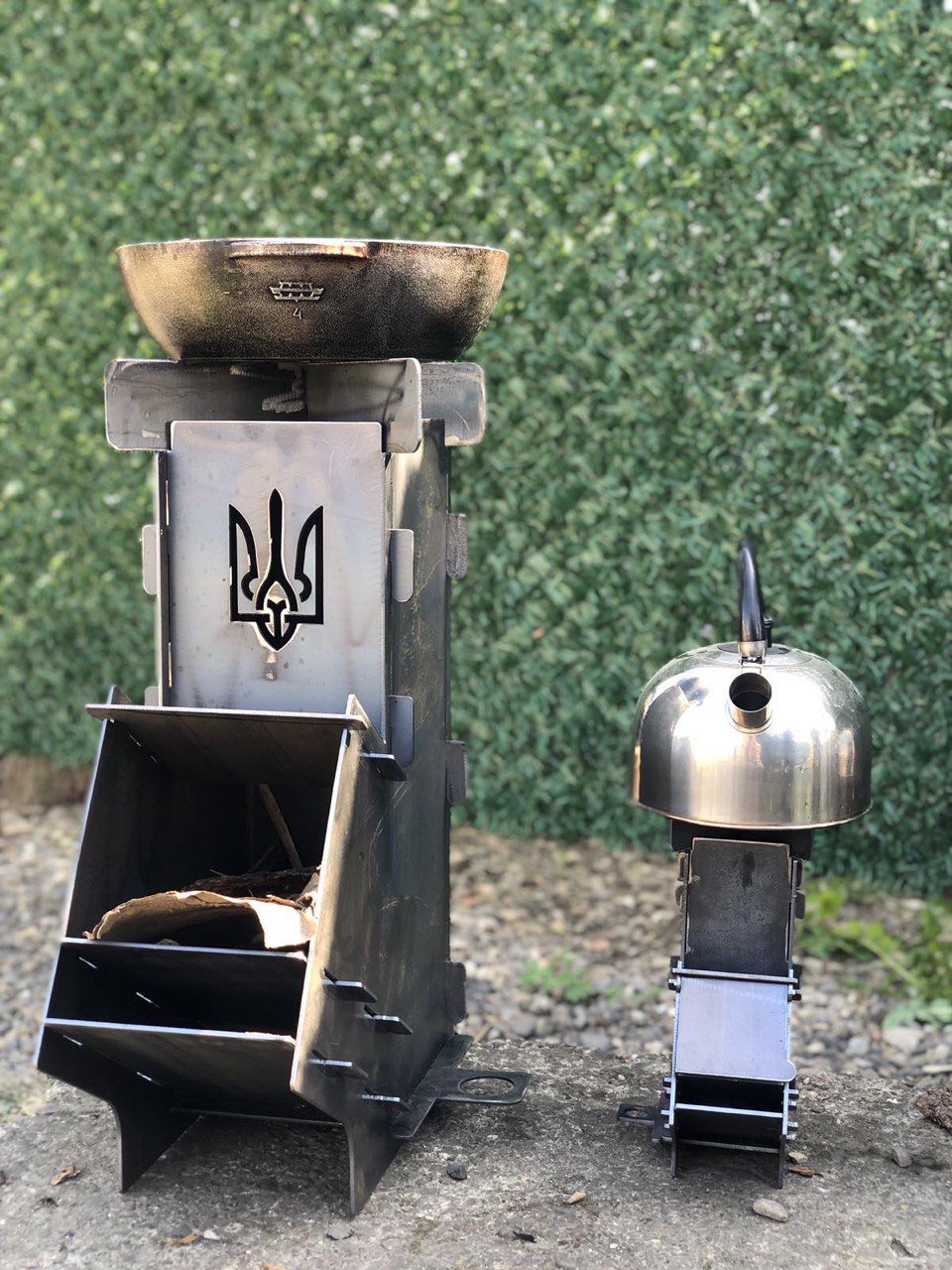 "At first, it was all done at my own expense because I have realised: I won't need money if I'm killed tomorrow," says Yana.
But the requests were growing, and Yana's funds were running low. So when she learned about the Support Ukrainian Army initiative, she immediately started cooperation.
Currently, this company from Chernivtsi sells stoves at their cost of production, i.e. 450 UAH (about 15 USD) apiece. Of course, they can be bought directly from the manufacturer for the same price.
Since April, donors have purchased 114 small and four large stoves through the Support Ukrainian Army website. The model turned out to be successful – according to Yana Rudenko, many people from different regions asked for the stoves' schematics.
Two weeks ago, the plant resumed its primary activity (i.e. metal manufacturing), and they continue to donate 5% of the profits to charity.
Reaching out to foreigners
"We sincerely believe that we create added value not only through volunteering but also by supporting Ukrainian manufacturers," says Yuriy.
The project team now has ten volunteers. They were joined by IT professionals of various backgrounds to advance this initiative together. Among them are graphic designer Antonina Klimashevska, marketing specialist Oksana Shkurat, and product manager Yuriy Chapran.
Recently, they decided to reach out to foreign philanthropists, so now they are looking for representatives in other countries to be able to promote the initiative further.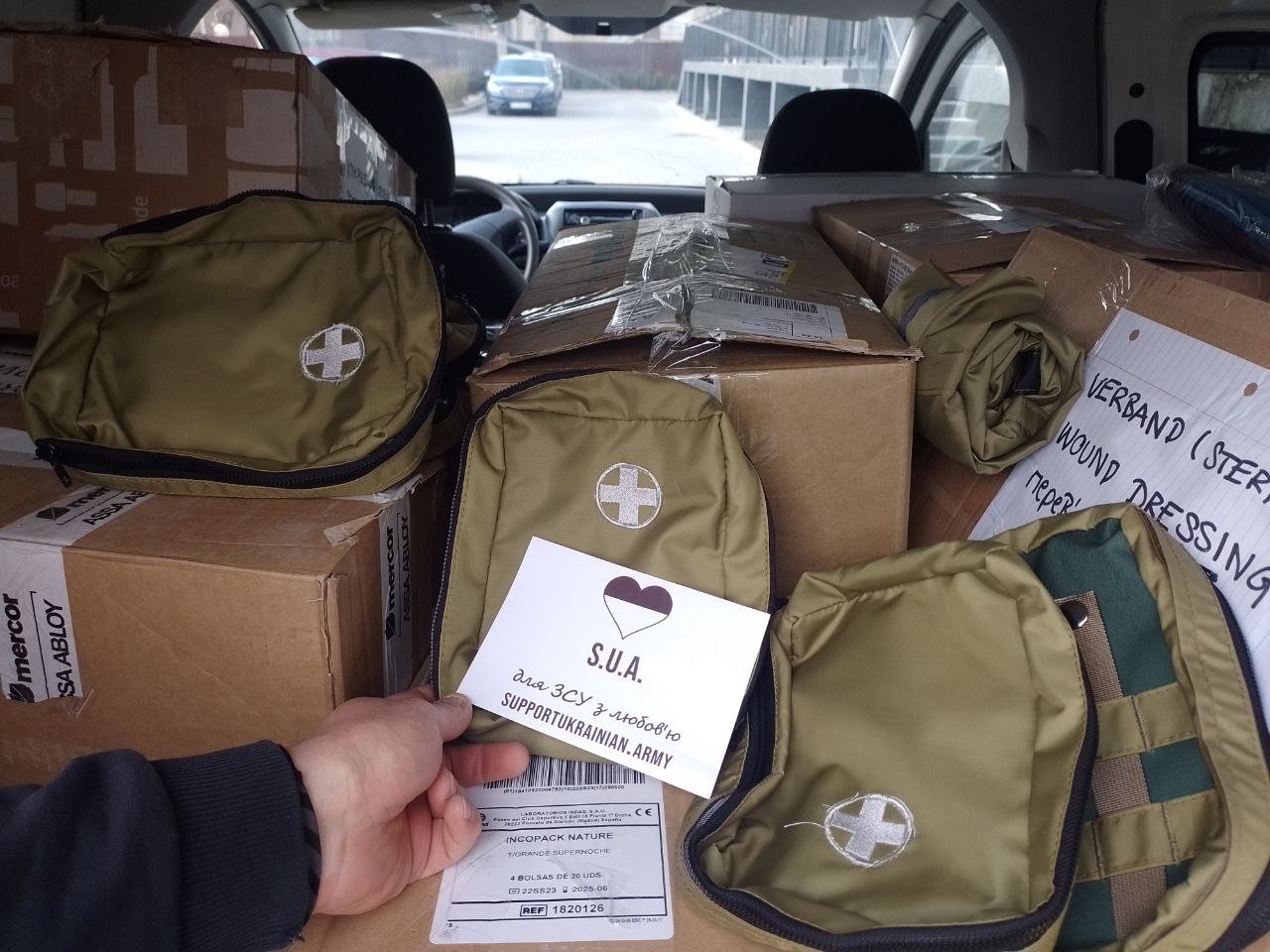 Support for the Ukrainian Armed Forces
"We are also working on the emotional component of the site – we try to avoid focusing on negativity." Users are urged to help the army win, to protect not only Ukraine but all of Europe.
"We want a donor to come back to us, we want to send him a photo report of how the product he bought got to the front lines so that Ukrainians continue to protect the whole world from Russia. Come back to us, buy more, and we will thank you again," Yuriy explains.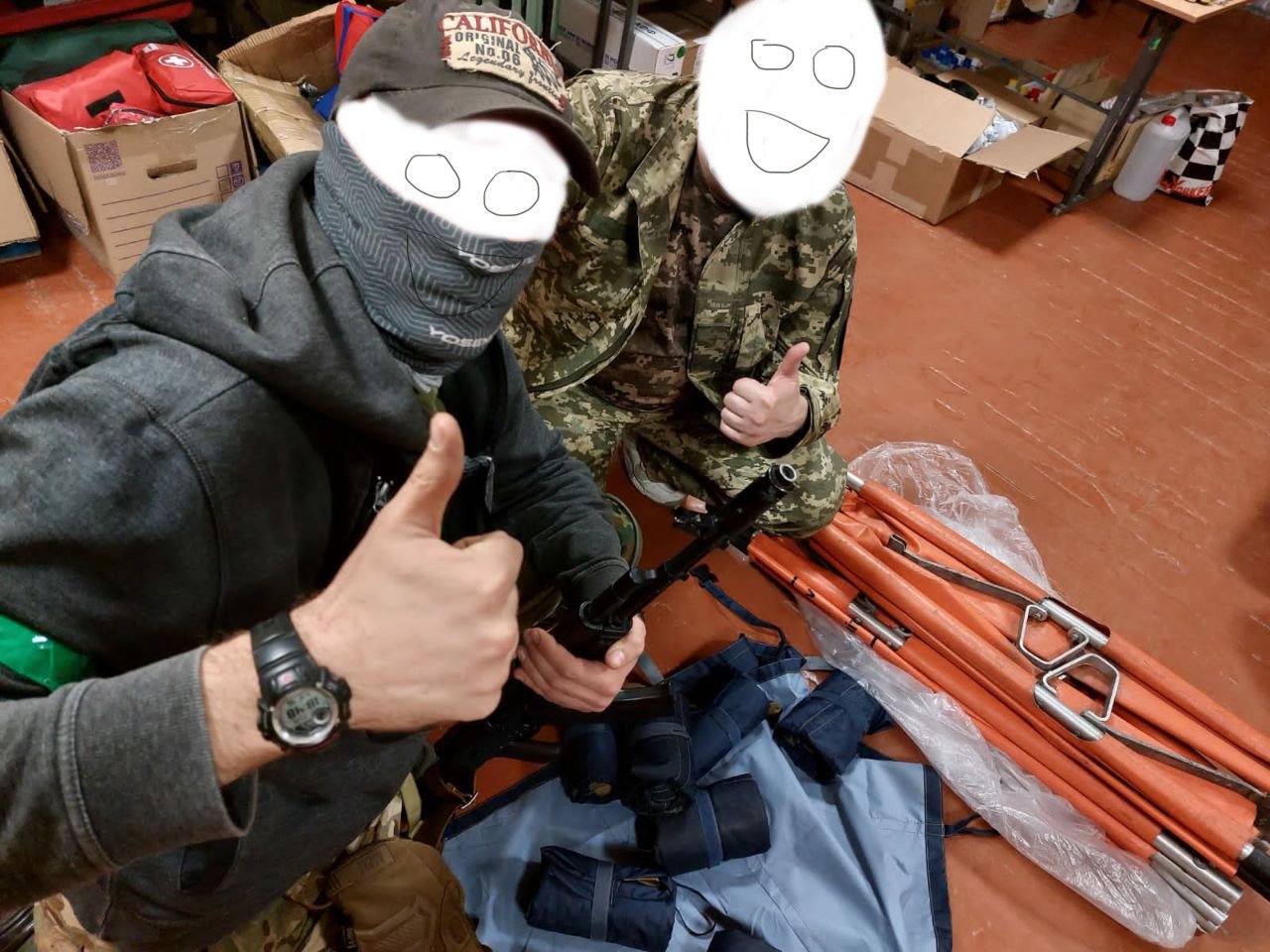 The military on the front lines received and appreciated brand new ammunition from volunteers
Recently, the site launched an opportunity to send a free postcard to defenders. You can pass your wishes and words of support on to the military and add your own photo or a child's drawing.
"We will print everything beautifully and deliver it for free. And on the page where you can send the postcard, there will be a request to give the military something else from our list. With this message we plan to spread the idea across social media," Yuriy talks about their plans.
The platform was launched in April 2022. Since then, 237 donors "bought" ammunition for a combined 790 thousand UAH (almost 27K USD).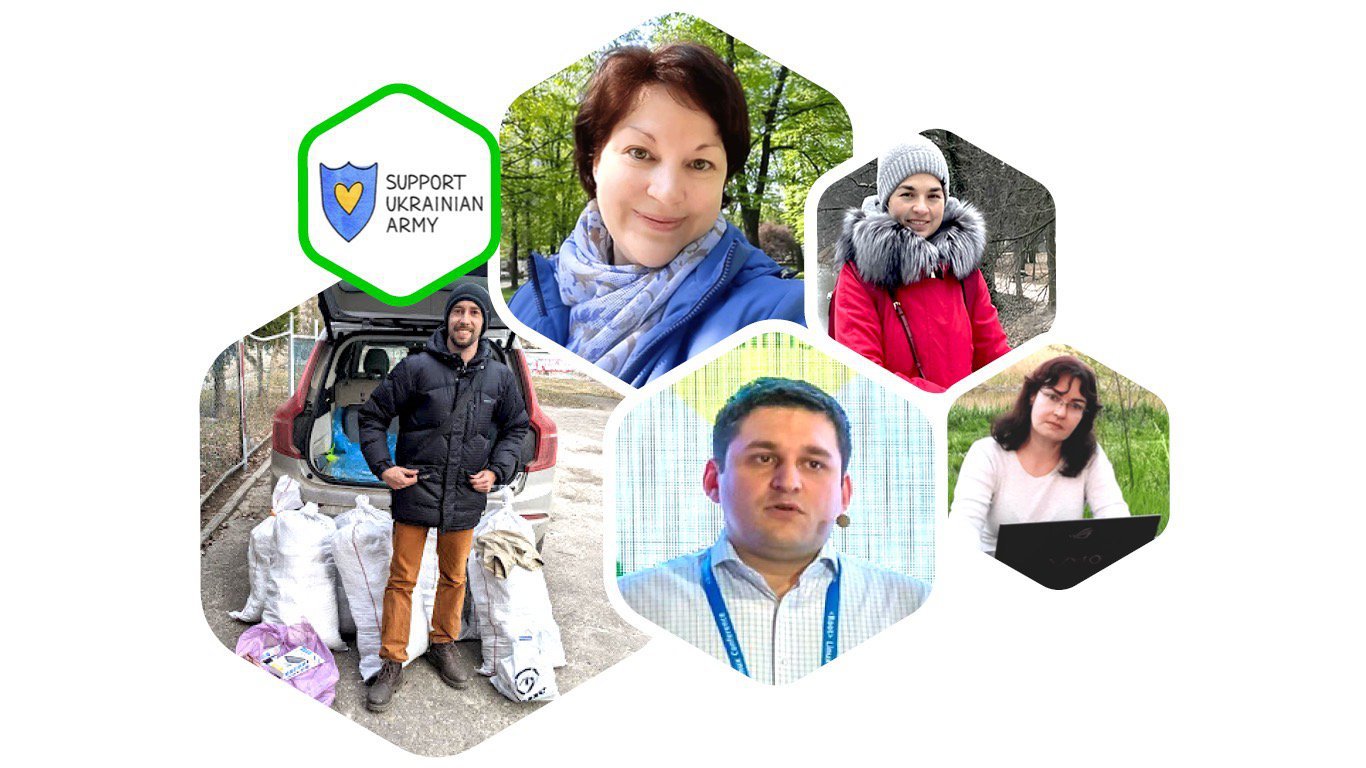 Businesses wishing to join the initiative can apply via the feedback form on the website. However, there is no rush to add new manufacturers as they first need to increase the number of donors only after which they can then expand the range of products.
_____

This article was developed with the support of the Yednannia Civil Society Organization under the Sectoral Civil Society Initiative, implemented by Yednannia SCO in consortium with the Ukrainian Center for Independent Political Studies (UCIPR) and the Center for Democracy and Rule of Law (CEDEM) thanks to the sincere support of the American people through the United States Agency for International Development.
The contents of this article do not necessarily reflect the views of Yednannia CSO or those of the United States Agency for International Development or the United States Government.