"Russian Ukrainians" vs Ukrainian Nazis financed by Warsaw: disinfo_monitor #42
Disinformers pump up an artificial language scandal
They accuse the United States of trying "to force others to live by American gauge"
They lie that the IMF is demanding cuts in social benefits
Manipulators pump up emotions around Sternenko's case
They are dissatisfied that displaced persons represent Donbas in Minsk
Follow topics for more that a year on the dashboard.
Period: June 15—21, 2020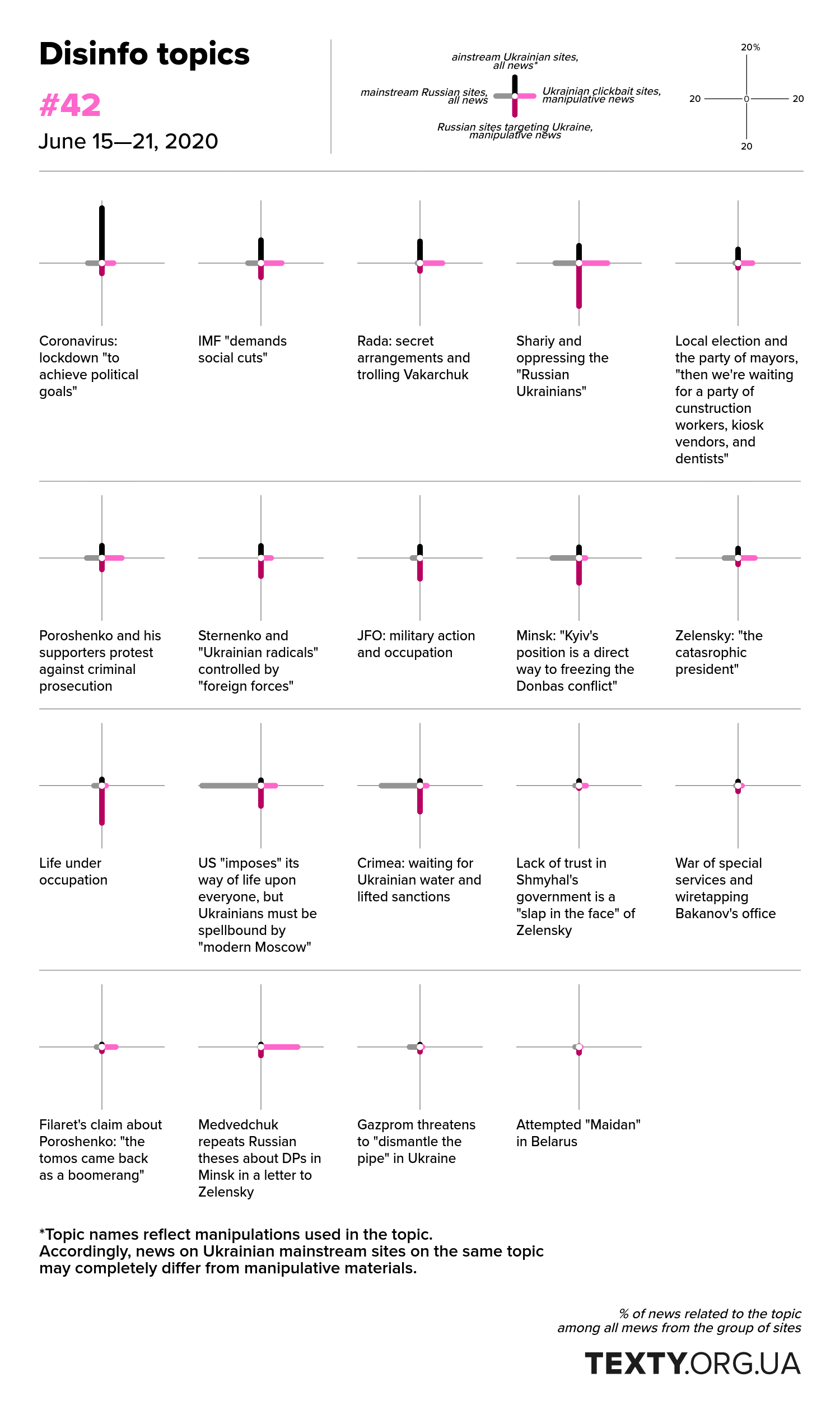 Dear readers, we appreciate your attention to the monitoring and would like to improve it for you. Please take a short survey about your experience with the monitoring.
Headline of the week
"Why even Maidan supporters predict disintegration of Ukraine"
Shariy and oppressing the "Russian Ukrainians"
The language scandal artificially created by Shariy, about the lack of Russian language in McDonald's self-service terminals (which, by the way, was also pumped up by Ukrainian mainstream media), continued to be inflated by Ukrainian manipulative publications. They disseminated theses about the mythical "violation of the rights of Russian-speaking people in Ukraine" and that in fact it is not pro-Russian forces, but "the authorities profit from playing people against each other".
The "scandal" was that Russian disinformation spread reports that McDonald's restaurants had removed Russian from the menu. And the "news" was served under the sauce of indignation of users. However, in real life, the Russian language was absent from the menu for years, and the fact never infuriated anyone for years.
The topic has become a tasty morsel for Russian websites that write about Ukraine. This time, their imagination led to confessions of love for the Ukrainian language - "in Soviet Ukraine, which the current followers of the [Nazi collaborant] Polizei and Banderites curse, they instilled in me a love of the Ukrainian language and culture." However, they use this love only to declare: "today's Ukrainianizers do not love the Ukrainian language, or Ukrainian culture, or the Ukrainian people."
Russian mainstream websites also joined the discussion on the language issue, stating that "Language disputes are one of the main problems in Ukraine." They also expressed open sympathy for Shariy, his party, and their rally in Kyiv. The latter was written about under headlines such as "Russian Ukrainians pushed Ukrainian nationalists from the streets of Kyiv."
World in chaos, only in Moscow everything is fine
Russian websites targeting Ukrainian issues are showing great interest in the protests in the United States. They write "analytics" with the following content: "The United States not only teaches haughtily, but also tries to force others to live by American gauge and to please America. That is, too, "to write and cleanse life according to George Floyd," a criminal and a drug addict, a robber and a sociopath in general, whose place is not in a golden coffin, of course, but in prison or in a psychiatric ward."
In addition to the Americans, a portion of paranoid delusion went to the Poles: "For the sake of annexation of Ukraine, Warsaw conspired with the Nazis in Kyiv, and also provided them with serious political and financial support." (This is written about the present moment).
At the same time, Russian websites continue the narrative that displaced persons from the occupied territories, who are now included in the Ukrainian group at the talks in Minsk, are "frantic nationalists not capable of any compromises." They also write how Russia will impress Ukrainians infected with "Russophobia": "modern and functional Moscow, brilliant St. Petersburg, advanced Kazan, dozens and hundreds of cities, towns and places could be a tool for "hacking" the distorted perception of Ukrainians."
IMF "demands cuts" in social benefits
This week, Russian websites targeting Ukrainian issues have traditionally been looking for tricks in the work of the International Monetary Fund. "And in fact, each new memorandum is a requirement of the IMF for Ukraine to cut off various social spheres."
In fact, this is not just an exaggeration; the memorandum states the exact opposite. Ukraine should not reduce social benefits, but if it manages to collect more taxes than expected, spend them on: "increasing social benefits to improve the living standards of the most vulnerable communities."
After all, much of the memorandum focuses on banks, anti-corruption bodies, and the energy market, rather than social policy. Read a more detailed analysis of the memorandum here.
To illustrate the "atrocities" of the IMF, disinformers wrote about how the government "plans" to feed Ukrainians with "10 grams of pasta and one berry." They obtained the figures by dividing the monthly food set by the number of days in the month. Although the justification and renewal of the consumer basket is always on time, disinformers tried to present it as an example of the "heartless" attitude of the actually occupying (because the "legitimate" rulers of Ukraine are in Moscow, in their opinion) government toward Ukrainians.
Also this week:
Manipulators against Sternenko
Manipulators continue to pump up emotions about Sternenko. Their texts quote the adviser to the head of the Ministry of Internal Affairs Zoryan Shkiryak who wrote about "shouts of the Russian neo-Nazis", "Russian mat". But, unlike Shkiryak, disinformers are looking for parallels with events in the United States, and call Sternenko "Ukrainian Floyd." They claim that the purpose of the protests was "blood and riots" and conclude that thanks to Sternenko, "President Zelensky's power was destroyed." In previous issues, we explained more about what was happening in Sternenko's case, and now we will only add that the activist's self-defense during the third attempt on his life is classified as premeditated murder.
Continuing to pump up emotions about the coronavirus
"The current Ukrainian government has imposed quarantine restrictions not to protect citizens, but to achieve their own political goals". This opinion continues to be broadcast by Ukrainian manipulators, following statements by Russian websites that the continuation of quarantine "may provoke riots in Ukraine stronger than in the United States." Meanwhile, the amount of new cases has increased, and the virus continues to spread.
Trolling Vakarchuk
Vakarchuk's failed attempt to resign from the parliament was described by Ukrainian manipulators as the result of "trolling" Vakarchuk by members of parliament for "dragging Soros puppets into parliament, who helped pass laws aimed against the people and who continue to incite hostility between Ukrainian citizens." Here's a good example of how the thesis of external governance is disseminated at any opportunity.
Life under occupation
Disinformers write about a "scientific breakthrough" in the occupied territories to "rescue" coal mines: "a possible rescue plan is the reconstruction of the industry for the production of combustible coal and chemicals that are in demand." They started thinking about saving the industry after the recent protests of miners. We have been writing before how the occupiers were trying to "launch" industry in the controlled territories and failing.
Minsk: "Kyiv's position is a direct way to freezing the Donbas conflict"
As for the talks in Minsk, disinformers wrote that in Ukraine "there is a part of political forces that do not benefit from Donbas being part of Ukraine." Among all these "forces", they named only the Holos party. They also frighten: "If Zelensky does not take these steps (accept the Russian conditions - Texty.org.ua), then others will do it for him. Like Medvedchuk".
Manipulators continue to try to discredit the involvement of displaced persons in the Minsk talks. "Collaborationists and Polizeien cannot represent the independent Republics of Donbas". According to the Ministry of Social Policy, one and a half million displaced persons from the occupied territories live in government-controlled territory of Ukraine. Many of them left their homes and relatives in the occupied territories. Undoubtedly, their opinion must be taken into account in any negotiations on deoccupation.
Summary
The most high-profile event in the focus of disinformation was the language issue. Attempts to divide Ukraine on the basis of language are an old method in Russia's hybrid war against Ukraine. In fact, the aggression in 2014 began under the slogans of protecting the Russian-speaking population. In Soviet times, the Ukrainian language was methodically pushed out of schools, and the status of a "rural language" was imposed on it. With the declaration of independence, Ukraine is trying to correct this imbalance by using various tools to support the Ukrainian language. And the policies enjoy the support of the majority of the population, even Russian-speaking. But Russia is constantly trying to sow fear of "forced Ukrainization." The surge in activity in this direction is probably related to the attempts of pro-Russian deputies in the Verkhovna Rada to make changes in the language legislation. The "language event" created by Russian disinformers, with fictitious changes to McDonald's menu, was compounded by the proliferation of the term "Russian Ukrainians", which is how Russia is trying to support its claim of a civil war in Ukraine between alleged pro-Western Nazis and the indigenous people which, while having regional differences, are a part of the Russian people. After all, Vladimir Putin often repeats the thesis of the artificiality of Ukraine as a state and of Ukrainians as a nation.
Please, use interactive visualization to view headlines of topics
Methodology
We searched for topics in 7415 materials in the Russian language from:
68 Russian sites (manipulative materials only) targeting Ukrainian topics: 3652.ru, 3654.ru, 8692.ru, anna-news.info, antifashist.com, antimaydan.info, c-inform.info, comitet.su, crisis.in.ua, delovoydonbass.ru, dnr-lnr.info, dnr-pravda.ru, dnr24.com, dnr24.su, donbasstoday.ru, doneck-news.com, dontimes.ru, dosie.su, e-gorlovka.com.ua, e-news.su, evening-crimea.com, free-news.su, fresh.org.ua, fromdonetsk.net, front-novorossii.ru, gorlovka.today, jankoy.org.ua, kafanews.com, komtv.org, kv-journal.su, lgt.su, luga1news.ru, lugansk1.info, meridian.in.ua, metayogg.com, miaistok.su, mir-lug.info, mnyug.com, mozaika.dn.ua, nahnews.org, naspravdi.info, newc.info, news-front.info, newsland.com, nk.org.ua, novorosinform.org, novorossiy.info, novosti.icu, on-line.lg.ua, patriot-donetsk.ru, pohnews.org, politnavigator.net, pravdanews.info, ruinformer.com, rusdnepr.ru, rusnext.ru, russian-vesna.ru, rusvesna.su, sevastopol.su, sevnews.info, sobytiya.info, svodki24.ru, time-news.net, ukraina.ru, voenkor.info, voskhodinfo.su, vsednr.ru, xvesti.ru
70 Ukrainian online publications where over 10% of all news about Ukraine have been spotted as being manipulative (manipulative materials only): 112.ua, agrimpasa.com, aif.ua, akcenty.com.ua, antikor.com.ua, baza-pravda.in.ua, bbcccnn.com.ua, begemot.media, bessarabiainform.com, censoru.net, dialog.ua, expres.life, finoboz.net, fraza.ua, from-ua.com, glavcom.life, glavk.info, glavred.info, glavred.life, golos.ua, hpib.life, hyser.com.ua, inforesist.org, inform-ua.info, informator.news, ivasi.news, jizn.info, khersonline.net, kompromat1.info, kompromat1.news, kordon.org.ua, korr.com.ua, kyiv.press, lifedon.com.ua, mignews.com.ua, newnews.in.ua, news247.com.ua, newsmir.info, onpress.info, podrobnosti.ua, politeka.net, politica.com.ua, pravda.rv.ua, prioritet.org, proua.com.ua, replyua.net, rupor.info, sharij.net, skelet-info.org, spektrnews.in.ua, spichka.news, spzh.news, strana.ua, t.ks.ua, timer-odessa.net, ua24ua.net, ukr.life, ukrainianwall.com, ukranews.com, ukranews.life, ukrrudprom.ua, vesti-ukr.com, vesti.ua, voi.com.ua, vremya.com.ua, vybor.ua, vz.ua, xn--j1aidcn.org, zik.ua, znaj.ua
17 major Ukrainian online publications (all materials): 24tv.ua, bykvu.com, censor.net.ua, fakty.com.ua, fakty.ua, gordonua.com, interfax.com.ua, lb.ua, liga.net, nv.ua, pravda.com.ua, rbc.ua, segodnya.ua, tsn.ua, ukrinform.ru, unian.net, zn.ua
16 major Russian publications (all materials): aif.ru, dni.ru, kommersant.ru, kp.ru, lenta.ru, lentainform.com, life.ru, newsru.com, pravda.ru, regnum.ru, riafan.ru, russian.rt.com, slovodel.com, svpressa.ru, tass.ru, vz.ru
Manipulation in news was singled out by our improved AI classifier developed in the project We've got bad news. In the monitoring, we only regarded materials about social and political life which are about Ukraine.
Limitations of the study:
In this study, we only regarded the topics which are in line with Russian disinformation campaigns. Most of them are based on real events, as disinformation works more effectively this way. Topic names reflect manipulations used in the topic. Accordingly, news stories on Ukrainian mainstream sites on the same topic may have completely different content from that of manipulative materials.
We take the topics of Russian propaganda in Ukraine from the following groups of materials:
manipulative news from the Russian online publications which write on Ukrainian topics, for the population of the occupied territories
manipulative news from those Ukrainian sites where a significant amount of manipulative news has been spotted. This second category is targeted at Ukrainian audiences and publishes a lot of manipulative news of different ideological orientation
all news from mainstream Ukrainian publications
all materials from mainstream Russian news sites
In the first and second groups of news, the materials were selected by the AI classifier of manipulative news.