Russian websites repeating about the Russian-speaking "swinedogs". Disinfomonitoring #41
Disinformers are not ashamed to use obscene language about Sternenko
They frighten with life after the coronavirus: surveillance technologies, religious persecution, 5G towers.
Manipulators promise that Crimea will bloom without Ukrainian water
Disinformers spread conspiracy theories about the MH17 crash
They complain that there's no one to protect the Russian language
Follow topics for more that a year on the dashboard.
Period: June 8—14, 2020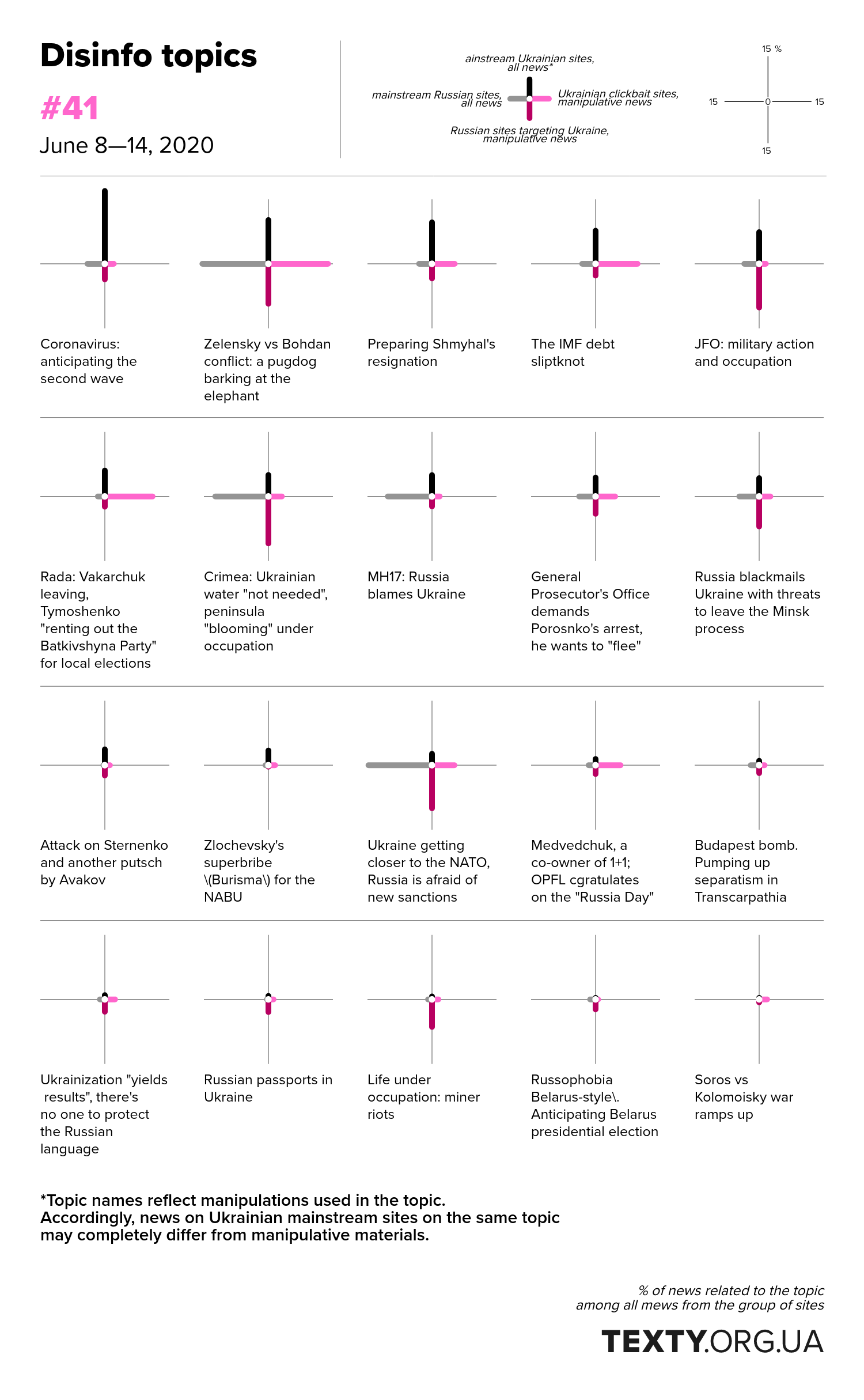 Dear readers, we appreciate your attention to the monitoring and would like to improve it for you. Please take a short survey about your experience with the monitoring.
Sternenko's arrest
"Sternenko's blood brothers threaten to blow the f**k away the f**king scam out of power". With this headline, an article dedicated to the protest in support of Serhi Sternenko was published last week on the site sharij.net. All 4 quotes by protesters in the text included profanity and words with asterisks instead of letters. Thus, the website's editorial board refrained from evaluating judgments about the protesters, giving readers the opportunity to make their own impressions about the protesters (among whom, by the way, was Uliana Suprun "who is killing the healthcare system").
Meanwhile, Russian sites that write about Ukraine openly call Sternenko a "neo-fascist" and a "murderer" and promote theories that the case is a "collusion between the 'patriots' and Zelensky's team," "a bone thrown to the electorate, as if spring has come" even that "the support for the murderer is provided by Minister Avakov, who is preparing another coup in the fall, where the nationalist from Odesa will be one of the main "starters".
Why is Sternenko so annoying to the fifth column? An active participant of the Maidan, a former coordinator of the Right Sector in Odesa who crossed the road for influential pro-Russian businessmen, for which he survived three attempts on his life, but fought back. In addition, he is from Odesa, which in the myth of Russian disinformation is a Russian city occupied by Ukraine. Therefore, Sternenko must be destroyed so that other residents of Odesa with pro-Ukrainian positions would be afraid to actively show their position.
Coronavirus and the "brave new world"
Russian sites targeting Ukrainian issues have added to the apocalyptic texts about the coronavirus a new wave of intimidation about the equally apocalyptic consequences of the spread of digital technologies, inadvertently mentioning the persecution of religion and 5G - "the coronavirus can only be the first swallow on our way to a 'brave new world' and there is not much left to go." The expert this time was a "writer, an expert on artificial intelligence" and the author of the quote that "Coronavirus is only the first outbreak of the real war, it is still 'cold' but may well grow into a series of hot wars", meaning wars for big data.
Crimea: Ukrainian water "not needed", peninsula "blooming" under occupation
This week, Russian websites targeting Ukrainian issues attacked Ukrainian policy toward the occupied Crimea. They accused the Ukrainian authorities of "energy blackout" in Crimea and other crimes for which Crimeans "heated milk for children on street fires." Probably they were alluding to the civil blockade of Crimea in autumn 2015.
Disinformers also claim that Crimea is "easy to do" without water supply from mainland Ukraine. So good that "for the last two months in a row, Moscow trucks with Bakhchisaray strawberries have been coming without a stop." And they set themselves the task of regaining the Soviet brand: "A prospected minimum task is that the Crimean 'Rose Petal Jam' should be sold in stores in Murmansk and Petropavlovsk-on-Kamchatka."
Russian mainstream websites, together with the sites targeting Ukrainian issues, frightened their readers by saying that if they returned to Ukraine, Sevastopol would be "joined" to the Bakhchisaray community. Instead, under Russian occupation, Sevastopol has "the status of the third city of federal significance."
MH17: "Why Ukraine is to blame"
The court in the Netherlands recently resumed its hearings in the case of the MH17 airplane shot down by pro-Russian militants in 2014 over the Donetsk region. Disinformers tried to shift responsibility for the disaster to Ukraine and acquitted the militants. "Ukraine's guilt has been largely proven by the fact that it did not close the airspace over that territory." But at the same time, they insisted that the process in the Netherlands could not be fair, because "They are not just afraid of us, they hate us. They decided from the very beginning to blame Russia and to support what is happening in Ukraine."
As an argument as to why the process cannot be fair, the disinformers claim: "the evidence base for the entire episode of the investigation was prepared on the basis of data from the Security Service of Ukraine." And they offer to hold an "alternative" process in Donetsk.
The MH17 case can be an example to help one learn the methods of Russian disinformation. Here one can see confusing the audience with contradictory versions, turning the facts inside out, and pathologically false denials of the obvious.
Ukrainization "yields no results", there's no one to protect the Russian language
Pro-Russian disinformers continue to try to inflame the conflict over the status of the Ukrainian language in Ukraine. Their attention is mostly focused on the topic of school education. "Every effort of each Kyiv regime to Ukrainianize education and society during the period of 'independence' invariably fails." Disinformers claim that almost half of Ukrainians "want" to teach their children in the Russian language.
It should be noted that the law on "Complete general secondary education" provides for the protection and teaching in the national mother tongue for indigenous peoples (Crimean Tatars) and native speakers of the EU peoples. For other minorities, teaching is provided alongside the state language in the lower grades (primary school).
Russian sites have repeatedly called Russian-speaking people "swinedogs," quoting (possibly fictitious) words from a candidate for the position of language ombudsman. They also wrote about the language police which will punish for insufficiently clear pronunciation in the single state language (let us remind that the law on language does not apply to private communication and, moreover, pronunciation). They frighten their reader that the Russian language will become "a second class language... without its own documentation and education, stifled by quotas and restrictions, without career opportunities and scientific prospects." There's also the information support for the bill submitted by the pro-Russian MP from the Servant of the People party, Buzhansky, which largely abolishes legislative preferences for the Ukrainian language.
Also this week:
Ukrainian bombs for Budapest and Moscow
Last week, a Ternopil City Council deputy played on the side of Russian disinformers with an odious proposal to detonate bombs in Russia and Hungary in response to the creation of a "Hungarian" district in Transcarpathia. In this way, he actually confirmed the disinformation fable about Western Ukrainian separatism and federalization. And he provoked headlines like "What other evidence is needed that Ukraine is a terrorist state?" or "Bomb Budapest! How Ukraine decided to start a nuclear conflict against NATO and Russia at the same time." Foreign Minister Dmytro Kuleba has already refuted the fakes surrounding the statement.
"US Institute of National Remembrance"
Disinformers awkwardly compare the events in the United States to the protests in Ukraine in 2013-2014 and decommunization. They write that the United States would soon create "The Institute of National Remembrance of the United States and the site "Racists " which will list the enemies of the African-American nation." In this way, they draw parallels with the "Myrotvorets" website which lists information about pro-Russian militants and criminals, and the Institute of National Remembrance of Ukraine.
At the same time, they complain that Russia is becoming a "sacred victim" of American domestic policy. That is why, they argue, American politicians want to impose additional sanctions on Russia.
Miner protests in the occupied territories
Russian sites targeting Ukrainian issues wrote this week about miners' protests in the occupied Luhansk region. After that, access to several of them was blocked in the occupied territories. The disinformers themselves were indignant about this: "Who is this cheerful person who, to the delight of Ukrops [derogatory for Ukrainians - Texty.org.ua], blocked the Russian media." Later, they wrote that the miners were guaranteed security and paid all debts.
Quote of the week:
"The maximum that the so-called independent state can count on is the status of an agrarian and raw materials appendage and a foothold for destabilizing the Russian border".
We should add that it was the Russian Empire and the Soviet Union that Ukraine was a raw material appendage in.
Summary
This week, disinformers excelled in many areas. They wrote that Zelensky "betrayed his grandfather", that activist Serhi Sternenko is a "neo-fascist" and a "murderer". They talked about how, in the occupied Crimea, they will cook jam "from rose petals" without Ukrainian water and sell the jam in Kamchatka.
They wrote that "the efforts of the Kyiv regime to Ukrainianize education and society" are failing, and meanwhile in Ukraine, there is allegedly a "huge" demand for education in the Russian language.
Another notable topic was the MH17 court hearings in the Netherlands. Disinformers tested their entire arsenal of manipulations on it, coming up with fictitious evidence, conspiracy theories, and confidently declaring: "They are not just afraid of us, they hate us. They decided from the very beginning to blame Russia."
Please, use interactive visualization to view headlines of topics
Methodology
We searched for topics in 7415 materials in the Russian language from:
68 Russian sites (manipulative materials only) targeting Ukrainian topics: 3652.ru, 3654.ru, 8692.ru, anna-news.info, antifashist.com, antimaydan.info, c-inform.info, comitet.su, crisis.in.ua, delovoydonbass.ru, dnr-lnr.info, dnr-pravda.ru, dnr24.com, dnr24.su, donbasstoday.ru, doneck-news.com, dontimes.ru, dosie.su, e-gorlovka.com.ua, e-news.su, evening-crimea.com, free-news.su, fresh.org.ua, fromdonetsk.net, front-novorossii.ru, gorlovka.today, jankoy.org.ua, kafanews.com, komtv.org, kv-journal.su, lgt.su, luga1news.ru, lugansk1.info, meridian.in.ua, metayogg.com, miaistok.su, mir-lug.info, mnyug.com, mozaika.dn.ua, nahnews.org, naspravdi.info, newc.info, news-front.info, newsland.com, nk.org.ua, novorosinform.org, novorossiy.info, novosti.icu, on-line.lg.ua, patriot-donetsk.ru, pohnews.org, politnavigator.net, pravdanews.info, ruinformer.com, rusdnepr.ru, rusnext.ru, russian-vesna.ru, rusvesna.su, sevastopol.su, sevnews.info, sobytiya.info, svodki24.ru, time-news.net, ukraina.ru, voenkor.info, voskhodinfo.su, vsednr.ru, xvesti.ru
70 Ukrainian online publications where over 10% of all news about Ukraine have been spotted as being manipulative (manipulative materials only): 112.ua, agrimpasa.com, aif.ua, akcenty.com.ua, antikor.com.ua, baza-pravda.in.ua, bbcccnn.com.ua, begemot.media, bessarabiainform.com, censoru.net, dialog.ua, expres.life, finoboz.net, fraza.ua, from-ua.com, glavcom.life, glavk.info, glavred.info, glavred.life, golos.ua, hpib.life, hyser.com.ua, inforesist.org, inform-ua.info, informator.news, ivasi.news, jizn.info, khersonline.net, kompromat1.info, kompromat1.news, kordon.org.ua, korr.com.ua, kyiv.press, lifedon.com.ua, mignews.com.ua, newnews.in.ua, news247.com.ua, newsmir.info, onpress.info, podrobnosti.ua, politeka.net, politica.com.ua, pravda.rv.ua, prioritet.org, proua.com.ua, replyua.net, rupor.info, sharij.net, skelet-info.org, spektrnews.in.ua, spichka.news, spzh.news, strana.ua, t.ks.ua, timer-odessa.net, ua24ua.net, ukr.life, ukrainianwall.com, ukranews.com, ukranews.life, ukrrudprom.ua, vesti-ukr.com, vesti.ua, voi.com.ua, vremya.com.ua, vybor.ua, vz.ua, xn--j1aidcn.org, zik.ua, znaj.ua
17 major Ukrainian online publications (all materials): 24tv.ua, bykvu.com, censor.net.ua, fakty.com.ua, fakty.ua, gordonua.com, interfax.com.ua, lb.ua, liga.net, nv.ua, pravda.com.ua, rbc.ua, segodnya.ua, tsn.ua, ukrinform.ru, unian.net, zn.ua
16 major Russian publications (all materials): aif.ru, dni.ru, kommersant.ru, kp.ru, lenta.ru, lentainform.com, life.ru, newsru.com, pravda.ru, regnum.ru, riafan.ru, russian.rt.com, slovodel.com, svpressa.ru, tass.ru, vz.ru
Manipulation in news was singled out by our improved AI classifier developed in the project We've got bad news. In the monitoring, we only regarded materials about social and political life which are about Ukraine.
Limitations of the study:
In this study, we only regarded the topics which are in line with Russian disinformation campaigns. Most of them are based on real events, as disinformation works more effectively this way. Topic names reflect manipulations used in the topic. Accordingly, news stories on Ukrainian mainstream sites on the same topic may have completely different content from that of manipulative materials.
We take the topics of Russian propaganda in Ukraine from the following groups of materials:
manipulative news from the Russian online publications which write on Ukrainian topics, for the population of the occupied territories
manipulative news from those Ukrainian sites where a significant amount of manipulative news has been spotted. This second category is targeted at Ukrainian audiences and publishes a lot of manipulative news of different ideological orientation
all news from mainstream Ukrainian publications
all materials from mainstream Russian news sites
In the first and second groups of news, the materials were selected by the AI classifier of manipulative news.