Hot topics of Russian disinfo: "Strong regional leader Kernes" made into an icon of federalism. Issue #29
Not surprisingly, coronavirus dominated the media last week. There were many critical publications in conscientious media, too: transportation collapse in Kyiv, pumped up prices for masks, criticism of medical reform. However, contrary to media ethics, disinformers used them to sow panic, emotionally devaluing power, opposing "inefficient Ukrainians" to the whole other "civilized" world, and spreading apocalyptic predictions. They also criticized Zelensky, fantasized about Ukraine's foreign governance and once again resumed discourse on the federalization of Ukraine, either inventing "coronavirus federalism" or inflating nationwide a petty conflict between Kharkiv region officials.
Period: March 16—22, 2020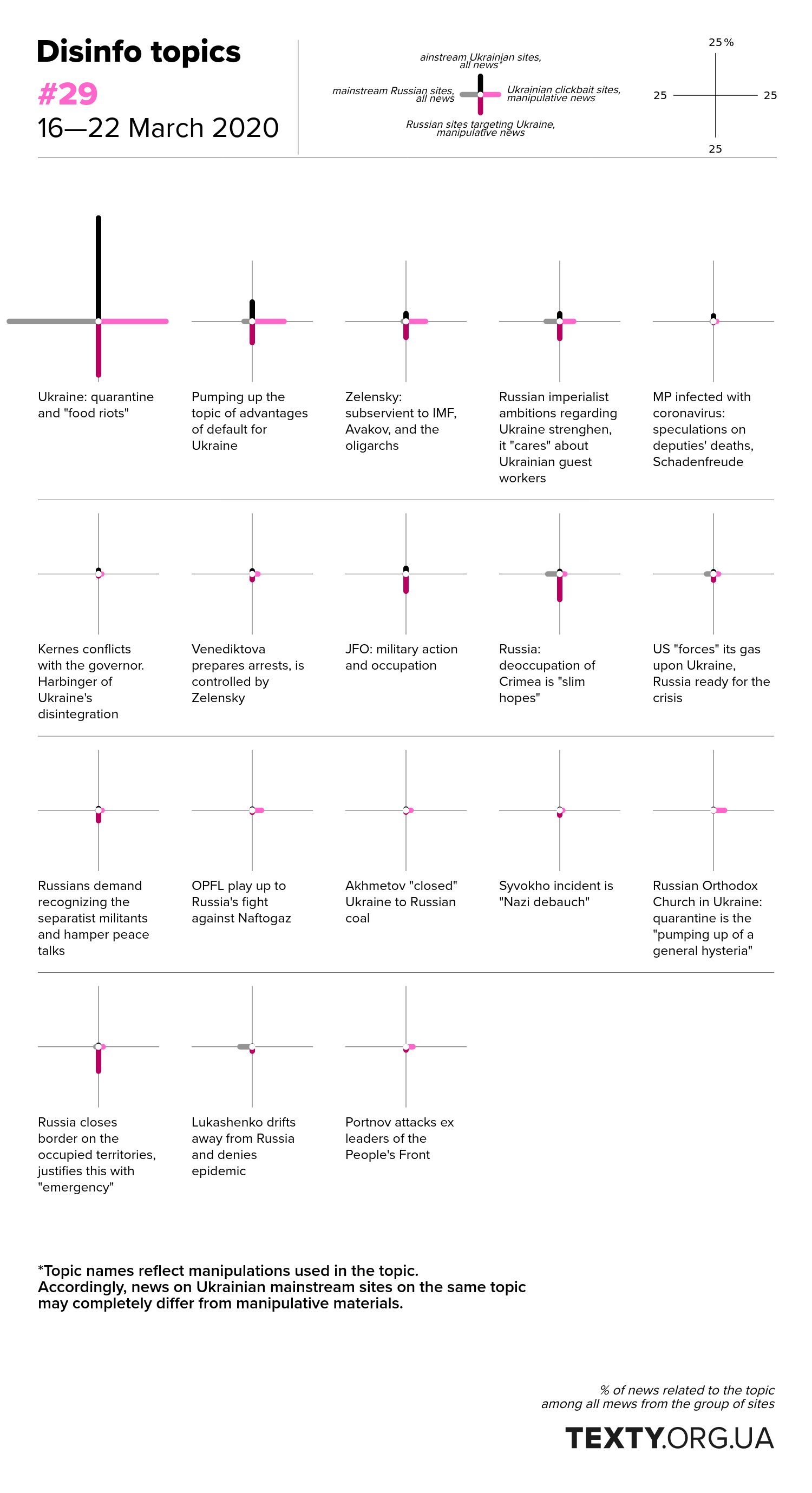 Coronavirus
Last week, our algorithm recorded a large proportion of publications related to coronavirus in all types of media, which is not surprising. This is really due, in part, to journalists' meticulous attention to everything related to COVID-19. People want to read about it. For example, the appointment of a new Attorney General, who is considered close to the pro-Russian forces, was rightly commented on as happening "while the people have no physical ability to protest and are panically busy buying buckwheat with toilet paper." Dubinsky, once again criticizing Poroshenko, in his words sends him "on quarantine into a solitary confinement cell". Therefore, below we highlight the main topics that are most often pumped up in the context of the coronavirus.
Transportation collapse in Kyiv
The transportation collapse that resulted from the closure of the Kyiv subway has become a "delicious bite" for both Ukrainian manipulative and Russian publications targeting Ukrainian topics. Photos of crowded minibuses, supplemented with the emotions of the authors, gave rise to quotations such as "usual transport has become a place of torture and conflict" or "At first, they stopped building the subway in Ukraine. Then they stopped going there." Manipulators even managed to recall Bandera: "The national police promised to keep a steady watch on the established fullness of public transport - no more than 20 people per trolleybus. For the rest, who will be waiting at the stops of their fate... oh, turn! There will be choral singing courses, Bandera readings, courses on the production of toilet paper respirators and collection of voluntary donations to combat the pandemic."
Profiteering from epidemic in Ukraine
Manipulative media have tried to demonstrate "hundreds of examples of national shame" writing about how everyone who is able profiteers from the epidemic. They discussed everything: mask prices, ticket prices, communal tariffs, how the "ride cynics will strike gold" after the closure of the subway, and even the "greedy Sportlife gym networks which cynically demands one hundred hryvnias to freeze your subscription for a month for the quarantine". Of course, all this was set off against "how civilized communities respond to a major catastrophe." Russian sites targeting Ukrainian topics were less interested in the economic component, mainly going into the political plane and the alleged inadequacy of the Ukrainian authorities. But they also mentioned "Ukrainian officials massively stealing funds allocated to fight the coronavirus epidemic" and supported the thesis that Kyiv "is not simply trading in the health of its citizens, but speculating on it." Recall that Ukrainians often deny these theses with their actions: the Orthodox Church produces free antiseptics, volunteers help the elderly.
Medical reform, again
For the second week in a row, we have noticed that manipulators are more critical of the current government than medical reform of the previous government. They quote Ulyana Suprun not forgetting to add a clickbait header ("Scumbags and scammers! "Suprun discloses who profiteer on the coronavirus panic"). Even though, until recently they have tried in all ways to discredit all her actions and the medical reform in general ("Ulyana Suprun actually lives in about 1970 in her head, and she came to fight the Soviet Union").
On the other hand, the Russian sites targeting Ukrainian topics have not changed their attitude to Suprun. And in some texts you can find an "honest" answer to the question why it is they do not like her. It's because it is on the initiative of Suprun that "only EU and US certificates for medicines are recognized which has led to the blocking of cheap, decade-proven drugs and vaccines from Russia." They criticized Suprun and they were being nostalgic about the former sanitation service. And although the post of Chief State Sanitary Doctor has been restored, it does not prevent Russian disinformers from yearning for Soviet medicine ("by inheritance from the USSR, Ukraine received one of the best sanitary and epidemiological services and "reformed" it not because of corruption, but because Ukraine didn't want to maintain it"). Ulyana Suprun noted that she transferred all the functions of this service to other agencies, but the service itself was disbanded because of total corruption.
Apocalyptic forecast
Ukrainian manipulators love to look into the future and see the apocalypse there. Food riots and mass protests, financial problems and the lack of money for salaries to law enforcement structures, the "power vacuum" and the "Italian apocalypse". That's an incomplete list of what Ukraine is supposedly in for.
Russian sites targeting Ukrainian issues approached prophesying in a more creative way by inventing a "coronavirus federalism" as a result of regions being closed for quarantine, and scaring one that, once the state of emergency has been imposed, "Internet access will probably be restricted throughout the country."
Russian disinformers trying to prove they are weaker than US disinformers
An internal report from the Strategic Communications Division of the European External Action Service regarding the spreading of panic in the EU by Russian disinformation has caused a great deal of reaction from Russian disinformers. They tried to disprove it in every possible way, while also continuing to use it to manipulate and blame the West.
"The West itself produces every possible fake, both about the coronavirus and about everything else in the world. Nowhere in the world are there so many fake news as generated in the US and Europe. So Russia, with all the will, could not compete in the production and even more so in the distribution of fake news in Western social networks and media"
Zelensky: subservient to IMF, Avakov, and the oligarchs
This week, clickbait sites have written a lot about Volodymyr Zelensky. Some have criticized the president for "blind compliance with IMF requirements." The reason was his desire to complete the land reform and to adopt a law on the non-returning of nationalized banks (the so-called "anti-Kolomoisky" law, which the IMF insists on). At the same time, Zelensky is accused of being dependent on Ukrainian oligarchs. It is not clear how Zelensky can be controlled by both opposing sides at the same time, since their goals are as wide as poles apart.
For several weeks, clickbait websites continue to pump up the topic of Zelensky's "struggle" with Interior Minister Arsen Avakov: "by using "the street", Avakov proves that he has a private army which he controls completely, and which will easily take either the side of the president or the opposite side." They also mentioned the negotiations with Russian representatives in Minsk. Some sites have expressed the opinion: "If the United States can negotiate with Taliban representatives, then why Kiev cannot act in the same way with the ORDLO."
Russian sites targeting Ukraine have traditionally criticized Zelensky. "Zelensky's problem, like that of any senseless populist, is that he is incapable of systematic thinking, systematic creation, or implementation of long-term strategies for the country's development." And they also did not forget to mention the IMF: "A glaring bend under the IMF and demonstration of total inadequacy in face of the country's challenges."
Russia's leading editions have largely written about Zelensky's dependence on the oligarchs and his intention to use quarantine for his own purposes: "And God, coronavirus and quarantine measures, raised to the format of concentration camp madness, give Volodymyr Zelensky a chance to minimize the political consequences of any decision." Russia has always criticized the Ukrainian president for any decisions he makes. Such criticism is often emotional, rich in inappropriate comparisons such as "concentration camp madness" and exaggerated. At the same time, authorities around the world can use coronavirus for their own purposes.
Kernes and Yaroslavsky at war against the governor
Clickbait sites wrote about the conflict between the head of the Kharkiv regional state administration Oleksiy Kucher and the mayor of Kharkiv Kernes, criticizing the head of the regional state administration. They hinted that Zelensky is losing control of the regions.
But much more attention was given to Kernes by Russian sites targeting Ukrainian topics. They pump up the petty conflict between officials nationwide: "The challenge left by the First Capital is closely watched by other millionaire cities - Odessa, Dnipro, and even Lviv."
As an example of "decisiveness and independence" of the mayor, they cite his controversial decisions in the cultural sphere: "Despite the decrees of Kyiv, Kharkiv lives its own life: it returned the name of Marshal Zhukov to the avenue, as well as a monument, it celebrates May 9 and does not forget about February 23." Russian sites seem to have decided to use Kernes to continue promoting the "federalization" propaganda thesis. His words that the government could not unilaterally force cities to close the subway were translated into: "Replace decentralization with federalization, and you get the slogans in 2014, under which millions of residents of the South-East protested." Leading Russian media have also picked up on the topic of Kernes as a "strong regional leader" and have written that other regions will support his conflict with the central government. To sum up, a bureaucratic conflict prompted a call for separatism.
US "forces" its gas upon Ukraine, Russia ready for the crisis
Clickbait sites have written about how the global economic crisis is affecting Russia's policy towards Ukraine and Europe. They believe that: "Against the background of the global crisis, the Russian Federation and other countries that are subject to restrictions can start talking about lifting the harsh constraints of the West." At the same time, they assure that even with the sanctions Russia will easily survive the crisis: "the accumulated reserves will be enough for the country to generally refuse to collect taxes for a year, if required, and Ukrainian Maidan-ites hope in vain for a prompt disintegration of Russia."
Russian websites targeting Ukraine focus on gas issues and efforts to prove that Europe and the US have significant contradictions. For example, they are trying to convince that the US is not a reliable ally because it has closed the border for Europeans. "Whether the United States will defend the Baltic States in the event of a military aggression is a rhetorical question."
Gas issues mainly relate to Naftogaz's plan to store American liquefied gas in Ukrainian storage facilities. Disinformers see the reason that "in the world market, European and Chinese counterparties refuse, revise or even cancel previous agreements [on gas supply - Texty] with the US". That is why Ukraine, which is allegedly a "puppet of the United States", helps them close this "hole".
Also this week
Disinformers continue to attack the National Bank of Ukraine and call for a default. Theses on the land market have changed, now the oligarchs would "buy up" the land, not foreigners. The Russian propagandists once again exacerbated their hatred for Ukraine: they dream of "landing in Kyiv". Also, disinformers are disseminating Portnova's calls for the new Prosecutor General to prosecute Poroshenko and former leaders of the People's Front. At the same time, the government is "shutting down" Ukraine for Russian coal and electricity, allegedly in order to give Akhmetov a chance to profit. It should be remembered that Ukraine has not imported coal and electricity from Russia for 6 years but started doing so in October 2019. Like many decisions of the new government, it was revised, and already in February 2020 Zelensky instructed the government to restrict imports again.
Limitations of the study:
In this study, we only regarded the topics which are in line with Russian disinformation campaigns. Most of them are based on real events, as disinformation works more effectively this way. Topic names reflect manipulations used in the topic. Accordingly, news stories on Ukrainian mainstream sites on the same topic may have completely different content from that of manipulative materials.
We take the topics of Russian propaganda in Ukraine from the following groups of materials:
manipulative news from the Russian online publications which write on Ukrainian topics, for the population of the occupied territories
manipulative news from those Ukrainian sites where a significant amount of manipulative news has been spotted. This second category is targeted at Ukrainian audiences and publishes a lot of manipulative news of different ideological orientation
all news from mainstream Ukrainian publications
all materials from mainstream Russian news sites
In the first and second groups of news, the materials were selected by the AI classifier of manipulative news.
Examples of headlines
Coronavirus
Do authorities really think thank people storm the minibuses only out of their wish to get infected? | antikor.com.ua
People will go crazy and the power will be swept. Ukraine is threatened with quarantine riots experts | kordon.org.ua
Coronavirus hysteria replaced a new World War for Washington | rusdnepr.ru
"Stampede and suicide". Ukraine falls into a transportation collapse because of quarantine measures | antifashist.com
Coronavirus federalization: unexpected consequences of epidemic for Ukrainian politics | naspravdi.info
Epidemic daily. Does Kyiv trade in Ukrainians' health? | pravdanews.info
Zelensky: subservient to IMF, Avakov, and the oligarchs
Zelensky protected oligarchs, not businessmen | ua24ua.net
Voloshin points out Zelensky's "blatant subservience and schizophrenia" | politnavigator.net
Which concentration camp will take the place of Ukraine? | front-novorossii.ru
Zelensky asks oligarchs for half a billion dollars to fight coronavirus | lenta.ru
Coronavirus became the savior for Ukrainian authorities - Skachko | ukraina.ru
Kernes and Yaroslavsky at war against the governor
"Why do we need the likes of him?". Businessman Yaroslavsky calls Kharkiv governor Kucher a joke, - video | dialog.ua
Kernes compares head of regional administration to moth who eats up something unclear | sharij.net
Kernes challenges Zelensky: Kharkiv is first to slip out of Kyiv's control | politnavigator.net
Political scientist: Kharkiv being led to separation from Ukraine | antifashist.com
Ukraine: a feudal rally | regnum.ru
US "forces" its gas upon Ukraine, Russia ready for the crisis
Ukraine threatened with a change of government, state of emergency, and a political crisis as a result, economist claims | nahnews.org
Ukrainian hub for American gas, Naftogaz's grand scam | nk.org.ua
Klintsevich thinks that the COVID-19 fake is aimed to distract Europeans from the real problem | riafan.ru
NATO's real loss in its military confrontation with Russia | e-news.su
Coronavirus kills not only Europeans, but European integration as well | naspravdi.info
Other topics
Default by May or new debt. Will Ukraine cope without the IMF money under the coronavirus epidemic? | nk.org.ua
"Money first". Rada bargains with IMF for land sale in Ukraine | regnum.ru
Skabeeva's people call to reduce Ukraine to a single region: "We'll displace the f*** out of them" | politeka.net
This woman is Poroshenko's nightmare | rusvesna.su
The "patriots" business. Why Ukraine introduces special duty in Russian coal and electricity | ukraina.ru
Methodology
In this issue, we extended our list of websites. We searched for topics in 13 376 materials in the Russian language from:
68 Russian sites (manipulative materials only) targeting Ukrainian topics: 3652.ru, 3654.ru, 8692.ru, anna-news.info, antifashist.com, antimaydan.info, c-inform.info, comitet.su, crisis.in.ua, delovoydonbass.ru, dnr-lnr.info, dnr-pravda.ru, dnr24.com, dnr24.su, donbasstoday.ru, doneck-news.com, dontimes.ru, dosie.su, e-gorlovka.com.ua, e-news.su, evening-crimea.com, free-news.su, fresh.org.ua, fromdonetsk.net, front-novorossii.ru, gorlovka.today, jankoy.org.ua, kafanews.com, komtv.org, kv-journal.su, lgt.su, luga1news.ru, lugansk1.info, meridian.in.ua, metayogg.com, miaistok.su, mir-lug.info, mnyug.com, mozaika.dn.ua, nahnews.org, naspravdi.info, newc.info, news-front.info, newsland.com, nk.org.ua, novorosinform.org, novorossiy.info, novosti.icu, on-line.lg.ua, patriot-donetsk.ru, pohnews.org, politnavigator.net, pravdanews.info, ruinformer.com, rusdnepr.ru, rusnext.ru, russian-vesna.ru, rusvesna.su, sevastopol.su, sevnews.info, sobytiya.info, svodki24.ru, time-news.net, ukraina.ru, voenkor.info, voskhodinfo.su, vsednr.ru, xvesti.ru
70 Ukrainian online publications where over 10% of all news about Ukraine have been spotted as being manipulative (manipulative materials only): 112.ua, agrimpasa.com, aif.ua, akcenty.com.ua, antikor.com.ua, baza-pravda.in.ua, bbcccnn.com.ua, begemot.media, bessarabiainform.com, censoru.net, dialog.ua, expres.life, finoboz.net, fraza.ua, from-ua.com, glavcom.life, glavk.info, glavred.info, glavred.life, golos.ua, hpib.life, hyser.com.ua, inforesist.org, inform-ua.info, informator.news, ivasi.news, jizn.info, khersonline.net, kompromat1.info, kompromat1.news, kordon.org.ua, korr.com.ua, kyiv.press, lifedon.com.ua, mignews.com.ua, newnews.in.ua, news247.com.ua, newsmir.info, onpress.info, podrobnosti.ua, politeka.net, politica.com.ua, pravda.rv.ua, prioritet.org, proua.com.ua, replyua.net, rupor.info, sharij.net, skelet-info.org, spektrnews.in.ua, spichka.news, spzh.news, strana.ua, t.ks.ua, timer-odessa.net, ua24ua.net, ukr.life, ukrainianwall.com, ukranews.com, ukranews.life, ukrrudprom.ua, vesti-ukr.com, vesti.ua, voi.com.ua, vremya.com.ua, vybor.ua, vz.ua, xn--j1aidcn.org, zik.ua, znaj.ua
17 major Ukrainian online publications (all materials): 24tv.ua, bykvu.com, censor.net.ua, fakty.com.ua, fakty.ua, gordonua.com, interfax.com.ua, lb.ua, liga.net, nv.ua, pravda.com.ua, rbc.ua, segodnya.ua, tsn.ua, ukrinform.ru, unian.net, zn.ua
16 major Russian publications (all materials): aif.ru, dni.ru, kommersant.ru, kp.ru, lenta.ru, lentainform.com, life.ru, newsru.com, pravda.ru, regnum.ru, riafan.ru, russian.rt.com, slovodel.com, svpressa.ru, tass.ru, vz.ru
Manipulation in news was singled out by our improved AI classifier developed in the project We've got bad news. In the monitoring, we only regarded materials about social and political life which are about Ukraine.