Russian businesses in Europe
There were almost 31 thousand companies with Russian beneficial owners as at March 2022. According to the data provided by The Ownership Monitor (TOM), an R&D hub for the analysis of business ownership structures, 1,400 of them were controlled by the persons under international sanctions at the time. Only those companies were worth $440 billion.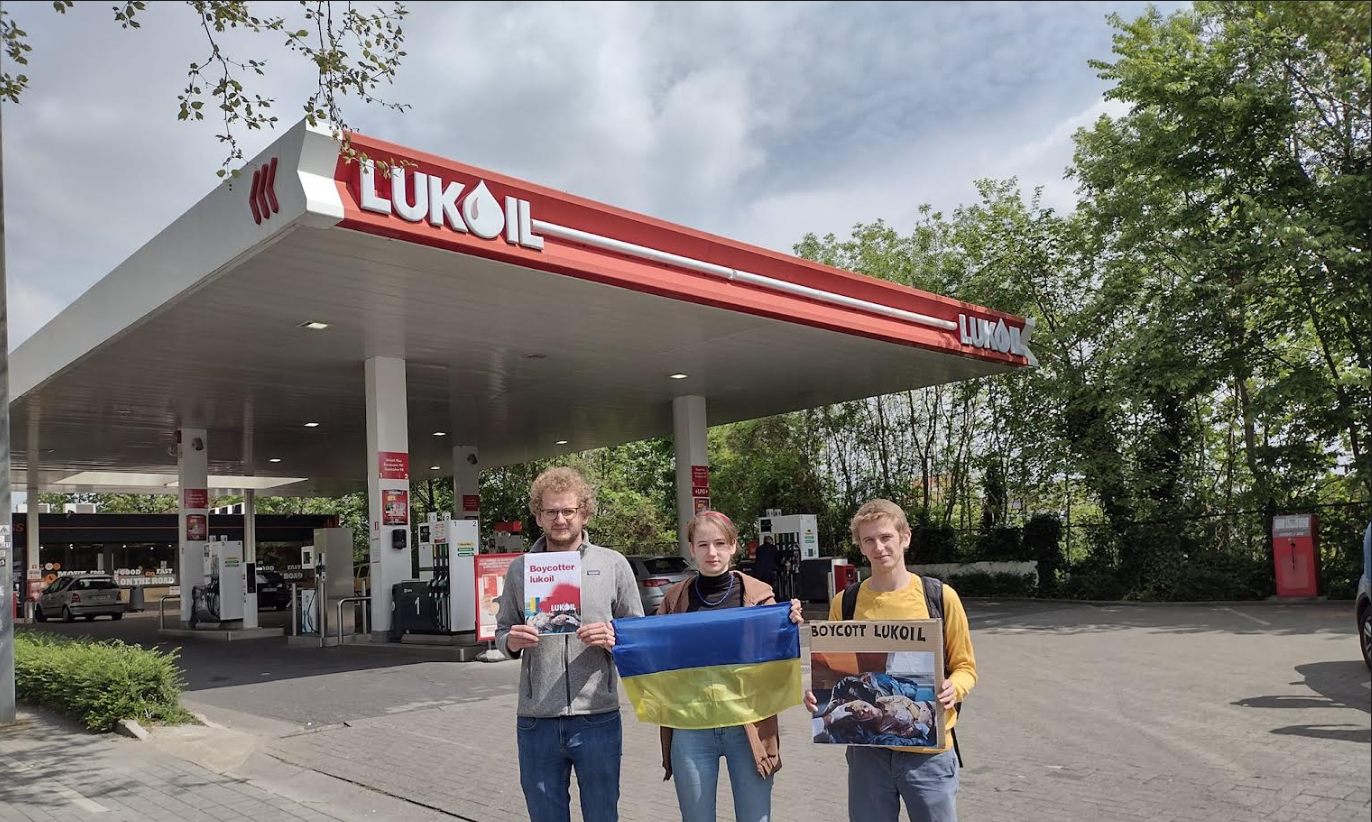 Ukrainians, protesting against Lukoil gas stations in Belgium.
Promote Ukraine / euobserver.com
Most of the companies owned by the oligarchs are registered in Germany, the UK, Cyprus, the Netherlands, Luxembourg, and Austria. In most cases, the registration is a mere formality while the physical assets remain elsewhere. For example, Cyprus accounts for 17% of the indirect connections (i.e. when Russian nationals do not own a European business directly) while Germany — for another 12%. In comparison, the British Virgin Islands, a popular non-European offshore jurisdiction, only accounts for 2% of the European companies indirectly owned by Russians. Similarly, it was Cyprus that was the most popular jurisdiction for "oligarch" assets (over $106 billion). Luxembourg came a close second ($95 billion) while the UK ranked third ($65 billion).
Russia's largest corporations such as Gazprom, Lukoil, Rosneft, Rosatom, Sibur Holding, EuroChem Group, Novatek, Pipe Metallurgical Company (TMK), Transmashholding (TMH), PhosAgro, SUEK, Norilsk Nickel, Rusal, Sberbank, X5 Retail, Tatneft, NLMK and others have representative offices and subsidiaries in Europe. We looked into Russia's 100 largest companies from the latest available ranking dated 2021 and discovered that at least 42 were represented in Europe.
Russian businesses in Europe
In addition to sales offices and holding companies in convenient jurisdictions which are used by Russians to structure their European assets, Russian entrepreneurs and government agencies control countless industrial enteprises, hotels, travel agencies and development companies.
Here are just a few examples. NLMK which belongs to Russia's richest man Vladimir Lisin owns NLMK Clabecq, a steel plate manufacturer, and a number of other enterprises in Belgium, France, Italy, and Denmark. According to media reports, the Belgium-based factories (and the supportive position of the Belgian government that cares about the well-being of 1,200 workers in the country's less developed regions) may have helped Lisin to circumvent the EU sanctions. The article further claims that the position of the Belgian government also kept Alrosa, Russia's largest diamond producer, out of trouble since Antwerp is the most important rough diamond trade hub in the world. Coincidentally, the European office of that Russian company is located in the same Belgian port. No sanctions have been applied against Norilsk Nickel Harjavalta, Nornickel's wholly owned subsidiary in Harjavalta, Finland (see below). Despite the sanctions imposed on Volodymyr Potanin, his business remains untouchable due to its significance as nickel and palladium supplier.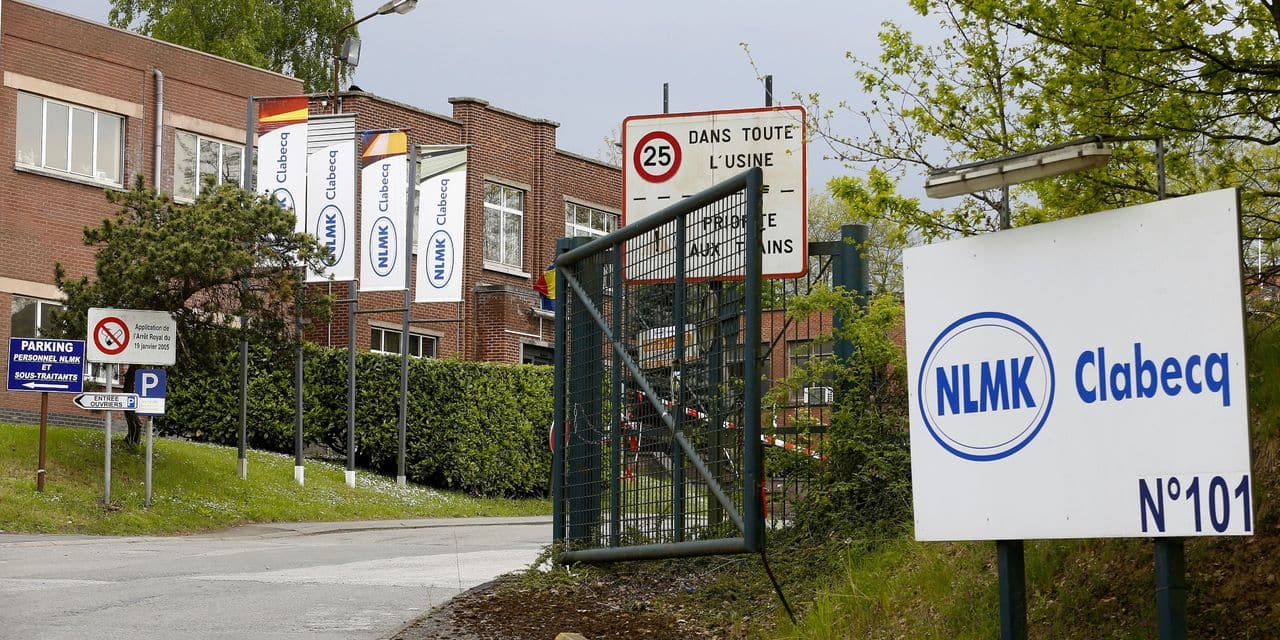 Entrance to NLMK Clabecq factory, Belgium.
Photo credit: prewave.com
Vagit Alekperov's Lukoil owns a chain of petrol stations through Europe, petrochemical plants and oil refineries in Bulgaria and Italy (listed for sale), and oil refineries in Romania and the Netherlands. Andrey Melnichenko's Swiss-registered EuroChem Group owns mineral fertilizer plants in Antwerp, Belgium and Kėdainiai, Lithuania and a share in Hispalense de Liquidos factory in Seville, Spain.
Gazpromneft, a Gazprom subsidiary, owns a 57% share in Serbian Oil Holding "Нафтна индустрија Србије" (NIS) whose business includes oil extraction, oil refining and petrochemical sales in the Balkans and in several other countries. Gazprom also owns a 51% share in Banatski Dvor gas storage facility and a 49% share in Yugorosgaz, a natural gas distributor and transportation company.
Rosatom, another state-owned company, is involved in an ongoing nuclear power plant construction project in Hungary although it withdrew from a similar joint project in Finland under the pressure from its former partners.
The owner of En+ and Rusal Oleg Deripaska has a number of high-value assets in Europe including aluminum plants in Germany, Ireland, Sweden, and Italy as well as a share in Strabag, the largest construction company in Austria and one of the top construction companies in Europe. According to the company shareholders, the Russian oligarch has been blocked from the dividend payments by the construction holding, but this fact is difficult to verify. However, Deripaska's Austrian assets also include the Guest hotel owned through the company registered to his cousin. The shares of Alexey Mordashov in the German TUI, one of the world's leading tourism groups, Viatcheslav Moshe Kantor's share in the Polish mineral fertilizer manufacturer Grupa Azoty Spółka Akcyjna (see below) and Viktor Vekselberg's share in the Swiss industrial engineering and manufacturing firm Sulzer are also said to be blocked. The sanctions led to the arrest of the businesses owned by Gennady Timchenko and Arkady Rotenberg (including the renowned Hartwall Areena in Helsinki) and the Finnish companies affiliated to Yandex.
Some lesser-known Russian assets in Europe include the methanol and formaldehyde producer Metafrax in Austria and SIJ Group owned by Andrey Zubitskiy in Slovenia.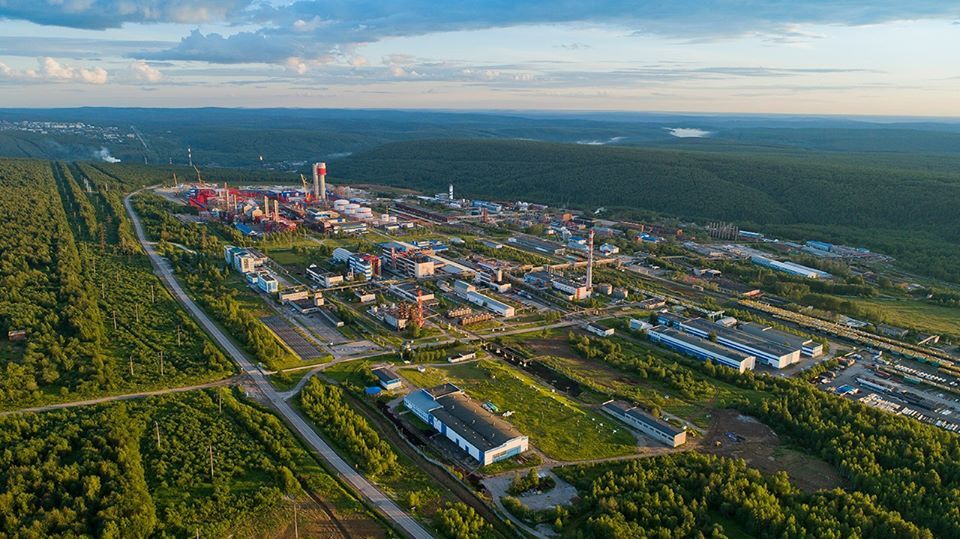 Metafrax factory, Austria.
Photo credit: Metafrax website
Most of the those assets are still owned by Russian oligarchs and continue to operate despite the sanctions. However, there have been a few exceptions. In January 2023, Dmitry Pumpyansky's Pipe Metallurgical Company sold its assets in Europe (the manufacturing facility in Romania and the sales offices) to Serbian investment company Hefestos Capital. Similarly, Gazprom withdrew the capital of Greek Prometheus Gas SA whereas Andrei Bokarev's Transmashholding sold its factories in Hungary to a local partner. The Novatek gas distribution networks in Poland were turned over to the state last April and put on sale this year
This is only a fraction of the Russian-owned companies in Europe which are still in business. While the fate of most companies owned by the sanctioned oligarchs is already sealed as they are expected to get new owners, smaller Russian businesses such as hotels, golf clubs and other low-profile, but highly lucrative enterprises continue to operate normally without any questions from the EU authorities.
Read next: