Hot topics of Russian disinfo: attacking Poroshenko, defending Stepanov, blaming ATO veterans of the Brovary shooting. Issue #39
Police violence and the shooting in Brovary were not interpreted as a failure of police reform, instead Russian websites reduced the explanation to the Maidan.
The SBI muscle-flexing in the Honchar Museum and the Ukrainian Forbes intensified the mantra "Poroshenko is to blame for everything"
The "children of Suprun" are in a hurry to help the "children of Soros". They, along with the pharmaceutical lobby, are accused of trying to dismiss the head of the Ministry of Health.
Gas is on the agenda again: Russia is fighting for Nord Stream 2 and against liquefied gas supplies.
Manipulators once again asked to supply Ukrainian water to the occupied Crimea.
May 25—31, 2020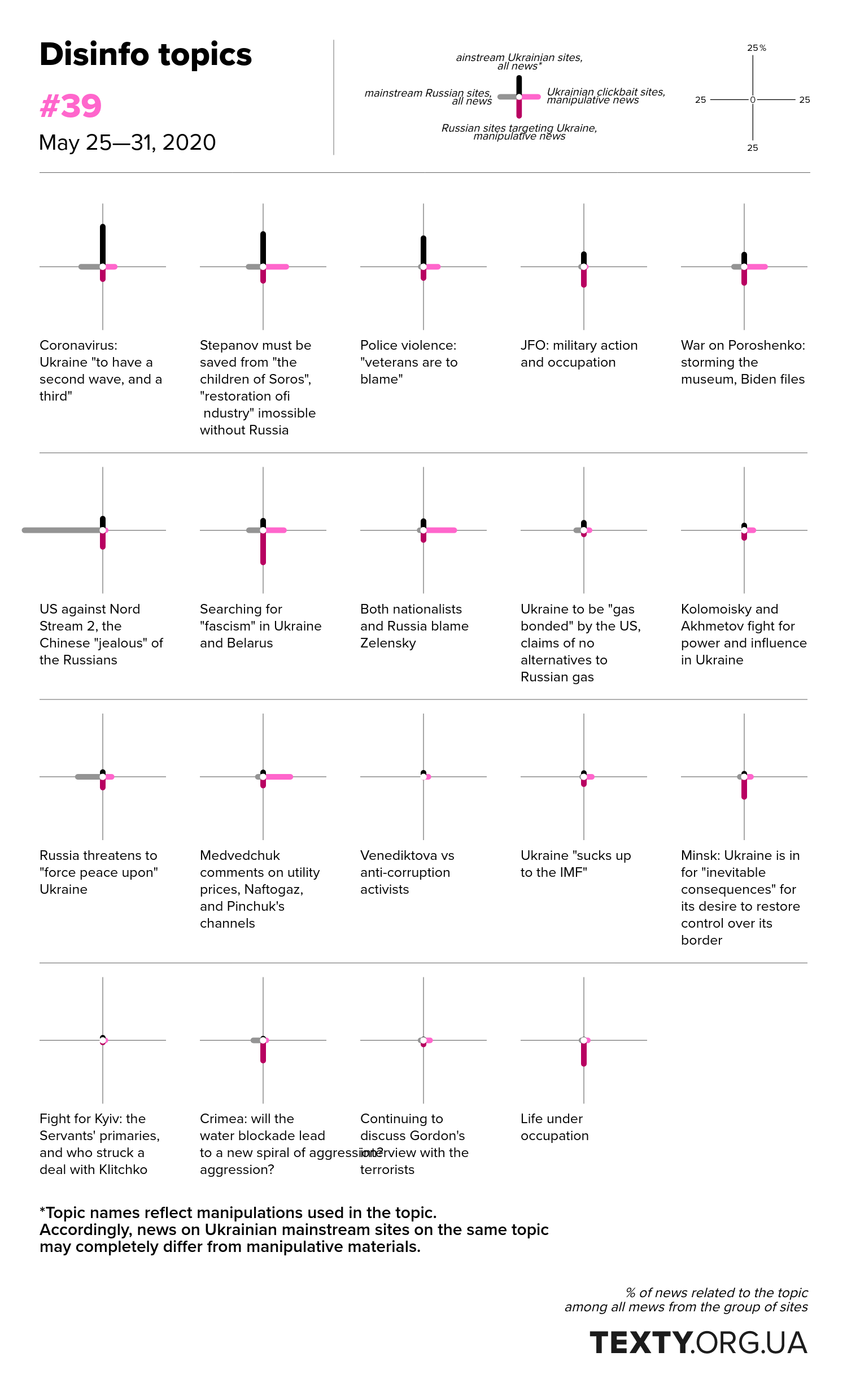 Poroshenko: SBI games, collection of paintings from the aggressor state
Events at the Honchar Museum, where Poroshenko opened an exhibition of his private collection of paintings (he is accused of smuggling them into Ukraine), when the SBI, State Bureau of Investigations, broke in and blocked the entrance to the museum for a while, was played by disinformers to the fullest. Ukrainian manipulative media hypothesized that these events were the result of the actions of Poroshenko's political technologists, whose task was to "spit into the SBI" and force them to act." Poroshenko's return to the list of billionaires according to Forbes Ukraine magazine, which came out after a long break, was mentioned in this context: "Petro Poroshenko should not be prosecuted for paintings, he should be asked why he got richer by almost a billion in 2016-2019". Thus, they repeated the theses of Russian mainstream media which wrote that "Poroshenko's go for the power was exceptionally successful."
Ukrainian manipulators also fantasized that the presence of Russian artists in Poroshenko's collection "suggests that the ex-president is absolutely a 'Russian man,'" and that his slogans of "army and faith" are just another set of meaningless words". (This thesis has long been advanced among patriotic communities). Russian sites targeting Ukrainian issues also disseminated this thesis, adding to it emotionality: "Even the "Poroshenko-bots" became agitated: why the f*** [redacted by TEXTY.org.ua] were there in the fifth president's collection the artists who incorrectly answered the question "Whose is Crimea?" and due to pure misunderstanding are not included in the list of Myrotvorets website?
Medvedchuk comments on everything Russia says
Medvedchuk continues to comment on everything in the world, and the media under his control distribute each quote in dozens of materials (often with identical text). And although we usually try to avoid describing the PR of the OPFL in their own media, this time we will show how Medvedchuk promotes and legitimizes pro-Russian messages, and in how many topics he plays during a single week.
"You know that I don't want to blacken the picture," Medvedchuk said in a new interview, while he does so in every sentence. In general, the content of most of his comments can be described by his own phrase: "Nothing good can be expected today in the current situation." He promotes the pro-Russian meme of "Washington Obkom" and spreads a discourse on Ukraine's alleged foreign governance, he manipulates information about Naftogaz's supervisory board ("[which acts] in order to hand over control of the company to the United States"), and he mentions that "selling pets for debt is savagery and cynicism." (This topic was taken from a previous publication in a quite decent media,the topic was that through the system of sales of confiscated property domestic animals were sold).
Even speaking of the attack on the OPFL office (it was recently aggressively picketed by representatives of the far-right organization Azov, whose actions are particularly actively covered by Medvedchuk's own channels), Medvedchuk again raises the issue of alleged external governance because the "nationalist radicals" allegedly acted on the instructions of the authorities while the government, in its turn, "acts at the behest of external factors abroad, in order to avenge the party for the celebration of May 9, for its stance on the land law, and for bacteriological laboratories, and for the relations we defend, the trade and economic relations with Russia, and, most importantly, for peace in the Donbas".
Police violence: "veterans are to blame", not Avakov
Last week, manipulators paid a lot of attention to scandals involving police inaction and police violence. They wrote about torture and rape in the police precinct in Kaharlyk, and about the mass shooting in Brovary.
Regarding the shooting between the bandits in Brovary, clickbaits tried to draw parallels with the government's reaction to pro-Russian militants in Eastern Ukraine: "will there be an anti-terrorist operation in the Kyiv region?". The participants of the shooting were detained by the police, the organizers are wanted.
Russian websites, both mainstream and those targeting Ukrainian issues, accuse veterans of the war with Russia: "former members of the anti-terrorist operation in Donbas almost always appear in criminal incidents."
"Police, stuffed with patriots from the Maidan and anti-terrorist operation veterans, activists and looters posing as volunteers, are killing, raping, maiming fellow citizens both accidentally and purposefully." In fact, neither the official nor the mainstream Ukrainian media reported on the involvement of any of the veterans in the events in Brovary.
US against Nord Stream 2, the Chinese "jealous" of the Russians
Manipulative sites have focused heavily on the United States and the gas issue. They argued that the United States feared an increase in Russia's "influence" in Europe after the possible launch of Nord Stream2. The US sanctions on Russia's gas pipeline have been called "unfair competition."
We have recently written that disinformers have begun to mention Poland more actively since it refused to sign a new transit agreement with Gazprom and began building a pipeline to supply gas from Denmark. This week, disinformers continued the narrative, also criticizing Ukraine's plans to import American liquefied natural gas. It is planned to be imported through the territory of Poland: "Supplies of liquefied gas to Ukraine will cost many times more than purchases in Europe or Russia." Disinformers have traditionally tried to discredit any attempt to abandon or reduce dependence on Russian gas.
They also speculated on European regulations on gas supplies and wrote that Nord Stream had been exempted from the provisions of the EU gas directive. In fact, there are two "streams", they are managed by two different companies and physically they are two different pipes. The first started operating in 2011, long before the current EU gas directive (document limiting the gas supplier's monopoly on the pipeline - Texty.org.ua). It was this one which was recently "exempted" from this directive for 20 years.
Russia is only trying to complete the second "stream" in order to abandon Ukrainian transit. US sanctions have halted the construction of the pipeline, and the EU gas directive will restrict its operation if it is completed. The German regulator has refused to make an exception for Nord Stream 2.
But disinformers are using the confusion between the two "streams" to expose Germany as self-centered and allied to Russia: "The economic feasibility and Germany's desire to maintain a leading position in the European Union by having a hub to control gas supplies to many EU countries have taken over."
Russian websites targeting Ukrainian issues, at this time, were simply overwhelmed with images of the "power" of the Russian state and army. This time, they compared it not with Ukraine or the United States, but with their own idol, China. Comparing China with Russia, they write: "Beijing would never have decided on a forceful scenario of the return of its territory." By "return" they mean the illegal annexation of Ukrainian territory.
"Yes, sooner or later, both Hong Kong and Taiwan will be absorbed by mainland China, but this is a completely different absorption scenario, more like a slow strangulation by the Chinese boa constrictor than the Russian judo version with a missed strike and the subsequent absorption of the enemy's energy with a final hold."
"Defending" Stepanov from the "children of Soros" and "restoring the industrial potential of Ukraine" with Russia's help
Clickbaits have tried to shift attention from corruption scandals surrounding Health Minister Stepanov to "children of Soros" and "children of Suprun" who allegedly want to fire him for "trying to stop Suprun's medical reform." They explain the demands for Stepanov's resignation with selfish motives of "children of Soros" and "pharma barons": "Everyone wants to control public procurement, and Stepanov, as a commercial man, does not mind doing it himself. This is the real reason for the battle for the Ministry of Health, and medical reform is a secondary issue."
Russian sites targeting Ukrainian issues mocked the renaming of the Reform Council initiated by Saakashvili. "Next in line is the renaming of 'poverty' to 'wealth,' the 'hungry' are planned to be renamed 'satiated', and the 'failures' to be renamed 'victories'." They accuse the Council of ostentation and inability to bring about real change.
Regarding the investment attractiveness of Ukraine, they write: "the European Union has realized that in order to use Ukraine for its own selfish purposes, it is necessary to invest a lot of money in it, for which Brussels is not ready at the moment." They immediately offer a way out for Ukraine, which is to seek investment from Russia. Disinformers write that Ukraine needs a "return of industrial potential" through the "return of the markets of Russia and the CIS."
It is worth recalling that until the aggression of 2014, Russia was Ukraine's main trading partner, its role in industry was especially significant. As a result, Russia initially used its influence to put pressure on Ukraine's position during the Association negotiations with the EU. And later Russia tried to undermine the Ukrainian economy with numerous trade restrictions at the beginning of the armed conflict in Eastern Ukraine.
Also this week
«Forced peace»
A certain amount of material on Russian websites was reduced to threats to Ukraine's territorial integrity and aggressive calls for peace under the conditions of the occupying forces. These texts are united by one approach: to take the truth and turn it upside down. As a result of this manipulation, it turns out that only violence and threats can "help" bring Ukrainians closer to peace, and Russia becomes a victim.
На українських сайтах такі меседжі поширюють разом з коментарями російських політиків та пропагандистів, часто з негативною підводкою, але все одно поширюють. Наприклад, видання «Гордон» з невідомою метою нейтрально цитує Пушкова, одного з ключових кремлівських спікерів щодо України. Натомість на російських сайтах «захист Росії» та «примус до миру» стабільно присутні у великій частині матеріалів про Україну.
On Ukrainian sites, such messages are disseminated along with comments from Russian politicians and propagandists, often with a negative undertone, but they are still disseminated. For example, Gordon's website, for an unknown purpose, neutrally quotes Pushkov, one of the Kremlin's key speakers, on Ukraine. On the other hand, "Defense of Russia" and "Coercion to Peace" are consistently present in most materials about Ukraine on Russian websites.
Protecting anti-lockdown priests
Russian websites targeting Ukrainian issues are outraged by the opening of criminal cases against priests who violated the quarantine regime and held mass services on Easter: "The state "Ukr-machine" crushes any kind of attempts by the Orthodox Church to defend their right to communicate with believers." They see this as a sign of the "real fascist regime".
Predicting federalization
Disinformers continue to fantasize that "Ukraine may lose a few more regions" and to pump up emotions by pitting local authorities against the state: "Mayors have now begun a policy of federalization." And together with the absurd predictions of federalization they distract attention from Russian passports for the residents of Donbas: "the first candidates for separation from Ukraine seem to be Transcarpathia and Bukovina, where a significant part of the local population has Hungarian and Czech passports." And they even saw the possibility that "residents of the Chernihiv region will buy their land and vote for acceding to Belarus".
Trying again to return water to Crimea
A little but persistently is written about the need to end the "water blockade" of Crimea. This time, disinformers responded to the recommendations of the former US ambassador to Ukraine "not to resume water supply to Crimea." They called it "blasphemy" and continued to pump up the thesis of external governance: "Americans always wonder why they are disliked around the world. It's simple: don't poke your long star-striped nose into the affairs of other independent countries."
Summary
Disinformers are running a marathon of international relations. In recent weeks, they have written about Poland, Belarus, the United States, and the Baltic countries. They were especially focused on the gas topics and the news about the construction of Nord Stream 2. In manipulative materials, sanctions against the Russian gas pipeline are called "unfair competition", and any attempts by the aforementioned countries to reduce dependence on Russian gas are shown as futile.
Police violence was another important narrative this week. Disinformers tried to blame it not on the corrupt enforcement system, which has changed little since 2014, but on the veterans of the Ukrainian armed forces who allegedly dominate the law enforcement.
Examples of headlines
Poroshenko: SBI games, collection of paintings from "the aggressor state"
The legitimate one. Saga of showman Poroshenko | sharij.net
Ukrainians open their eyes to Poroshenko's collection: "An absolutely Russian man" | politeka.net
Poroshenko must be asked why he got rich during his presidency - Dmitri Spivak | zik.ua
Urgent! Poroshenko conceives of something scary. Yarosh calls for general mobilization | proua.com.ua
"Poroshenko wants to show the boy of green snot that he's above the system" - lawyer Gozhy | naspravdi.info
Medvedchuk comments on everything there is
Washington Obkom in action. Biden was able to dismiss or to appoint a government in Ukraine - Medvedchuk | zik.ua
Medvedchuk: If the authorities don't change the situation in Ukraine, it will be a major blow to the country | mignews.com.ua
Medvedchuk: Kyiv needs a direct dialog with Donetsk and Luhansk | lifedon.com.ua
Eurasianet: Medvedchuk will play a key role in the reconciliation in the Donbas | hyser.com.ua
Journalist; there are reasons for the high US media attention to the attack on Medvedchuk's office | from-ua.com
Russia must demand an inspection of US biolabs near its borders | e-news.pro
Medvedchuk: Ukraine's era of poverty turns into era of beggary | novorossiy.info
Police violence: "veterans are to blame", not Avakov
Sadists in the police: it's not only about Avakov | glavcom.life
Five bullets for Peter. How two balkan drug cartels with the help of ATO veterans started their war in Kyiv | nk.org.ua
Victory! Finally, Ukrainian police is just like the US police | ukraina.ru
Raped right in the police precinct. A long echo of the ATO in Ukraine | rusdnepr.ru
Molchanov explains why Avakov directs his "tame" Nazis against Zelensky | pravdanews.info
US "at war" with the Nord Stream 2 while the Chinese are "jealous" of the Russians
Hong Kong is not Crimea, China is not Russia | e-news.su
The US of "Ukrainian globalism" era. Rostislav Ishchenko | e-news.su
The spectre of Yanukovich | e-news.su
"Knife in the heart of Europe". US prepare an invasion into the Kaliningrad region | naspravdi.info
Russia finds advantages of the US sanctions against the Nord Stream 2 | lenta.ru
Excuses for Stepanov, "restoring the industrial potential of Ukraine" with Russia's help
The revenge of "Suprunlings" under the cover of "Soroslings". Who and why wants to dismiss Minister of Health Stepanov | ua24ua.net
"Motor Sich". How a breakup with Russia turned into a loss of technology | nk.org.ua
Azarov calls Zelensky's team the most irresponsible leadership of the country | front-novorossii.ru
A worker of Ukrainian atomic power station: American fuel bricks get rusty quick and can cause a catastrophe | pravdanews.info
Rada deputy: Ukrainian industry won't restore without Russia | novorosinform.org
Methodology
We searched for topics in 10497 materials in the Russian language from:
68 Russian sites (manipulative materials only) targeting Ukrainian topics: 3652.ru, 3654.ru, 8692.ru, anna-news.info, antifashist.com, antimaydan.info, c-inform.info, comitet.su, crisis.in.ua, delovoydonbass.ru, dnr-lnr.info, dnr-pravda.ru, dnr24.com, dnr24.su, donbasstoday.ru, doneck-news.com, dontimes.ru, dosie.su, e-gorlovka.com.ua, e-news.su, evening-crimea.com, free-news.su, fresh.org.ua, fromdonetsk.net, front-novorossii.ru, gorlovka.today, jankoy.org.ua, kafanews.com, komtv.org, kv-journal.su, lgt.su, luga1news.ru, lugansk1.info, meridian.in.ua, metayogg.com, miaistok.su, mir-lug.info, mnyug.com, mozaika.dn.ua, nahnews.org, naspravdi.info, newc.info, news-front.info, newsland.com, nk.org.ua, novorosinform.org, novorossiy.info, novosti.icu, on-line.lg.ua, patriot-donetsk.ru, pohnews.org, politnavigator.net, pravdanews.info, ruinformer.com, rusdnepr.ru, rusnext.ru, russian-vesna.ru, rusvesna.su, sevastopol.su, sevnews.info, sobytiya.info, svodki24.ru, time-news.net, ukraina.ru, voenkor.info, voskhodinfo.su, vsednr.ru, xvesti.ru
70 Ukrainian online publications where over 10% of all news about Ukraine have been spotted as being manipulative (manipulative materials only): 112.ua, agrimpasa.com, aif.ua, akcenty.com.ua, antikor.com.ua, baza-pravda.in.ua, bbcccnn.com.ua, begemot.media, bessarabiainform.com, censoru.net, dialog.ua, expres.life, finoboz.net, fraza.ua, from-ua.com, glavcom.life, glavk.info, glavred.info, glavred.life, golos.ua, hpib.life, hyser.com.ua, inforesist.org, inform-ua.info, informator.news, ivasi.news, jizn.info, khersonline.net, kompromat1.info, kompromat1.news, kordon.org.ua, korr.com.ua, kyiv.press, lifedon.com.ua, mignews.com.ua, newnews.in.ua, news247.com.ua, newsmir.info, onpress.info, podrobnosti.ua, politeka.net, politica.com.ua, pravda.rv.ua, prioritet.org, proua.com.ua, replyua.net, rupor.info, sharij.net, skelet-info.org, spektrnews.in.ua, spichka.news, spzh.news, strana.ua, t.ks.ua, timer-odessa.net, ua24ua.net, ukr.life, ukrainianwall.com, ukranews.com, ukranews.life, ukrrudprom.ua, vesti-ukr.com, vesti.ua, voi.com.ua, vremya.com.ua, vybor.ua, vz.ua, xn--j1aidcn.org, zik.ua, znaj.ua
17 major Ukrainian online publications (all materials): 24tv.ua, bykvu.com, censor.net.ua, fakty.com.ua, fakty.ua, gordonua.com, interfax.com.ua, lb.ua, liga.net, nv.ua, pravda.com.ua, rbc.ua, segodnya.ua, tsn.ua, ukrinform.ru, unian.net, zn.ua
16 major Russian publications (all materials): aif.ru, dni.ru, kommersant.ru, kp.ru, lenta.ru, lentainform.com, life.ru, newsru.com, pravda.ru, regnum.ru, riafan.ru, russian.rt.com, slovodel.com, svpressa.ru, tass.ru, vz.ru
Manipulation in news was singled out by our improved AI classifier developed in the project We've got bad news. In the monitoring, we only regarded materials about social and political life which are about Ukraine.
Limitations of the study:
In this study, we only regarded the topics which are in line with Russian disinformation campaigns. Most of them are based on real events, as disinformation works more effectively this way. Topic names reflect manipulations used in the topic. Accordingly, news stories on Ukrainian mainstream sites on the same topic may have completely different content from that of manipulative materials.
We take the topics of Russian propaganda in Ukraine from the following groups of materials:
manipulative news from the Russian online publications which write on Ukrainian topics, for the population of the occupied territories
manipulative news from those Ukrainian sites where a significant amount of manipulative news has been spotted. This second category is targeted at Ukrainian audiences and publishes a lot of manipulative news of different ideological orientation
all news from mainstream Ukrainian publications
all materials from mainstream Russian news sites
In the first and second groups of news, the materials were selected by the AI classifier of manipulative news.