Activists launched a campaign demanding the resignation of Amnesty International's leadership: how to get involved
Activists, volunteers, human rights defenders and media have launched a campaign demanding the resignation of Amnesty International's senior leadership after the organisation published controversial and incompetent report on Ukrainian fighting tactics (you can sign the petition here). Civil rights activist and 'Gender in Detail' editor-in-chief Tamara Zlobina explains what may be wrong with similar to Amnesty International's organisations and why Amnesty's leadership must step down. See the original text below.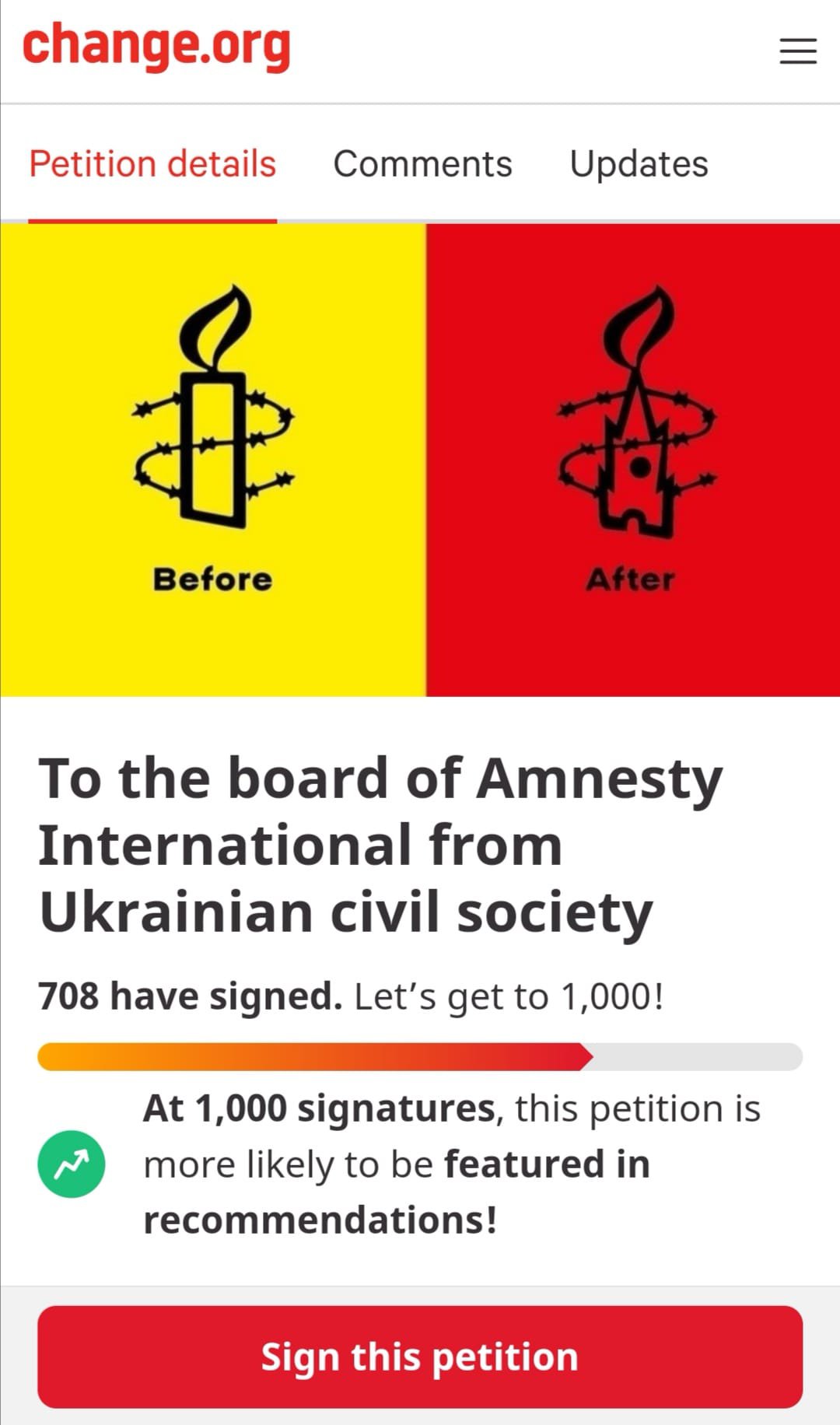 Big human rights organisations — from Amnesty International and the Red Cross to Human Rights Watch and many others — have all the same problem.
Once founded by idealists and groundbreaking at the time, they have now turned into clumsy corporations that work primarily for themselves.
Why?
The more prominent the organisation becomes, the more donations it receives. More donations means more rigorous demands to control how the funds are spent. Internal procedures, rules and donor reports are growing and multiplying.
Now these big corporations work primarily to enforce their own rules. For example, if to respond to a crisis, the imposed rules need to be disregarded or adjusted, they can no longer proceed with the emergency response. It seems that it is safer for the senior leadership with six-figure salaries and a high status to simply NOT HELP at all.
Case in point — Red Cross response to Haiti earthquake in 2010. Despite collecting more than 100 million dollars in donations for Haiti earthquake relief, the Red Cross did not steal them - they simply did not spend them. Their internal bureaucratic procedures did not allow them neither to lead the construction themselves nor to make contracts with local building companies since they did not have correct documents in place.
Suggestions coming from the local office have been blatantly disregarded. At the same time, the senior leadership received annual bonuses for successfully saving the world while redistributing collected donations to other areas where it was safe to spend them.
But when the shit hit the fan and charity investigation was released, the management put all blame on the Haitian office, saying that they did not ensure compliance with the procedures of transparent money allocation, and poor them could not do anything, hence, coming clean out of this mess.

So when it comes to Amnesty International — despite its huge membership and millions of volunteers on the ground around the world sharing the same values, fighting honestly, often at the risk of danger — its real problem is with the corrupt Western colonial leadership.
When I say corrupt I don't mean people receiving bribes. They may simply perceive their work as a good source of income without wanting to change anything or take any risks.
A corrupt leader does not care about bureaucracy that prevents relief work from happening.
This is simply wrong. They must be fired amd the headquarters should be led by people from the ground who have adequate field experience (be it in Ukraine, Haiti or Syria). People who are ready to treat everyone as equals, who are not afraid to change procedures and rules.
Simply forgetting about them is not an option. They are big and influential and celebrities like the Beckhams, when they fundraise millions for Ukraine, hand them over to UNICEF or ICRC. And because no one in the West knows about 'Come Back Alive' these donations aren't given them that easily.
It is impossible to simply cancel "Amnesty". It has 10 million volunteers. And there is no need because most of them are good people who fight for the right things. However, it is of crucial importance to change the management, internal bureaucratic procedures and policies.
The central office of AI is already trying to shift the blame to Ukrainians who resigned, calling the criticism of the report an "emotional reaction" and completely rejecting any responsibility.
Their reaction goes nowhere beyond "We're sorry that we hurt you."
There's ZERO reaction to the fact that their response is already used by the Russian embassies directly saying "Next time we bomb schools & residential buildings, be aware that we had the right to do so - even Amnesty said there were Ukrainian military hiding in there."
This happens because of Agnès Callamard, Secretary General of Amnesty International.
And Donatella Rovera, the Head of the Department of Investigations (who also told journalists she had not seen Western weapons in Ukraine).
And it's precisely these people who must step down.