Hot topics of Russian disinfo: "Plague and cholera on your house". Issue #23
Disinformers are once again disseminating the "all is lost" thesis, on all fronts. There is a total impoverishment in the country, as evidenced by the failure to implement the revenue part of the budget in January 2020, there is a recession of the industry and the attempts of the authorities to sell everything there is to sell in Ukraine. In the foreign policy arena, Ukraine remains a puppet: Erdogan "deceived Zelensky like a kid", and Pompeo confirmed that Crimea would never be returned, and generally "regarded Ukraine like Bobik the dog who should only bark at whoever is pointed at." Even the story with the words of the leader of the Servant of the People's faction about the resumption of water supply to Crimea, and their further refutation, were used to talk about the "man-eater methods of Kyiv", and that actually Kherson region will soon be hit by plague and cholera because of the canal shutdown. All this leads to an alleged falling of the rating of Zelensky, who has long since become a cynical Poroshenko, and at some points (for example, having made a search at 1+1 channel) even surpassed him.
Monitoring period: 3—9 February 2020
Click on the chart to scale it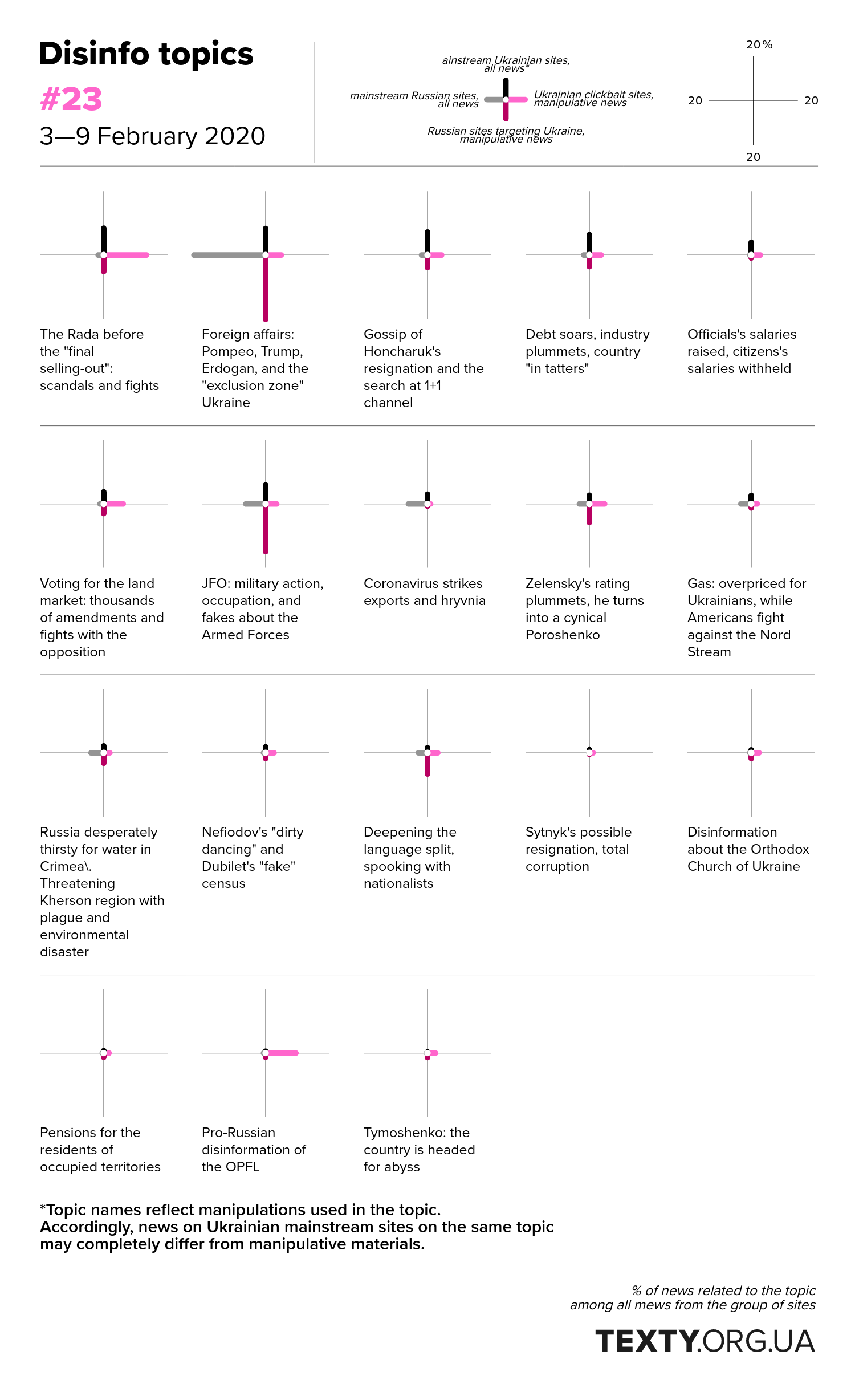 Foreign affairs: Pompeo, Trump, Erdogan, and the "exclusion zone" Ukraine
Every week, disinformers produce texts about foreign affairs. This week's news hooks were the visits of US Secretary of State Mike Pompeo and President of Turkey Erdogan to Kyiv. Both Ukrainian manipulative publications and Russian websites targeting Ukrainian issues once again emphasized the puppet nature of Ukraine: "Geopolitics is definitely not a strong side of Ukraine and its inexperienced authorities. Two visits to Kiev are two losses of Ukrainian authorities and President Zelensky himself: no mind, no strategy, not even tactics."
Russian sites targeting Ukrainian issues have put more emphasis on the context-torn and manipulated words of Pompeo about the impossibility to return Crimea ("A tough statement made by the second most important person in America, in fact, has drawn a line under discussions on "How do we get Crimea back?") and the loss of Ukraine's reputation in relations with the United States ("Obviously, now the word "Ukraine" will cause unpleasant associations among American politicians for the rest of their lives. The Trump vs Biden fight has caused irreparable harm to the Independent One, and turned it into an "exclusion zone" for the United States.")
In the meantime, Russian mainstream publications wrote about the volatility of Erdogan who condemned the annexation of Crimea in Kyiv, and then stated on board of his airplane that "Ankara should not conflict with Moscow now."
"Ukraine plays the same role in Western geopolitics today as Greta Tunberg does in ecology. They both introduce neuroticism and loosen the system. If influential players want to radically accelerate the collapse of the EU, Ukraine may well be let in"
"US Secretary of State Mike Pompeo saw Ukraine as Bobik the dog who should only bark at whoever is pointed at. For a small payment, and huge promises"
"And Erdogan, I repeat, deceived Zelensky like a kid who is taken to the harem, but not warned about what they will do with him so that he isn't tempted with other person's wives"
Russia desperately thirsty for water in Crimea
Once again, one phrase of a Servant of the People became a wave of manipulative information. This time, they discussed the hypothetical possibility of water supply to Crimea. Clickbait sites and Russian sites targeting Ukrainian issues have been actively quoting Russian politicians as saying that this is a "sound statement".
They referred to Andriy Biletsky's twitter feed, where he stirred this scandal. And they also promoted the thesis that the supply of water to Crimea is actually beneficial to Ukraine, since "the shutdown of the Great Crimean Canal led to the bogging of the Kherson region." The only difference between Ukrainian and Russian texts was the level of emotionality. Thus, Russian publications targeting Ukrainian issues added emotional reactions from social networks to the quotations of Biletsky, and they added to the alleged environmental damage in the Kherson region that "if the authorities do not come to their senses, epidemics of scareful infectious and intestinal diseases, including plague and cholera, will start soon in Ukrainian villages near the border".
Zelensky's rating plummets, he turns into a cynical Poroshenko
Last week, clickbait sites were joking about the meeting between Zelensky and Pope Francis I, discussing the first lady's dress, and criticizing public opinion polls on ratings of trust in parties and the president. The latter provoked considerable discussion. Ukrainian manipulative publications tried to separate Zelensky from the Servant of the Party party: "Scandals related to the "Servant of the People" and Honcharuk's government have absolutely no effect on the personal rating of Volodymyr Zelensky because, in the eyes of voters, 'that's them and that's Him". They wrote that Zelensky's main problem was personnel policy. "Perhaps we need to disperse the riff raff which is now called the Rada. Hold new elections and call on the executive power of statesman professionals. They are still there, one just needs to get a little familiar with this layer." Obviously, this is the way to indirectly advertise "strong managers" from the OPFL and other valuable Yanukovych-era personnel.
Russian websites targeting Ukrainian issues also emphasized that Zelensky "made childish mistakes" in his personnel policy. But, among other reasons of his allegedly declining rating, they added the now-classic theses about "economy in s**t, the government of "young reformers" confidently teaches everyone the idea that it is necessary to sell dogs of elite breeds and pay for gas." Let us remind that there is no economic crisis now: the GDP is rising and inflation is moderate. Comparing Zelensky to Poroshenko's has again come to the forefront of the disinformation argument. "Zelensky's public transformation into a Poroshenko, and also in the latter's most cynical version, is a serious blow to those who voted for Vova in the elections." At the same time, they did not forget to promote the pro-Russian parties and to sow a groundless distrust of authoritative sociologists: "Even the manipulative results of social research put OPFL into the second place. And is there an alternative?"
"Poroshenko's arrest is a litmus test for Zelensky's government. Even a couple of days that Poroshenko spends in prison, will again raise triumphantly the falling rating of "the Ze boy", for it will create the illusion of fulfilling election promises".
Gossip of Honcharuk's resignation and the search at 1+1 channel
Ukrainian clickbait sites write about relationships within the Servant of the People: "We clearly understand that there is a war in the triangle of provisional clans: the provisional clan of "children of Soros", the provisional clan of oligarchs, and the provisional clan of "Kvartal 95 Studio", which (the three clans) the "Servant of the People" consists of". This "war" will allegedly lead to a "blurring of the Cabinet's structure" and Honcharuk becoming a "ceremonial bystander".
They also emotionally described the search at 1+1 channel: "THIS FILTH... was sanctified by Zelensky PERSONALLY!" The reason for the search was explained not with the evidence of access to illegally obtained records of conversations of top officials, but as a "PR move aimed at diverting the attention of society from the failures in the economy".
Russian sites targeting Ukrainian topics have disseminated the message of the deputy of "Servant of the People" Dubinsky: "Even Poroshenko was ashamed of searches in the media. But Lieutenant Bakanov, apparently, is a complete idiot." They believe that a 1+1 search is nothing more than an attempt to push Kolomoisky so that Kolomoisky's deputies "make the right choice".
Leading Russian publications have reacted nervously to the division of the Ministry of Veterans Affairs and Occupied Territories. The division of the ministry became a pretext to criticize the prime minister: "I do not think Honcharuk understands what he is talking about. He doesn't even have a college degree."
Debt soars, industry plummets, country "in tatters"
This week, both Ukrainian clickbait sites and Russian sites are paying a lot of attention to the non-fulfillment of the revenue part of the budget in January 2020. Some sites write that the budget hole will be covered with "a state bond pyramid". In their opinion, local councils will suffer from lack of money in the budget: "in the regions, they are afraid of under-receiving the money for educational and medical subventions".
At the same time, disinformers write about the misfortunes that the land market law which has not yet been passed brings: "the number of livestock and milk production is already declining. Livestock farmers have stopped buying new cows."
Russian sites targeting Ukrainian topics summed up once again the "Maidan Euro-integration" of Ukraine. Their conclusions are that the authorities are going to sell everything there is in Ukraine. "And to ordinary Ukrainians who are unable to pay the space-high utility tariffs, "Servants of the People" offered to sell dogs. Dogs. A country in a smartphone… ". One of the leading Russian media has published an article headlined "In Ukraine, one of the worst budget situations in the history of independence has developed."
Russian media wrote on the alleged decline of industrial production: "the destruction of production and industries of Ukraine capable of competing with the West was not a secret before the Maidan, but it was one of its aims." Here, one of the main topics of Russian propaganda in recent years continues, about how bad the Maidan was for the country.
In general, disinformers judge the results of the activities of President Zelensky and his government in a fatalist manner: "The fabric of the country is in tatters. The people are silent and they store their hate. The soap bubble will burst."
Limitations of the study:
We take the topics of Russian propaganda in Ukraine from the following groups of materials:
1) manipulative news from the Russian online publications which write on Ukrainian topics, for the population of the occupied territories
2) manipulative news from those Ukrainian sites where a significant amount of manipulative news has been spotted. This second category is targeted at Ukrainian audiences and publishes a lot of manipulative news of different ideological orientation
3) all news from mainstream Ukrainian publications
4) all materials from mainstream Russian news sites
In this study, we only regarded the topics which are in line with Russian disinformation campaigns. In the first and second groups of news, the materials were selected by the AI classifier of manipulative news. Topic names reflect manipulations used in the topic. Accordingly, news stories on Ukrainian mainstream sites on the same topic may have completely different content from that of manipulative materials.
Examples of headlines
Foreign affairs: Pompeo, Trump, Erdogan, and the "exclusion zone" Ukraine
Erdogan uses Zelensky in his own geopolitical games | rnbee.com.ua
Ukraine turns into an "exclusion zone" for US politicians | e-news.su
This isn't politics, this is "uncovered shame" | ua24ua.net
The loser tariff: new price for Western "support" | alternatio.org
Water supply to Crimea and the water ceasefire with Putin
Crimea given up, Ukraine pours water into the peninsula. Biletsky calls to arms | ukrainianwall.com
Kyiv's man-eating methods | naspravdi.info
Hopes for heavens only, Ukraine won't help | naspravdi.info
«We'll force them to pay». A group will calculate the damage Ukraine caused to Crimea with blockades and subversive activities | alternatio.org
Zelensky's rating plummets, he turns into a cynical Poroshenko
Ukrainian sociologists give oral satisfaction to grant donors. Alexandr Zubchenko | e-news.su
Ukraine 2020: the Poroshenko litmus for Zelensky | naspravdi.info
«Spring will come». Who will be responsible for the President's broken promise | news247.com.ua
The treasury is empty. Ukraine gets empty, too. These are the real ratings of Ze team of rascals | ua24ua.net
PEOPLE NEVER CHANGE! This is an organized criminal gang governed from outside, and they do as told | ua24ua.net
Debt soars, industry plummets, country "in tatters"
Utility debtors will be dealt with cruelly in Ukraine | kordon.org.ua
Kuzmin pins down the shameful effects of "Maidan Euro-integration" for Ukraine | nk.org.ua
Zelensky and his pack head for Ukraine's dissolution | e-news.su
In Ukraine, one of the worst budget situations in the history of independence has developed | life.ru
Gossip of Honcharuk's resignation and the search at 1+1 channel
Honcharuk's address ends in a fight: "You dirty motherf…" | proua.com.ua
Zelensky's justice: vice prime minister's chair for Akhmetov's man, Ukrainian Railways to Pinchuk, searches for Kolomoisky | replyua.net
Lukash: Pressure at 1+1 channel is Security Service's political suicide | ukraina.ru
He doesn't know what he's talking about: Honcharuk being reminded about his low education | regnum.ru
Methodology
We searched for topics in 11798 materials in Russian language from:
16 Russian sites (manipulative materials only), oriented at Ukrainian topics: alternatio.org, anna-news.info, comitet.su, crisis.in.ua, e-news.su, glavk.info, mir-lug.info, nahnews.org, naspravdi.info, nation-news.ru, newsland.com, nk.org.ua, odnarodyna.org, rusvesna.su, ukraina.ru, voenkor.info
66 Ukrainian online publications where over 10% of all news about Ukraine have been spotted as being manipulative (manipulative materials only): akcenty.com.ua, antikor.com.ua, argumentua.com, argumentua.life, baza-pravda.in.ua, begemot.media, bessarabiainform.com, beztabu.net, bin.ua, bn24.biz.ua, censoru.net, dialog.ua, dneprcity.net, expres.life, for-ua.life, from-ua.com, glavcom.life, glavred.life, golos.ua, goruzont.blogspot.com, grom-ua.org, hyser.com.ua, inform-ua.info, ivasi.news, khersonline.net, kievpravda.com, kompromat1.news, kordon.org.ua, most-dnepr.info, most.ks.ua, newnews.in.ua, newsmir.info, odessamedia.net, onpress.info, osp-ua.info, person.org.ua, politjournal.com, politobzor.net, proua.com.ua, prportal.com.ua, replyua.net, rnbee.com.ua, rupor.info, skelet-info.org, sobytiya.info, spichka.news, spzh.news, strana.ua, t.ks.ua, timer-odessa.net, tochkazoru.pp.ua, u-news.com.ua, ua-vestnik.com, ua24ua.net, uazmi.org, ukr.life, ukrainianwall.com, ukranews.life, verhovenstvo.com, versii.com, vybor.ua, w-n.com.ua, xn--j1aidcn.org, znaj.ua
10 major Ukrainian online publications (all materials): 24tv.ua, bykvu.com, gordonua.com, interfax.com.ua, news.liga.net, pravda.com.ua, rbc.ua, segodnya.ua, ukrinform.ua, unian.net
15 major Russian publications (all materials): aif.ru, dni.ru, kommersant.ru, kp.ru, lenta.ru, life.ru, newsru.com, pravda.ru, regnum.ru, riafan.ru, russian.rt.com, slovodel.com, svpressa.ru, tass.ru, vz.ru
Manipulation in news was singled out by our improved AI classifier developed in the project We've got bad news. In the monitoring, we only regarded materials about social and political life which are about Ukraine.
The project was funded by the National Democratic Institute