Hot topics of Russian disinfo. "Ukraine is not ready for the coronavirus, Russian speakers will suffer most". Issue #22
Last week was very active for disinformers. The coronavirus was used to promote the thesis on the futility of medical reform, and even for fakes about war. A deputy's proposal to sell a dog in order to pay for utilities served as a perfect illustration of the "tariff genocide" and 'total impoverishment". In addition, Zelensky was accused of "spitting in the face of veterans" by refusing to interpret history Soviet-style. Secretary of State Mike Pompeo showed where the "correct church" was and tried to bribe Lukashenko. And a replacement for Honcharuk, the "nestling of Soros", is being looked for. Consistently, Ukrainians are being frightened with impoverishment and cumulative pension.
Monitoring period: 27 January — 2 February 2020.
Click on the chart to scale it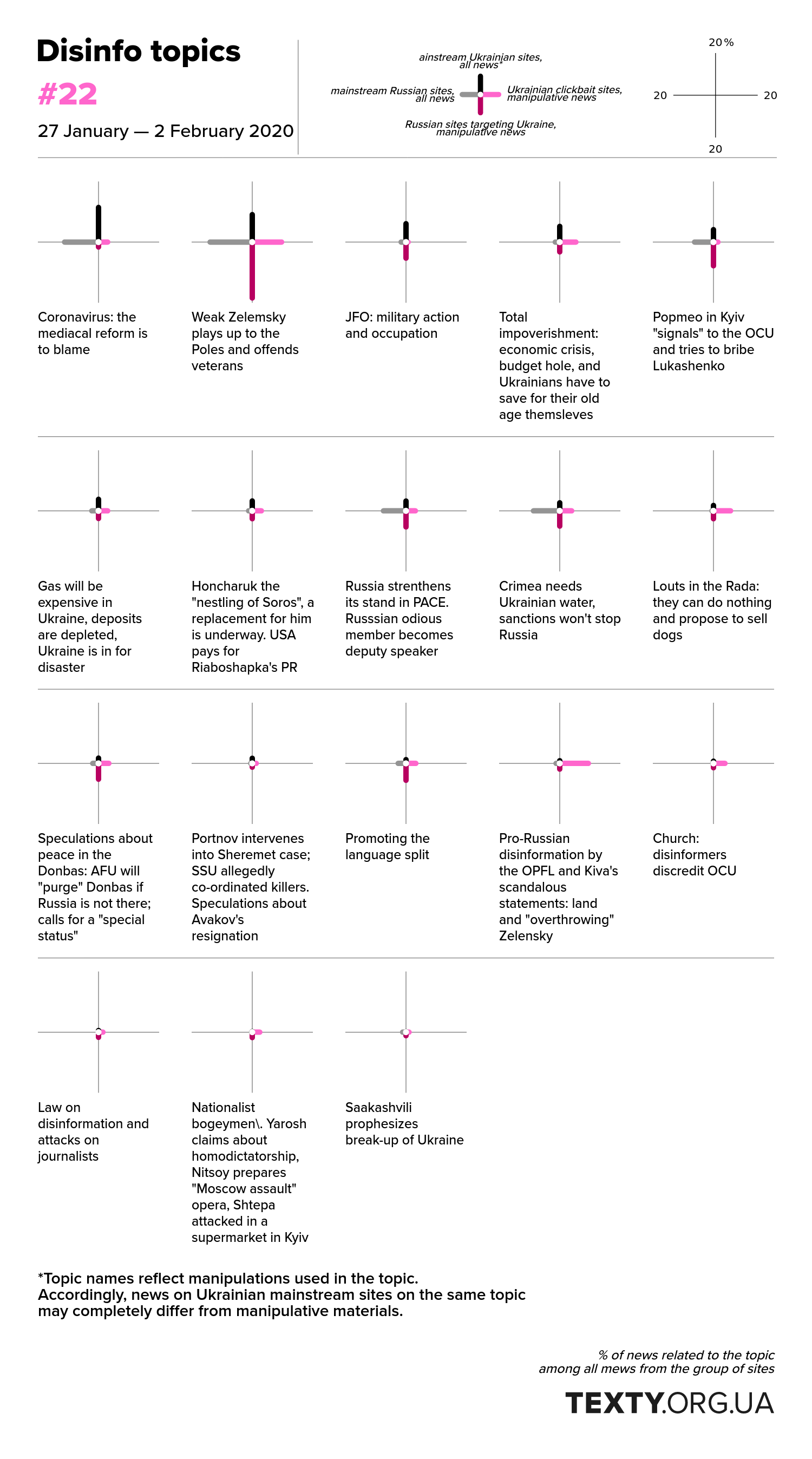 "Louts" in the Rada: they can do nothing and they propose to sell dogs
Disinformers have not missed the opportunity to use the quite natural hype about the advice of a deputy of the "Servant of the People" to a retired woman that she should sell a purebred yard dog in order to pay for utilities. In addition to hundreds of harmless memes in social networks, clickbait sites and Russian media disseminated emotional comments such as "After all these movements of Zelensky "people's party", Ukrainians will have to sell not only dogs but also mice", or "Many stupid statements are coming now from the mouths of the members of the Servant of the People party. Well, it couldn't be otherwise. Not only did they recruit absolute zeros into the team. They also allowed the "zeros" to please their vanity in the media".
In addition to pets and utility bills, clickbait sites also wrote about compensation to parties for election campaigns ("Impoverished Ukrainians cried bitter tears: the Central Election Committee shocked them - the parties were compensated huge sums"), again reminding of the deputies's lack of experience and knowledge ("half of the Rada are louts who simply play up Ukrainians and know nothing") and the inflated rating of the "Servant of the People" party ("Whoever I talked to, everyone seemed to have conspired to say that the figures published by the sociology organization were far too high").
Weak Zelensky plays up to the Poles and offends veterans
The discussion of relations between Ukraine, Russia, and Poland continues in the context of Zelensky's quotes on the anniversary of Auschwitz's release; in his speech, Zelensky emphasized that the conspiracy of the two totalitarian regimes led to the Second World War. Both Ukrainian manipulative sites and the Russian sites targeting Ukrainian issues wrote that "Zelensky simply spat in the face of those surviving veterans of the Great Patriotic War, accusing them of selfless struggle against Nazism." And "in the State Duma of Russia, Zelensky's words blaming the USSR's for World War II were called blasphemy." Russian mainstream sites responded to Zelensky's quote by comparing him with Poroshenko: "Even Poroshenko did not allow himself such blasphemous ramble."
Ukrainian clickbait sites also compared Zelensky and Poroshenko, relying on the expert opinion of a Persian clairvoyant, and continued to pump up emotions, discussing the relations between Zelensky and Kolomoisky ("The EU wants the head of Ihor Kolomoisky. However, the question arises whether Volodymyr Zelensky will dare to hold this businessman accountable).
Persian clairvoyant: "The thirst for power at all costs is another terrible evil. According to him, it had already eaten Hillary Clinton and Teresa May from the inside, and it is still gnawing at Marina Poroshenko".
"It is symbolic, especially when you consider that no one killed Jews during the Second World War (and afterwards) with more excitement than the Poles and Bandera did."
Pompeo in Kyiv "signals" to the OCU and tries to bribe Lukashenko
The visit of United States Secretary of State Mike Pompeo has attracted a lot of attention from disinformers. They offered to explain "THE REAL REASONS BEHIND POMPEO'S VISIT TO KYIV". Of course, the main reason is Russia, which Pompeo did not visit for some reason. "The goal is obvious - probing the soil, trying to understand how political processes in Russia are evaluated in the post-Soviet space."
Clickbait sites paid much attention to Pompeo's visit to Belarus. They are writing about "outside governance"; Americans have "already picked a successor" for Lukashenko. Russian sites targeting Ukrainian topics wrote in a similar vein. "Fetishization of sovereignty" was the name for the reluctance of Belarus to integrate more closely with Russia. Instead, "Americans, meanwhile, are already lustfully rubbing their paws" and seemingly try to tear Lukashenko off from Russia with an "oil credit."
Pompeo allegedly came to Ukraine to "calm down" Trump administration's scandal: "In conversation with a journalist - attention, with a journalist! - the US Secretary of State said that the fate of Ukraine does not worry anyone in the United States". In addition to politicians, the US secretary of state met the head of the OCU Epiphany: "The Secretary of State signaled as to who in Ukraine is considered the correct and their own church by the USA; political elites must make their conclusions." To sum up, Pompeo's visit drew the already familiar propaganda comments about Western indifference and external governance.
Honcharuk the "nestling of Soros", a replacement for him is underway. "USA pays for Riaboshapka's PR"
For the third week in a row, the attack of disinformators on the Prime Minister of Ukraine continues. Clickbait sites claim that "Honcharuk does not understand how the legislative environment of Ukraine works." The memorandum with the Deutsche Bahn is also reminded about: "There's a real competition in idiocy taking place in the Cabinet of Ministers."
The Cabinet of Ministers is blamed for the following: "There hasn't ever been a precedent when an entire strategic subdivision of a country was transferred under the management of a foreign company." In fact, there never were talks about management; Ukrainian Railways signed a memorandum on partnership and consultation with the Deutsche Bahn.
Some sites discuss Honcharuk's probable "successors": "Poroshenko's people vs. Kvartal 95 Studio: who can replace Honcharuk and Nefedov." It is worth noting that the disinformation campaign against the Prime Minister is starting to work. According to a poll by Rating group, at the end of January, Honcharuk has the lowest level of trust among high-ranking officials, and his rating decreases the fastest.
In addition to criticizing Honcharuk, Russian sites targeting Ukrainian topics suddenly mention Riaboshapka: "Via Facebook and grants. How the US Embassy spends tens of thousands of dollars on Riaboshapka's PR." The Prosecutor General of Ukraine is called a "prominent representative of the Soros Foundation''. And they write that he "started to downplay the Sheremet case." His purpose is, allegedly, to remove Avakov and to head the Interior Ministry.
Leading Russian media call the Prime Minister and "officials similar to Honcharuk… "the nestlings of George Soros's nest". In Ukraine, this terminology is being used by the OPFL and those "servants of the people'' who are close to Kolomoisky.
Coronavirus: the medical reform is to blame
There was a great deal of panic last week about a new coronavirus that came from China. Ukrainian clickbait sites "warn" that Russian-speaking people are at risk: "Poroshenko's colleague made a strange statement: he threatened Russian-speakers with coronavirus."
Russian sites targeting Ukrainian topics do not lose the opportunity to attack the medical reform in Ukraine once again. An article titled "The Death Reform" states that hospitals are being massively shut down in Ukraine, and Ukrainian doctors are "going abroad at a massive scale."
"Indeed, if such a disease starts spreading not in the highly developed red China but in decommunized Ukraine where there are not enough vaccines, where new clinics are not being built, and where the medical system is ruined by the efforts of ultramarket reformers, this will actually lead to a real tragedy". Communism vs. coronavirus? By the way, there are not enough vaccines in all countries against the new coronavirus nCoV-2019 — in fact, none has been developed yet, at all.
Disinformers use the virus as a pretext to criticize the healthcare system in Ukraine and its ability to withstand the threat. There are also accusations to the Prime Minister: "Everyone knows well that Honcharuk is a virus specialist and an ignoramus in the economics." However, in Ukraine there are no officially confirmed cases of virus infection, so far. The risk of seasonal flu or diseases that are easily prevented by vaccinations is, for now, far greater than that of the Wuhan virus.
The coronavirus, like everything that is new and exciting, has already been used for a crude fake from Russian sites targeting Ukrainian topics. Another lie about "Azov" and biological weapons: "Ukrainian Nazis brought a dangerous virus from China to Donbas."
Total impoverishment: economic crisis, budget hole, and Ukrainians have to save for their old age themselves
The already traditional "all is lost" theme is being pumped up with economic topics. This time, manipulative Ukrainian media continued to discuss currency fluctuations, the "government bond pyramid"; and the state credit program for the development of small and medium-sized businesses was called "a new fake" (quote by Dubinsky).
And, together with Russian media targeting Ukrainian topics, clickbait sites were replicating the distorted words of the Minister of Social Policy on the impossibility to implement a cumulative pension system in the near future. In their headlines, she "reproached Ukrainians for their unwillingness to accumulate money for their own old age."
Limitations of the study:
We take the topics of Russian propaganda in Ukraine from the following groups of materials:
1) manipulative news from the Russian online publications which write on Ukrainian topics, for the population of the occupied territories
2) manipulative news from those Ukrainian sites where a significant amount of manipulative news has been spotted. This second category is targeted at Ukrainian audiences and publishes a lot of manipulative news of different ideological orientation
3) all news from mainstream Ukrainian publications
4) all materials from mainstream Russian news sites
In this study, we only regarded the topics which are in line with Russian disinformation campaigns. In the first and second groups of news, the materials were selected by the AI classifier of manipulative news. Topic names reflect manipulations used in the topic. Accordingly, news stories on Ukrainian mainstream sites on the same topic may have completely different content from that of manipulative materials.
Examples of headlines
Total impoverishment: economic crisis, budget hole, and Ukrainians have to save for their old age themselves
Minister Sokolovska, whose salary is 200 thousand hryvnias, reproaches Ukrainians of their unwillingness to save up for their old age | ua24ua.net
Foreigners stopped bringing dollars for our state bonds because of coronavirus, hryvnia plummets | ua24ua.net
When will Soros collapse the state bond pyramid in Ukraine? | naspravdi.info
Gaping hole: Ukrainian budget receives 17 bln hryvnias less than planned in January. It will get worse | e-news.su
Debt pit: how speculations and Western credit made Ukrainian live "like in Europe" | nahnews.org
"Louts" in the Rada: they can do nothing and propose to sell dogs
Ukrainian political scientist brutally reduces to dust Zelensky's deputies: "Cynics, valets, zeroes, and petty rats" | znaj.ua
Impoverished Ukrainians cried bitter tears: the Central Election Committee shocked them - the parties were compensated huge sums | newsmir.info
Why does Zelensky drag all this scum on his shoulders? | ua24ua.net
«Sell the dog, pay utility bills», — advice from "servants of the people" to Ukrainians (VIDEO) | rusvesna.su
Weak Zelemsky plays up to the Poles and offends veterans
Iranian clairvoyant explains the difference between Zelensky and Poroshenko: "Having received power, people become..." | znaj.ua
Duda and Zelensky: conspiracy of two totalitarian regimes. Rostislav Ischenko | e-news.su
Ukraine and the West show their cynicism on the Holocaust remembrance day | nahnews.org
Between Soros and Kolomoisky. Brownian movement starts in Ukrainian political life | ukraina.ru
Coronavirus: the medical reform is to blame
Coronavirus epidemics in Ukraine: people scared by Kyiv doctors in special protective suits. Photo | hyser.com.ua
«Patrioteers» claim that the Chinese coronavirus only gets to Russians | nahnews.org
Nationalists bring coronavirus to the Donbas? | e-news.su
Expert tells how long the coronavirus found in Kyiv has been circulating | ukraina.ru
Popmeo in Kyiv "signals" to the OCU and tries to bribe Lukashenko
Pompeo wants to make Zelensky comply with "Minsk" and help the US President Trump | ua24ua.net
Meeting with Pompeo is the fatal mistake of Lukashenko who tried to tease Putin | rusvesna.su
How long will Ukraine hold, Yovanovitch's intrigues, and drug catapults | naspravdi.info
Bruter calls the purpose of Pompeo's visit to Kazakhstan "petty subversion" against Russia | riafan.ru
Honcharuk the "nestling of Soros", a replacement for him is underway. USA pays for Riaboshapka's PR
Kolomoisky's people want to increase their package of ministers and catch a few governors - Slobodchuk | ukraina.ru
Ukrainian ex minister calls prime minister Honcharuk "a calculated idiot" | kp.ru
Ukrainian governments' own CORONAvirus rages. We had enough, paying taxes to these rascals! VIDEO | ua24ua.net
Poroshenko's people vs. Kvartal 95 Studio: who can replace Honcharuk and Nefedov | from-ua.com
Methodology
We searched for topics in 9823 materials in Russian language from:
16 Russian sites (manipulative materials only), oriented at Ukrainian topics: alternatio.org, anna-news.info, comitet.su, crisis.in.ua, e-news.su, glavk.info, mir-lug.info, nahnews.org, naspravdi.info, nation-news.ru, newsland.com, nk.org.ua, odnarodyna.org, rusvesna.su, ukraina.ru, voenkor.info
66 Ukrainian online publications where over 10% of all news about Ukraine have been spotted as being manipulative (manipulative materials only): akcenty.com.ua, antikor.com.ua, argumentua.com, argumentua.life, baza-pravda.in.ua, begemot.media, bessarabiainform.com, beztabu.net, bin.ua, bn24.biz.ua, censoru.net, dialog.ua, dneprcity.net, expres.life, for-ua.life, from-ua.com, glavcom.life, glavred.life, golos.ua, goruzont.blogspot.com, grom-ua.org, hyser.com.ua, inform-ua.info, ivasi.news, khersonline.net, kievpravda.com, kompromat1.news, kordon.org.ua, most-dnepr.info, most.ks.ua, newnews.in.ua, newsmir.info, odessamedia.net, onpress.info, osp-ua.info, person.org.ua, politjournal.com, politobzor.net, proua.com.ua, prportal.com.ua, replyua.net, rnbee.com.ua, rupor.info, skelet-info.org, sobytiya.info, spichka.news, spzh.news, strana.ua, t.ks.ua, timer-odessa.net, tochkazoru.pp.ua, u-news.com.ua, ua-vestnik.com, ua24ua.net, uazmi.org, ukr.life, ukrainianwall.com, ukranews.life, verhovenstvo.com, versii.com, vybor.ua, w-n.com.ua, xn--j1aidcn.org, znaj.ua
10 major Ukrainian online publications (all materials): 24tv.ua, bykvu.com, gordonua.com, interfax.com.ua, news.liga.net, pravda.com.ua, rbc.ua, segodnya.ua, ukrinform.ua, unian.net
15 major Russian publications (all materials): aif.ru, dni.ru, kommersant.ru, kp.ru, lenta.ru, life.ru, newsru.com, pravda.ru, regnum.ru, riafan.ru, russian.rt.com, slovodel.com, svpressa.ru, tass.ru, vz.ru
Manipulation in news was singled out by our improved AI classifier developed in the project We've got bad news. In the monitoring, we only regarded materials about social and political life which are about Ukraine.
The project was funded by the National Democratic Institute