Hot topics of Russian disinfo: Zelensky's shame in Davos, social genocide, and promotion of Yulia Tymoshenko. Issue #21
Last week, disinformers were focused on the economic forum in Davos and attempted to discredit the Ukrainian delegation, along with Zelensky. Disinformers reported that the Servant of the People party was once again anticipating a crisis, and its members were corrupt people ruled by Soros. Together with the NBU, they are committing a social genocide, leading an already impoverished Ukraine to disaster. As a new confirmation of these theses, they began to use a fresh estimate of the population. There are, as usual, many fakes news about shelling and the AFU. Traditionally, readers are being intimidated with fearful nationalists, banditry, and torch marches. Once again, disinformers turned to history: they discussed roles in World War II and regretted the collapse of the USSR.
Monitoring period: 20—26 January 2020.
Click on the chart to scale it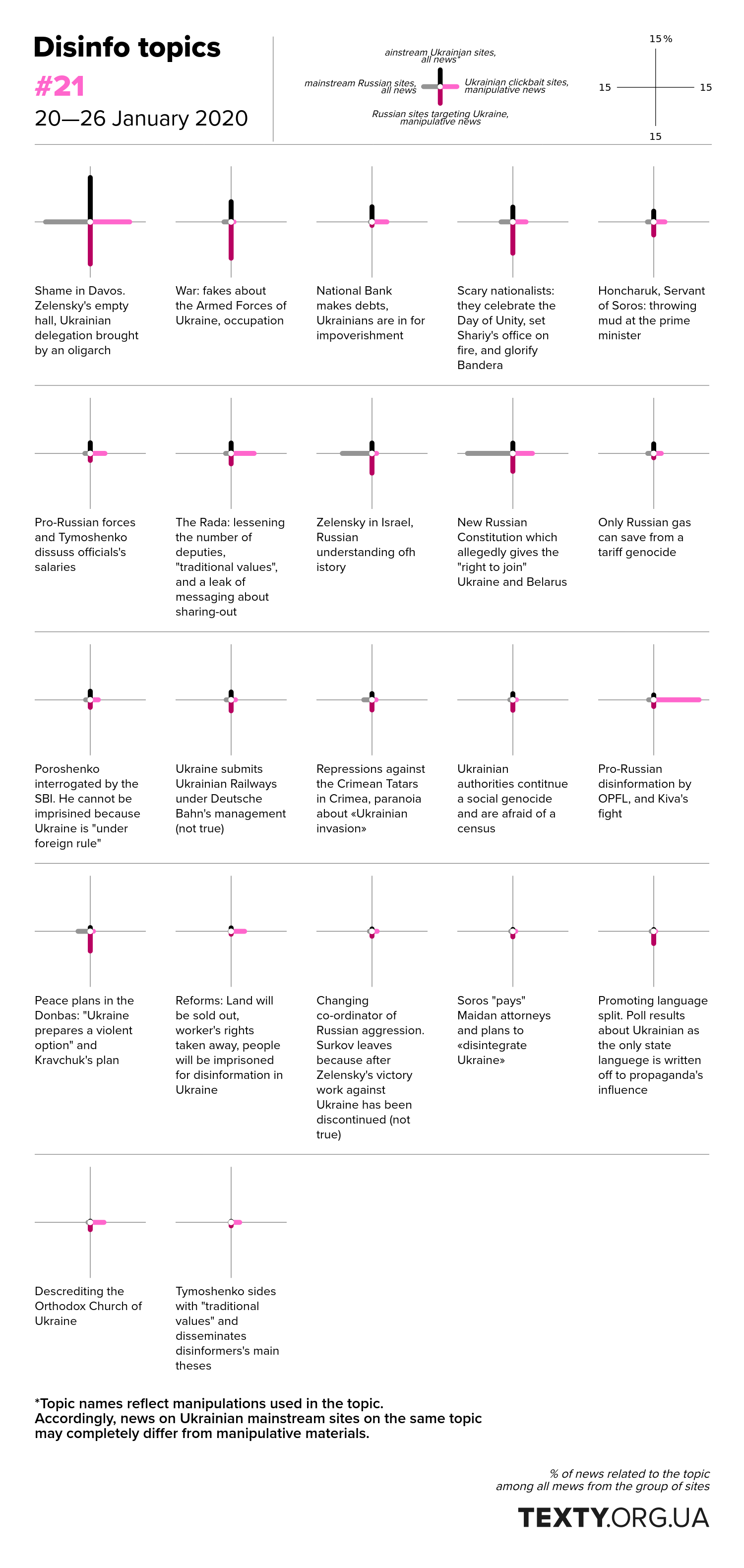 Shame in Davos. Zelensky's empty hall, Ukrainian delegation brought by an oligarch
Manipulative Ukrainian media distorted the text of Zelensky's speech at the Davos foru. He was compared to a pimp, ridiculed for a small number of listeners. Didinformers did not fail to call Ukraine non-state again. "The reality is that there are simply no attractive investment options in Ukraine today."
Russian sites targeting Ukrainian issues also criticized Zelensky in Davos, they discussed Pinchuk's oligarchic influence, and defamed the delegation from Ukraine in all possible ways. "Kindergarten from Ukraine went from Davos. Cartoons and chewing gum are in their empty heads."
"For Zelensky and Prime Minister Honcharuk, who himself said that he was an ignoramus in the economy, it makes no sense to be in the same room with the US President and other people who are really versed in business and finance"
"Many people recklessly forget that European Ukraine is not only activists and pederasts. Ukraine is also a well-known philanthropist and exemplary family man Viktor Mikhailovich Pinchuk"
"Zelensky simply offered Ukraine for sale to foreign businessmen. So far, cheap. Later, it will be more expensive"
Ukrainian authorities continue a social genocide and are afraid of a census
The results of the estimation of the population of Ukraine have caused considerable resonance. Manipulative Ukrainian media disseminated the idea that the authorities are afraid of a census (because it will show 10 million fewer people), that schools and kindergartens will start closing down due to declining population, that "it is necessary to reduce expenditures - subventions and government grants" and that Ukraine is an "absolute record holder among its neighbors in terms of loss of population".
Russian websites targeting Ukrainian issues have tried their best to prove that population loss is the result of criminal acts by the Ukrainian authorities. They wrote about a "full-scale social genocide" and the "demographic pit of monstrous depth." They mentioned the USSR, believing that it was "the collapse of the USSR that prompted the landslide depopulation that led the country to disaster" and sought to "cover up" Soviet crimes ("mass destruction of Ukrainians was carried out to the sound of endless mantras about the Soviet Holodomor").
In the meantime, Russian mainstream sites have added broken ties with Russia as another reason for population decline. "The more they rattle about "joining the EU" and "powerful Ukraine", including, in front of an empty hall in Davos, the smaller the volume of trade and economic ties with Russia, the more people leave. A direct correlation"
"Ukraine is in for nothing good, because it is in the clutches of Soros's transnational capital, in whose interests a coup d'etat was carried out in the country. The sovereign Ukrainian state was turned into a colony. Labor force is now being treated as a resource. The country should yield a maximum profit, and after the depletion of reserves it will simply be thrown away as junk"
National Bank makes debts, Ukrainians are in for impoverishment
"The NBU policy does not help the economy at all, but acts to the detriment of it." This is how the Ukrainian manipulative sites continue to discredit the NBU. They predict the depreciation of the hryvnia caused by the actions of the NBU in the interbank market (in reality, discussions are underway about whether the NBU policy which constantly strengthens the hryvnia is justified), they spread the thesis about irrational credit policy ("Ukrainian government is recruiting loans from investors at 13%, then lending to the US at 0.5%"), a thoughtless implementation of IMF orders. In fact, the government made its last borrowing through Ukrainian long-term bonds at 9.79% per annum in hryvnia. It is even ridiculous to deny the tale that Ukraine lends to the United States.
"How can you outwit your own people? But you don't have to invent anything. Just say that the IMF does not give relatively cheap loans, so you have to borrow very expensively in the debt market using domestic government bonds or Eurobonds"
"If they miss the right moment, the exchange rate may soar to over 30 hryvnias per dollar, after which a massive dumping of the hryvnia will begin, the financial collapse can reach 50 hryvnias per dollar and it will be difficult to stop. In this case, this threatens with a fall in wages and start of the so-called spiral inflation, as in Venezuela or Bolivia". In fact, over the last year, the hryvnia exchange rate has been strengthening, and the hryvnia is the world leader in strengthening.
Scary nationalists: they celebrate the Day of Unity, set Shariy's office on fire, and glorify Bandera
This week, Ukrainian clickbait sites disseminated the news of the arson of the office of pro-Russian blogger Shariy. They were supported by some leading Russian media. In addition to the pro-Russian blogger, clickbait sites have written a lot about Stepan Bandera. Some publications have written: "Ukraine will become an outcast because of Bandera".
Interest in the figure of Bandera was supported by Russian sites targeting Ukrainian topics: "So called true Ukrainians don't consider Banderization as Nazism or fascism". They reposted a statement by Russian diplomat Zakharova that "The hero of contemporary Ukraine is Hitler's professional agent, a Nazi, a criminal".
The celebration of the Day of Unity of Ukraine also got its share: "The Day of Unity and crying out in the wilderness of Ukraine: falsehood, Nazism should be banned." It looks like they decided to form a mental association between Bandera and the Day of Unity. Even though, Bandera is a figure of World War II, while the Day of Unity is honoring the voluntary reunification of two independent Ukrainian states which appeared when both the Russian and the Austro-Hungarian empire collapsed, the Ukrainian People's Republic and the Western Ukrainian People's Republic. The unity was proclaimed in 1918.
The misinformers decided to dilute the news of the celebration with the following material: "A Kyiv woman shared the joyless news about the life of the Ukrainian capital", where the "Kyiv woman" complains of a torch march in honor of Bandera in Kyiv.
The Rada: lessening the number of deputies and a leak of messaging about sharing-out
Ukrainian clickbait sites write once again about the bad news for the Servant of the People's Party: "Servant of the People rating plunges". (A recent poll has in fact shown that it remains stable). The clickbaits disseminated messaging about "sharing-out" (a deputy of the Servant of the People advises his interlocutor not to execute "delusional commands" from the chairman of the medical committee Mikhail Radutsky). Russian sites targeting Ukrainian issues also commented on the messages of the deputy. "He wants to share-out the budget brazenly". The scandalous correspondence between a "servant of the people" and a deputy minister leaked".
Russia's leading media disseminated the news of the deputies' support for traditional values (they recently created a parliamentary association for the traditional family and other archaisms in the Rada) and an "evergreen" theme of lessening the membership of the Rada. Such reduction is often called for by populists who manipulate the Rada's low confidence rating.
A resurgence of Yulia Tymoshenko
We would like to note separately that since the beginning of the year, there have been many more mentions of Yulia Tymoshenko in the manipulative media space. She also sided with "traditional values" and began to actively reproduce the main disinformation cliches, like the "debt yoke" and the authorities who "relied on external management, beautiful naming, large financial structures that work together with grant organizations." In essence, Ms.Tymoshenko reiterates the classic disinformation messages, having joined by the deputies of the Servant of the People party who support oligarch Kolomoisky, as well as frankly pro-Russian OPFL. Not surprisingly, her remarks have been cherished by both Russian sites targeting Ukrainian topics and Russian mainstream sites. That's because the phrases about "external governing" and "Soros's people" from Tymoshenko's mouth sound more important than from the mouths of unknown "experts" or the openly pro-Russian Vadim Rabinovich, a leader of the OPFL.
Zelensky in Israel, Russia continues distorting history
For the second week in a row, various media have been discussing relations between Ukraine, Poland, and Russia. This time, Israel was added where world leaders, including Zelensky and Putin, went to celebrate the anniversary of Auschwitz's liberation. Russian sites focused on Ukrainian topics used the anniversary to disseminate fake news about antisemitic nationalists in Ukraine: "We will drown Jews in Russian blood." They equated, on one hand, the efforts of the peoples under Russian occupation to restore historical justice and defend themselves against further claims by the Kremlin and, on the other hand, anti-Semitism.
At the same time, hey commented on the historic debate between Russia and Poland about their roles in World War II: "Crimean senator says Poland dishonors itself with claims for compensation from the Russian Federation". They drew similarities between Poland and Ukraine: "Markov tells about the simultaneity of Poland and Ukraine in their Russophobia and hidden anti-Semitism".
Russian media wrote about Zelensky's "humiliation" in Israel, while Putin was "recognized as the world leader" in Israel.
"Zhuravlev explains the refusal of Poland, Lithuania, and Ukraine to participate in the Holocaust remembrance forum"
Limitations of the study:
We take the topics of Russian propaganda in Ukraine from the following groups of materials:
1) manipulative news from the Russian online publications which write on Ukrainian topics, for the population of the occupied territories
2) manipulative news from those Ukrainian sites where a significant amount of manipulative news has been spotted. This second category is targeted at Ukrainian audiences and publishes a lot of manipulative news of different ideological orientation
3) all news from mainstream Ukrainian publications
4) all materials from mainstream Russian news sites
In this study, we only regarded the topics which are in line with Russian disinformation campaigns. In the first and second groups of news, the materials were selected by AI classifier of manipulative news. Topic names reflect manipulations used in the topic. Accordingly, news stories on Ukrainian mainstream sites on the same topic may have completely different content from that of manipulative materials.
Examples of headlines
Ukrainian authorities are afraid of a census, and Ukrainians will lose their pensions
37 million: The pace of extinction of Ukraine is growing | comitet.su
Growing inequality angers Ukrainian pensioners, but that's not all. What is to be done? | ua24ua.net
Manchuk: Ukrainian social genocide was carried out to the sound of endless mantras about the Soviet Holodomor | ukraina.ru
Treated as consumables: millions of Ukrainians risk losing their pensions | nahnews.org
Shame in Davos. Zelensky's empty hall, Ukrainian delegation brought by an oligarch
Zelensky in Davos behaved as a pimp rather than Ukrainian leader, Andriy Biletsky says | newnews.in.ua
Ukraine in Davos: a run-up for a jump in place | nk.org.ua
Zelensky's jokes in Davos were not understood… by an empty hall | ua24ua.net
Last minute packages to Davos for Ukrainian lovers of clean and delicious gobbling at the expense of others | ua24ua.net
Kasianov: Zelensky in Davos invited investors to Ukraine but he "forgot" to explain that there's simply nothing to invest in | replyua.net
National Bank makes debts, Ukrainians are in for impoverishment
"We're like dummies". Dubinsky exposed the NBU scam, it draws Ukraine into a trap | akcenty.com.ua
Spiralling inflation Venezuela style: Ukrainians warned of a bump in the dollar rate | replyua.net
"Treating" inflation the wrong way: what are the NBU's key mistakes | golos.ua
Honcharov: It will be us who will play for the game of the Ministry of Finance and the National Bank at the state bond market | ukraina.ru
Scary nationalists: they celebrate the Day of Unity, set Shariy's office on fire, and glorify Bandera
Holdarb: Mottoes and myths are not enough for unity and accord | ukraina.ru
"Ukraine gets a message". Why it is now that the CIA declassifies documents about Bandera? | regnum.ru
Valentyn Haidai: Ukrainian radical batallions spoil the trident's karma | from-ua.com
Olena Lukash: Another hypocritical congratulation on the Day of Unity from Zelensky. Honeysweet words with a prompter, again. We're so sick of this phrase mongering | ua24ua.net
Where's the unity of Ukraine? All has fallen down like a house of cards | e-news.su
The Rada: lessening the number of deputies, "traditional values", and a leak of messaging about sharing-out
"Enough for your grandchildren". A "servant of the people" caught at messaging about sharing-out the budget | begemot.media
"Mental problems". An ex-official of the Office of the President of Ukraine leaks personal data of top politicians | ukraina.ru
Servant of national shame | e-news.su
Immunity lifted: a "servant of the people" comes to work with a black eye (PHOTO) | ukraina.ru
Yulia Tymoshenko: We need to tell the truth. Ukraine ended up under foreign rule (VIDEO) | ua24ua.net
Tymoshenko states that Ukraine is under rule of international financial circles | tass.ru
Zelensky in Israel, Russia tries to antagonize Ukraine and Poland with history
Ukrainian dossier: the Holocaust factor in modern Ukrainian politics | e-news.su
Le Monde diplomatique: West sides with Ukrainian nationalists, just like a hundred years ago | naspravdi.info
Close the UINR or give interviews convenient for Banderites | naspravdi.info
Expert: Zelensky spits into the face of Ukrainians and Jews | vz.ru
Methodology
We searched for topics in 11585 materials in Russian language from:
16 Russian sites (manipulative materials only), oriented at Ukrainian topics: alternatio.org, anna-news.info, comitet.su, crisis.in.ua, e-news.su, glavk.info, mir-lug.info, nahnews.org, naspravdi.info, nation-news.ru, newsland.com, nk.org.ua, odnarodyna.org, rusvesna.su, ukraina.ru, voenkor.info
66 Ukrainian online publications where over 10% of all news about Ukraine have been spotted as being manipulative (manipulative materials only): akcenty.com.ua, antikor.com.ua, argumentua.com, argumentua.life, baza-pravda.in.ua, begemot.media, bessarabiainform.com, beztabu.net, bin.ua, bn24.biz.ua, censoru.net, dialog.ua, dneprcity.net, expres.life, for-ua.life, from-ua.com, glavcom.life, glavred.life, golos.ua, goruzont.blogspot.com, grom-ua.org, hyser.com.ua, inform-ua.info, ivasi.news, khersonline.net, kievpravda.com, kompromat1.news, kordon.org.ua, most-dnepr.info, most.ks.ua, newnews.in.ua, newsmir.info, odessamedia.net, onpress.info, osp-ua.info, person.org.ua, politjournal.com, politobzor.net, proua.com.ua, prportal.com.ua, replyua.net, rnbee.com.ua, rupor.info, skelet-info.org, sobytiya.info, spichka.news, spzh.news, strana.ua, t.ks.ua, timer-odessa.net, tochkazoru.pp.ua, u-news.com.ua, ua-vestnik.com, ua24ua.net, uazmi.org, ukr.life, ukrainianwall.com, ukranews.life, verhovenstvo.com, versii.com, vybor.ua, w-n.com.ua, xn--j1aidcn.org, znaj.ua
10 major Ukrainian online publications (all materials): 24tv.ua, bykvu.com, gordonua.com, interfax.com.ua, news.liga.net, pravda.com.ua, rbc.ua, segodnya.ua, ukrinform.ua, unian.net
15 major Russian publications (all materials): aif.ru, dni.ru, kommersant.ru, kp.ru, lenta.ru, life.ru, newsru.com, pravda.ru, regnum.ru, riafan.ru, russian.rt.com, slovodel.com, svpressa.ru, tass.ru, vz.ru
Manipulation in news was singled out by our improved AI classifier developed in the project We've got bad news. In the monitoring, we only regarded materials about social and political life which are about Ukraine.
The project was funded by the National Democratic Institute