Hot Topics of Russian Disinfo. Airplane crash in Iran and "dandelion girl on state duty Yulia Mendel". Issue #19
The manipulators wrote a lot about the Ukrainian plane downed in Iran, once again concluding that it was the US's fault, and that Ukraine remains a puppet. They have not forgotten to summarize the economic results of the year, to make some scary economic forecasts, to discuss the places and length of holidays of Ukrainian politicians, to continue to discredit the Armed Forces of Ukraine and spread a few new horror stories about nationalists selling "cannibalistic cans", and wishing to reintegrate the Donbas with a flamethrower and in Nazi uniform.
Monitoring period: 8—12 January 2020
In 2020, we will be releasing a review of Russian disinformation every Thursday at 4:00 pm, excluding holiday periods. The review includes four groups of sites: Russian mainstream sites, Russian sites targeted at Ukraine, Ukrainian manipulative sites, and Ukrainian mainstream sites (not disinformative ones, to compare agenda). We will publish the English translation every Friday at 1:00 pm, and will send it in the email next Monday.
Click on the chart to scale it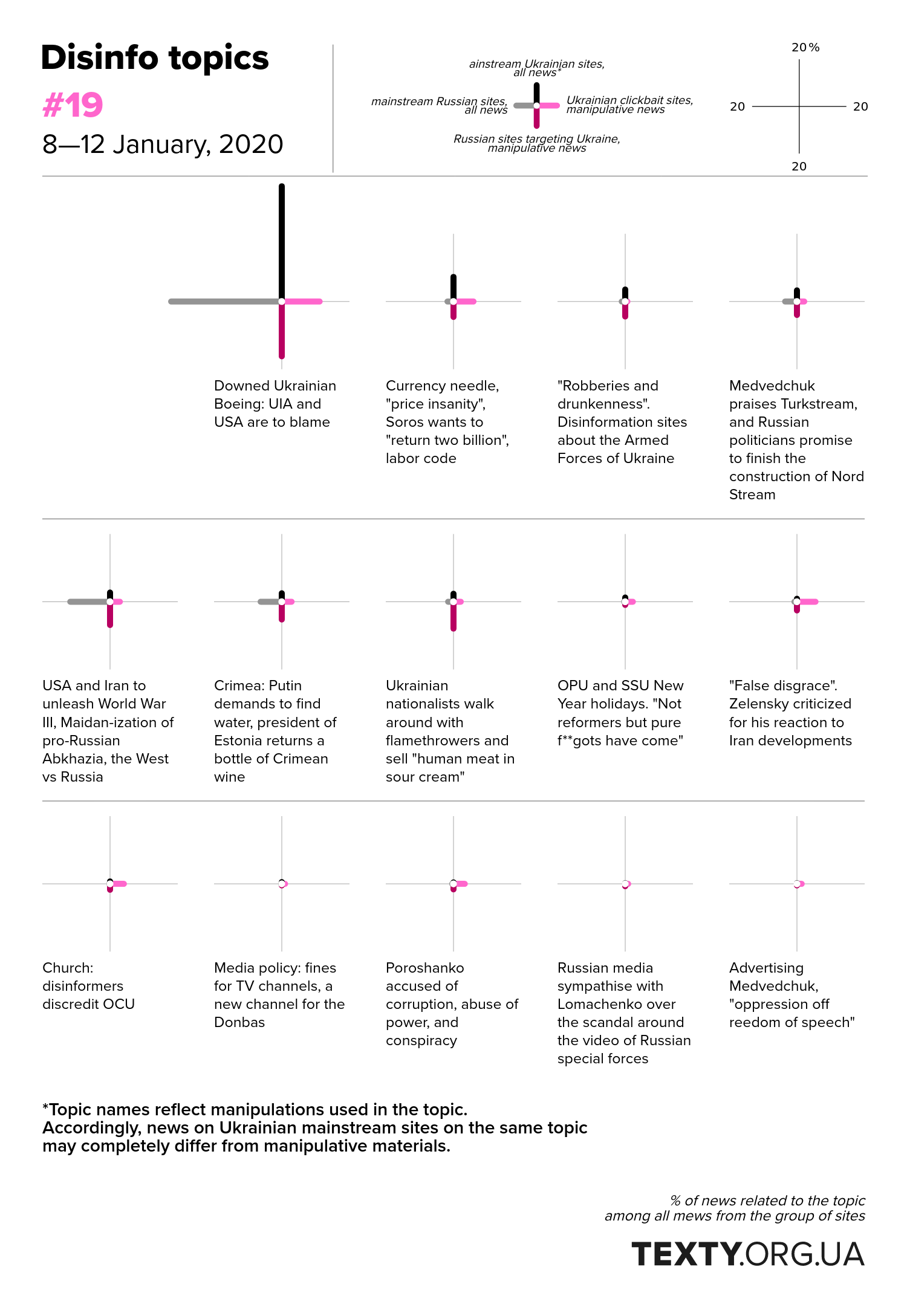 Downed Ukrainian Boeing: UIA and USA are to blame
The UIA plane downed by Iran over Tehran was the major newsmaker. Manipulative sites hyped the emotionality of the texts with comments of "independent aviation experts" where, as usual, Zelensky "went crazy", "internet is angry", and comparing this tragedy with the downed MH17 leads to the conclusion: "In both cases, the Ukrainian factor is strangely present. In the first case, the plane was shot down over the territory of Ukraine. In the second, the aircraft itself belongs to our country." Plus (unexpectedly!) both planes were produced by the US, and no Americans were on board.
Russian websites targeted at Ukrainian issues have also decided to draw parallels with the MH17, accusing the UIA and justifying Iran, which, like Kiev in 2014, did not prohibit flights ("official Kiev did not close the airspace over the Donbas in 2014") .
Russian mainstream sites were more focused on geopolitical aspects, blaming the tragedy on the US: "The US planned to shoot down a government aircraft of Iran with officials who directed a missile strike at US bases in Iraq, but instead, accidentally, they shot down a Ukrainian Boeing-737." Russia was portrayed as sympathetic: "Iran has declared its readiness to send the black boxes of Ukrainian aircraft to Russia."
"False disgrace". Zelensky criticized for his reaction to Iran developments and ridiculed for "Canadia" in his twitter
Ukrainian clickbait sites have accused the President's team of unprofessionalism: "The unprofessionalism of the green team threatens the national security of the country." They also scoffed at Zelensky for calling Canada "Canadia" in the president's address regarding the crash of Ukrainian aircraft in Iran.
Russian websites focusing on Ukrainian topics write about the show "Kvartal 95" which was aired after the President's address about the plane crash: "They were crying, and they were hooting with laughter next." They also call the head of state to his long silence after the tragic events: "What does it mean when dandelion girl Yulia Mendel remains on state duty in the country?"
Mainstream Russian Internet media emphasized that during the crisis, Zelensky was in Oman and they even suggested that "Putin evacuated Zelensky from Oman". They write: "Representatives of the Ukrainian authorities, in spite of the most difficult situation in the country, are at rest on all the islands." The authors also did not fail to provide a "broader context" about the situation in the country: "The country is sick. There are collapse and horror, and they still find time to look for fleas: who, where, how was on holidays, and then it's all published. It's a shame. "
Economics: the currency needle, "price insanity", and George Soros who wants to "return at least two billion"
"Events in Iran will hit the Ukrainian hryvnia", Ukraine suffers from the destruction of small and medium-sized businesses, reduced purchasing power and industrial production, while in the DPR wages and pensions will be raised to the Russian level. This is what Russian sites focused on Ukrainian topics think.
However, Ukrainian clickbait sites were even more active on the topic of continuous economic crisis (which does not actually exist, Ukrainian GDP having increased by 4.1% in the third quarter of 2019 compared to the same period of 2018). In addition to the already classic considerations regarding the long-term destruction of the Ukrainian economy, they added theses on "price insanity", default in 2020, economic recession, problem loans, "bankruptcy of enterprises, job cuts, rising unemployment, tax lack, and finally, raising labor immigration." Particularly popular were discussions about raising salaries of politicians and officials, and trying to compare food prices in Kyiv and Donetsk, Ukraine and Poland, or simply showing photos of price tags of Czech supermarkets.
And Russian mainstream sites published vivid quotes from Soros about Ukraine: "The financier said that he had invested about a billion dollars in Ukraine and plans to return at least two billion." The thing is, the quotes are from an interview he gave back in 2015.
"Now separatists can cook a snook at as because their prices for many food products are now much lower than in Ukraine"
"Such a budget policy, the Ukrainian government itself provoked a recession in the Ukrainian economy, and our government works in turbo mode "on a scooter with a cup of coffee in the hands of the prime minister"
"We have put loyal and obedient ministers into government offices, and now we expect results from them as if they were competent and experienced"
"Instead of creating a favorable investment climate, reducing the tax burden, and raising salaries and pensions, the authorities are offering the country for sale."
"Robberies and drunkenness". Disinformation sites about the Armed Forces of Ukraine
Russian sites focused on Ukrainian topics continue to spread fakes about the Armed Forces. Traditionally, they write about losses by the Ukrainian army, shelling, robbery, suicidal sentiment among soldiers and cases of desertion.
In the meantime, Russian mainstream sites are reprinting this information and continue to manipulate on the need for the Ukrainian side to comply with the Minsk agreements, and they cite the representatives of occupied territories that this is the Armed Forces who "try to aggravate the situation in the Donbas".
"The Armed Forces of Ukraine are trying to provoke retaliatory fire in order to then accuse the authorities of the self-proclaimed republic of violating the ceasefire. The authority called on Kyiv to abandon plans to destabilize the situation in the region "
"Ukraine, for a sixth year now, has been wriggling and looking for ways to avoid complying with 'Minsk' "
"A puddle with brown scum (Nazi)" and the "half-Jew mongrel" President.
Russian media portray the domination of "Nazi" sentiment in Ukraine: "«Ja-ja» – Ukrainian Nazis in Wehrmacht uniforn threaten Donbas with a flamethrpower". Besides Ukraine, Poland also gets its share: "Slutsky: Polish Sejm tries to cover up the flirting of its politicians with the Nazis in the past". But, according to Russian media, Poland still have a long way to go in order to catch up with Ukrainian nationalists.
Mainstream Russian news websites disseminated the fake news "Ukrainians with knives and sticks attacked Jews at the grave of a rabbi." It has been refuted by both the police and local authorities in Uman, as well as by the Jerusalem Post.
One of the Russian websites focused on Ukrainian topics published a material with an eloquent title: "The Unpunishable. Why in Ukraine a puddle with brown scum is spilled. " In the material, Ulyana Suprun and other Ukrainian politicians were called "direct descendants of those who served under the banners of the Third Reich", and the President of Ukraine is called "a half-Jew mongrel". The text concludes: "Inaction in the Ukrainian direction provides the Kyiv regime with the main resources, the confidence and time necessary to launch full-scale propaganda, intelligence and terrorist activities against the Russian Federation."
Shooting, flamethrower, Nazi uniform. C14 nationalists showed how they will "reintegrate the Donbas"
Eat the separatists. Ukraine embarked on the path of cannibalism (PHOTO)
"Cannibal preserves" in Ukraine cause indignation of an ex member of the Rada"
Russia as "an empire on the sidelines", Maidan-ization of pro-Russian Abkhazia, the Baltic States scared of US sanctions
Geopolitical intrigues this time were accompanied by an analysis of events in Abkhazia and quotes by a Latvian politician about US pressure on the Baltic States.
Russian sites focused on Ukrainian issues suggested that while both candidates for the "president" Abkhazia (Russian-occupied part of Georgia) are pro-Russian, "Russia must be strained by the Maidan-ization of its ally. The technologies of color revolutions are considered absolute evil in Moscow. And in Sukhum, they have a chance to take root". They also, following Russian mainstream sites, reprinted quotes by one Latvian politician that "if the Baltic States cooperate with Moscow, they will immediately be crushed by US sanctions."
The positions of both types of media also converged on the need to combat the destructive influence of foreign media on Russia. "Foreign media distort any situation in Russia, presenting it to readers in the light necessary for the West." As an example, they use the Western media's refusal to call Crimea part of Russia. "So they reflect the position of London and Kyiv. Although it is clear to everyone that Crimea is a subject of the Russian Federation"
"How the DPR veterans started a Maidan in Sukhum"
"In the future, when the EU falls apart, Latvia and other states will have to choose with whom to "make friends". And while the dollar reigns in the region, the United States will use it as an effective lever of pressure."
"Yes, Russia is still inactive in Ukraine and limits itself to the gas pipeline, but this is also a matter of time. As soon as Moscow revives the policy of the Russian world, begins to formulate common values, all this false unity of Kolomoisky will instantly be swept out of their heads, like garbage. Yes, you can't form something pro-Russian from the mess in the heads overnight, but it is quite possible and necessary to open their eyes to the crimes of the West and to start to form pro-Russian views in Ukraine."
Limitations of the study:
We take the topics of Russian propaganda in Ukraine from the following groups of materials:
1) manipulative news from the Russian online publications which write on Ukrainian topics, for the population of the occupied territories
2) manipulative news from those Ukrainian sites where a significant amount of manipulative news has been spotted. This second category is targeted at Ukrainian audiences and publishes a lot of manipulative news of different ideological orientation
3) all news from mainstream Ukrainian publications
4) all materials from mainstream Russian news sites
In this study, we only regarded the topics which are in line with Russian disinformation campaigns. In the first and second groups of news, the materials were selected by AI classifier of manipulative news. Topic names reflect manipulations used in the topic. Accordingly, news stories on Ukrainian mainstream sites on the same topic may have a completely different content from that of manipulative materials.
Examples of headlines
Downed Ukrainian Boeing: UIA and USA are to blame
Ukrainian Boeing departed from Iran, despite the ban on flights due to an attack on US bases | nahnews.org
«Kyiv's sophisticated, cold-blooded calculation». Experts tells why Zelensky looks for a "Russian trail" in the Iranian tragedy | ukraina.ru
Soloveichik: Aggressive policy of the US is the reason for the crash of Ukrainian aircraft in Iran | nation-news.ru
Kosachev points out the difference in the approaches of Western intelligence to the disaster in Iran and MH17 | ukraina.ru
Khatylev convinced that the US were involved in the crash of the Ukrainian Boeing in Iran | riafan.ru
What do the crashes of MH17 and PS752 have in common? | ua24ua.net
"False disgrace". Zelensky criticized for his reaction to Iran developments
Liashenko: «The Maidan scum is Zelensky's main political protector» | ukraina.ru
Poroshenko's team-mate claims that the sultan of Oman exposes Zelensky's lies with his own death | riafan.ru
Zelensky and his underwear. A joyful saga of how Vova of Oman showed his **** without taking his baptismal cross off | xn--j1aidcn.org
«Vova! Go to Moscow!» Fatal moments spotted in Zelensky's foreign visits | begemot.media
Several experts believe that Zelensky keeps silence because he is coordinating a statement on the downed Boeing with the Kremlin | crisis.in.ua
The US and Iran to unleash World War III, Maidan-ization of pro-Russian Abkhazia, the West vs Russia
Ukrainian Russophobia mongers sell movies and series to Russia | e-news.su
Political scientist Ganzhara called on Russians to "understand the tone" of Western media disseminating fake news | nation-news.ru
Anti-Russian policies of the Baltic States is dictated by the US, Chepa says | nation-news.ru
The policy of foreign media aims at destructive impact on Russia | slovodel.com
Currency needle, "price insanity", Soros wants to "return two billion", labor code
Will the price insanity stop? | from-ua.com
Currency needle: who is interested in the collapse of the hryvnia and how can this be prevented? | prioritet.org
They took loyal ministers. and now we expect results from them as if they were competent and experienced. These are different things | ua24ua.net
Feeding a family in impoverished Kherson is two times more expensive than in Europe | naspravdi.info
Goncharov: «Even Ukrainian nationalist cannot hide from a world crisis» | ukraina.ru
Soros tells how he and and whole world feel about Ukraine | pravda.ru
Ukrainian nationalists walk around with flamethrowers and sell "human meat in sour cream"
Dead Bandera still makes Ukrainians enemies with Poles and Jews | naspravdi.info
«Separatist in sour cream»: Poroshenko's team-mate who lost elections and an ATO veteran sell preserves (PHOTO) | rusvesna.su
Why Ze team won't bring nationalist radicals to reason | odnarodyna.org
Karasev explains why people in Ukraine now speak of Maidan as a coup | ukraina.ru
Neverov calls Polish Sejm resolution on WWII a horrible attempt to rewrite history | life.ru
The Unpunishable. Why in Ukraine a puddle with brown scum is spilled | nk.org.ua
Methodology
We searched for topics in 7668 materials in Russian language from:
16 Russian sites (manipulative materials only), oriented at Ukrainian topics: alternatio.org, anna-news.info, comitet.su, crisis.in.ua, e-news.su, glavk.info, mir-lug.info, nahnews.org, naspravdi.info, nation-news.ru, newsland.com, nk.org.ua, odnarodyna.org, rusvesna.su, ukraina.ru, voenkor.info
66 Ukrainian online publications where over 10% of all news about Ukraine have been spotted as being manipulative (manipulative materials only): akcenty.com.ua, antikor.com.ua, argumentua.com, argumentua.life, baza-pravda.in.ua, begemot.media, bessarabiainform.com, beztabu.net, bin.ua, bn24.biz.ua, censoru.net, dialog.ua, dneprcity.net, expres.life, for-ua.life, from-ua.com, glavcom.life, glavred.life, golos.ua, goruzont.blogspot.com, grom-ua.org, hyser.com.ua, inform-ua.info, ivasi.news, khersonline.net, kievpravda.com, kompromat1.news, kordon.org.ua, most-dnepr.info, most.ks.ua, newnews.in.ua, newsmir.info, odessamedia.net, onpress.info, osp-ua.info, person.org.ua, politjournal.com, politobzor.net, proua.com.ua, prportal.com.ua, replyua.net, rnbee.com.ua, rupor.info, skelet-info.org, sobytiya.info, spichka.news, spzh.news, strana.ua, t.ks.ua, timer-odessa.net, tochkazoru.pp.ua, u-news.com.ua, ua-vestnik.com, ua24ua.net, uazmi.org, ukr.life, ukrainianwall.com, ukranews.life, verhovenstvo.com, versii.com, vybor.ua, w-n.com.ua, xn--j1aidcn.org, znaj.ua
10 major Ukrainian online publications (all materials): 24tv.ua, bykvu.com, gordonua.com, interfax.com.ua, news.liga.net, pravda.com.ua, rbc.ua, segodnya.ua, ukrinform.ua, unian.net
15 major Russian publications (all materials): aif.ru, dni.ru, kommersant.ru, kp.ru, lenta.ru, life.ru, newsru.com, pravda.ru, regnum.ru, riafan.ru, russian.rt.com, slovodel.com, svpressa.ru, tass.ru, vz.ru
Manipulation in news was singled out by our improved AI classifier developed in the project We've got bad news. In the monitoring, we only regarded materials about social and political life which are about Ukraine.
The project was funded by the National Democratic Institute