Hot Topics of Russian Disinfo. Issue #18. "Ukraine, I've had enough of you!", Russians fantasize of Srebrenica
The Normandy summit is still the focus of all the media. Based on it, the possibility of autonomy for the Donbas, the continuation of gas negotiations and sanctions against "Nord Stream 2" were discussed. Giving back control of the occupied border area to Ukraine can lead to "a Srebrenica", and the investigation into Sheremet's murder is a great excuse for inciting hysteria around the topic of violence and veterans. Ukraine itself is to blame for the gas conflict, and instead of paying the Gazprom debt to Naftogaz, Russian remind of Yanukovych's debt (with interest thereon, already).
Monitoring period: December 9–15, 2019
Click on the chart to scale it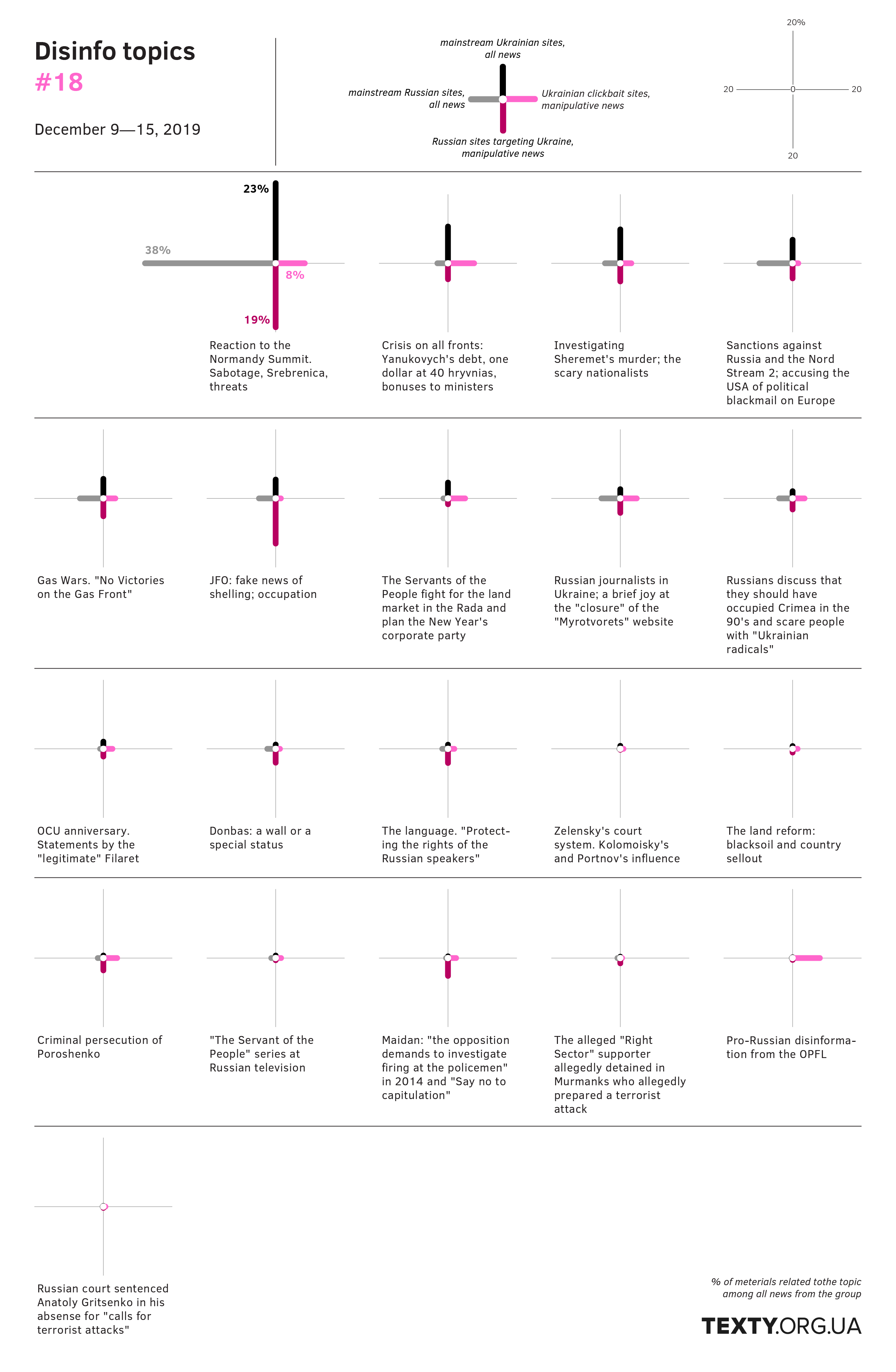 Reaction to the Normandy Summit. Sabotage, Srebrenica, threats
Russian disinformation publications targeted at Ukraine interpret the implementation of the Minsk agreements: "Speaking of autonomy for the Donbas, Moscow stands for the Transnistrian way." They also disseminate Surkov's promise that "no one will betray Donbas." Read about the preparation for the summit and the first reactions in our previous issue.
These publications are particularly active in discussing Zelensky's demand that Ukraine should gain control of the occupied border area. Among other things, they quote Putin's words: "The Ukrainian side is constantly raising the issue: give us the opportunity to close the border with troops. Well, I can imagine what will happen next. It will be a Srebrenica, that's all." Let us remind you that Srebrenica is a Bosnian town where local Muslims were massacred by Bosnian Serbs. In 2015, Russia vetoed UN Security Council resolution which recognized the massacre of Bosnian Muslims as genocide.
They describe the perseverance of the Ukrainian side on the issue of control over their own borders simply: "Denial and spoiling in any possible way". Meanwhile, Ukrainian clickbait sites disseminate, under the pretext of their being funny, aggressive statements by Russian politician Vladimir Zhirinovsky: "If Ukraine does not accomodate, we will have to bring troops into Kyiv and do away with anarchy there."
"The Kremlin advises Zelensky how to end the war in the Donbas"
"Ukraine does not know what to do with the Donbas. Russia needs to freeze the conflict, – German expert Rahr"
Donbas: a wall or a special status
Ukrainian clickbait sites have commented vividly on the words of pro-Russian opposition figures in Ukraine about alleged "Plans to artificially cut off of the Donbas". Thus, OPFL politicians commented on the plan announced by the President's team to isolate the occupied territories, should peace talks fail. At the same time, they disseminated the statement of the Russian political scientist: "It is necessary to solve another problem": ex adviser to Gorbachev believes that Ukraine should forget about Donbass for a time.
Meanwhile, Russian disinformation publications are calling for new attacks on Ukraine's territory. "Eritrea gained independence by taking over the capital of Ethiopia" (a clear allusion to Ukraine and the plans of Russian hybrid troops "to reach Kyiv" – TEXTY).
Crisis on all fronts: Yanukovych's debt, one dollar at 40 hryvnias, bonuses to ministers
Manipulators continue to attack the NBU. This time, indicators for banks' stress testing were turned into a forecast of the fall of the hryvnia and of a rising exchange rate. And while mainstream media refrained from predictions and published the NBU's comments, Ukrainian manipulative publications only reproduced conspiracy theories. "It turns out that officials are preparing the banking system for a disastrous devaluation of the national currency, and the NBU itself refuses to prepare and to work out mechanisms to counter a possible currency crisis. That same crisis which it secretly believes in."
Russian mainstream publications and Russian disinformation publications targeted at Ukraine have been disseminating news about Yanukovych's debt, and that Ukraine now supposedly has to pay an interest thereon because it hasn't paid the debt back before. "Kyiv doesn't plan to pay anything back. But experts are sure that court will stand by Moscow, as there are no legal grounds for Ukraine to refuse to pay". Ukrainian clickbait sites and Russian disinformation publications targeted at Ukraine spoke of "Yanukovych's debt" while Russian publications used only the phrase "Ukraine's debt to Russia".
Also, with the exception of mainstream Ukrainian media, all were talking about low salaries and of the ministers and the bonus to Mr. Milovanov. Criticism, populist statements and comments such as "Ukrainian ministers still complain about low wages, despite the fact that they receive 15 times more than ordinary citizens of the country" were disseminated.
Investigating Sheremet's murder. A pretext to remember the scary nationalists
Ukrainian clickbait sites are pushing hysteria around the topic of violence and veterans: "This is not the first murder that veterans committed. And not the last, either." This is how they comment on the accusation of Andriy Antonenko, Yana Dugar and Yulia Kuzmenko, veterans and volunteers. Clickbait sites are already drawing conclusions, such as: "It wasn't Putin who blew up [Sheremet ― Texty] but a gang of nationalists."
Russian disinformation sites targeted at Ukraine write about Avakov's interest in the veterans case: "Avakov makes a sacral sacrifice before "coronazing" himself as the prime minister." And they call the accused names such as "Nazis" infected with "Bandera's ideas".
"What kind of a motive is needed in a country where bandits were replaced by ex soldiers? - social networks on Pavlo Sheremet's case".
Sanctions against Russia and the Nord Stream 2; accusing the USA of political blackmail on Europe
Russian disinformation publications that write about Ukraine and mainstream Russian websites are equally trying to convince one that sanctions against the North Stream are a loss for Germany, and they call for "counter-sanctions". "Resistance to "blackmail policy" is growing: Contra Magazin calls on Europe to end with transatlantic partnership."
"Western sanctions against Russia are a farce in all respects"
"Ischenko: the time has come when the USA is forced to consider Russia's opinion"
"Both Ukraine and the USA behind it seek not so much to preserve gas transit through "the independent one", but to disrupt supplies to Europe. And, as a result, to undermine the reputation of Gazprom, a reliable fuel supplier"
Gas Wars. "No Victories on the Gas Front"
Russian-Ukrainian gas negotiations are also still discussed by all media outlets. Manipulative publications never stop "reminding" that Medvedchuk had already negotiated a discount on Russian gas. Thus, they effectively turn the Russian-Ukrainian gas conflict into a purely Ukrainian domestic one.
Russian disinformation publications that write about Ukraine also disseminate Putin's words about a possible gas discount. And they also blame Ukraine for a defective gas policy. "Since the late 1990s, Gazprom has been gradually reducing the proportion of Ukrainian transit, taking into account Kyiv's unpredictability."
"Having understood that there will be gas flows that bypass Ukraine, no matter how much homegrown propagandists and clairvoyants perform their shamanistic rituals, Kyiv decides to go along a well-known, though not always a smooth path. Namely, to initiate lawsuits."
TurkStream and Nord Stream 2 were built with the expectation that they would already be active when the transit agreement with Ukraine ends. And then, without the headache which inevitably arises when trying to agree on anything with loony Maidan Jumpers (also a racist reference to Papua here – TEXTY), it will be possible to simply redirect gas flows from one channel to another."
Russian journalists in Ukraine; a brief joy at the "closure" of the "Myrotvorets" website
Russian disinformation publications and clickbait sites discussed the visit of Russian "Zvezda" channel journalist to Kyiv. Russian disinformation publications write that the journalist allegedly arrived in Ukraine at the invitation of Vladimir Zelensky. At the same time, they write: "A special route: Ukrainians lure Russian journalists into a trap" commenting on the idea of ​​the Union of Journalists of Ukraine (some Ukrainian journalists accuse it of a very supportive attitude towards pro-Russian media in Ukraine) to admit Russian journalists and allow them to move along routes agreed on in advance.
These sites also disseminated the statement of Myrotvorets website on the termination of its activity: "The murderer site Myrotvorets decides to close down, being afraid of retaliation". Myrotvorets later announced that it did not plan to close down.
Meanwhile, Russian mainstream media discussed Volodymyr Zelensky's "interview" with Russian journalists. Their conversation lasted about two minutes.
"Journalists who came to Kiev are included into the database of the murderer site Myrotvorets"
"Ex frontman of Griby band gets into the database of the murderer site Myrotvorets because he loved Donbas people"
Limitations of the study:
We take the topics of Russian propaganda in Ukraine from the following groups of materials:
1) manipulative news from the Russian online publications which write on Ukrainian topics, for the population of the occupied territories
2) manipulative news from those Ukrainian sites where a significant amount of manipulative news has been spotted. This second category is targeted at Ukrainian audiences and publishes a lot of manipulative news of different ideological orientation
3) all news from mainstream Ukrainian publications
4) all materials from mainstream Russian news sites
In this study, we only regarded the topics which are in line with Russian disinformation campaigns. In the first and second groups of news, the materials were selected by AI classifier of manipulative news. Topic names reflect manipulations used in the topic. Accordingly, news stories on Ukrainian mainstream sites on the same topic may have a completely different content from that of manipulative materials.
Examples of headlines
Russian reaction to the Normandy summit. Comparisons to Bosnia massacres which Russia itself had failed to condemn
Zelensky will hand over Ukraine to Putin without signing a "capitulation" in Paris - political scientist | antikor.com.ua
Kiev has only one plan: to make money by continuing the war in the Donbas | nahnews.org
Zelensky conspires with Poroshenko and that will lead to riots and collapse of Ukraine | nahnews.org
Merkel realized that Zelensky's demands are unacceptable – a member of Rissian Council of Federation | regnum.ru
The DNR demands that Kyiv publish the exact text of the Normandy summit communiqué | tass.ru
Medvedchuk: "It is too early to speak of Zelensky's victory in the negotiations of the Normandy Four" | akcenty.com.ua
Attacking the NBU, predictions of a soaring exchange rate, the IMF credit needle, state companies
The National Bank secretly prepares Ukrainian banks for the rate of 40 UAH to one dollar — member of parliament | antikor.com.ua
Ukraine dreams of catching up with Russian average pensions in five years | alternatio.org
Minister of the poorest country in Europe complains to Zelensky about his low salary | nahnews.org
«Ukraine will have to do it»: Russia reminds of multi-billion Yanukovych's debt | replyua.net
Investigating the murder of Sheremet
Minister Avakov openly lays Zelensky bare, and Zelensky lays bare gladly | ua24ua.net
SBU and Poroshenko trail. What is now clear from Avakovs confessions on the Sheremet case | nk.org.ua
«A slap on the face of all Ukrainian society» — Sheremet murder suspects have grown fabulously rich over the last few years (PHOTOS) | rusvesna.su
Investigators believe Antonenko, ex participant in military operation, organized the murder of Sheremet | tass.ru
Nazis named Sheremet's murderers were in bed with Sentsov and Poroshenko | e-news.su
Sanctions against Russia and the Nord Stream 2; accusing the USA of political blackmail on Europe
Ukraine: the mouse who's supposed to growl | onpress.info
Bundestag advises Ukraine to forget Crimea: it won't return, like Kosovo will never return to Serbia | e-news.su
"EU under attack": People in Germany condemn the US sanctions against Nord Stream 2 | kp.ru
Expert calls the sum allocated by the USA for the defense of Ukraine ridiculous and not serious | golos.ua
Russia values Europe's readiness to stand for Nord Stream 2 | for-ua.life
Russian journalists in Ukraine; a brief joy at the "closure" of the "Myrotvorets" website
Soloviev considers as lame Zelensky's joke about Putin's words on gas | nation-news.ru
«Bluff» — people in Russia and the DNR comment on Zelensky's invitation for Russian journalists | rusvesna.su
Kotsaba tells the truth about why Russian journalist will never be allowed in the Donbas | nahnews.org
Myrotvorets website resumes public access to the database of "enemies of Ukraine"| tass.ru
Zelensky's invitation to Russian journalists will not change the antisystem in Ukraine | naspravdi.info
Donbas: a wall or a special status
Kiselev: Everyone's ready to forgive Putin for Ukraine | replyua.net
Plans to artificially cut off the Donbas contradict the Constitution of Ukraine and harm the peaceful settlement, - «Opposition Platform – For Life» | most-dnepr.info
«We can also pull down the green idol»: Tyahnybok hints to Zelensky about a revolutionary version of his removal from power | replyua.net
Russia should not allow the integration of the DPR with nationalist Kyiv, expert says | nation-news.ru
Methodology
We searched for topics in 9862 materials in Russian from:
16 Russian sites (manipulative materials only), oriented at Ukrainian topics: alternatio.org, anna-news.info, comitet.su, crisis.in.ua, e-news.su, glavk.info, mir-lug.info, nahnews.org, naspravdi.info, nation-news.ru, newsland.com, nk.org.ua, odnarodyna.org, rusvesna.su, ukraina.ru, voenkor.info
66 Ukrainian online publications where over 10% of all news about Ukraine have been spotted as being manipulative (manipulative materials only): akcenty.com.ua, antikor.com.ua, argumentua.com, argumentua.life, baza-pravda.in.ua, begemot.media, bessarabiainform.com, beztabu.net, bin.ua, bn24.biz.ua, censoru.net, dialog.ua, dneprcity.net, expres.life, for-ua.life, from-ua.com, glavcom.life, glavred.life, golos.ua, goruzont.blogspot.com, grom-ua.org, hyser.com.ua, inform-ua.info, ivasi.news, khersonline.net, kievpravda.com, kompromat1.news, kordon.org.ua, most-dnepr.info, most.ks.ua, newnews.in.ua, newsmir.info, odessamedia.net, onpress.info, osp-ua.info, person.org.ua, politjournal.com, politobzor.net, proua.com.ua, prportal.com.ua, replyua.net, rnbee.com.ua, rupor.info, skelet-info.org, sobytiya.info, spichka.news, spzh.news, strana.ua, t.ks.ua, timer-odessa.net, tochkazoru.pp.ua, u-news.com.ua, ua-vestnik.com, ua24ua.net, uazmi.org, ukr.life, ukrainianwall.com, ukranews.life, verhovenstvo.com, versii.com, vybor.ua, w-n.com.ua, xn--j1aidcn.org, znaj.ua
10 major Ukrainian online publications (all materials): 24tv.ua, bykvu.com, gordonua.com, interfax.com.ua, news.liga.net, pravda.com.ua, rbc.ua, segodnya.ua, ukrinform.ua, unian.net
15 major Russian publications (all materials): aif.ru, dni.ru, kommersant.ru, kp.ru, lenta.ru, life.ru, newsru.com, pravda.ru, regnum.ru, riafan.ru, russian.rt.com, slovodel.com, svpressa.ru, tass.ru, vz.ru
Manipulation in news was singled out by our improved AI classifier developed in the project We've got bad news. In the monitoring, we only regarded materials about social and political life which are about Ukraine.
The project was funded by the National Democratic Institute