Hot topics of Russian disinfo: Viral disinformation. Issue #25
Disinformers say that the events in Novi Sanzhary are a "consequence of the half-decay of the Ukrainian statehood", and they stir up panic around the coronavirus with reports of "destruction and collapse in Ukrainian healthcare". In other news, they place responsibility on Ukraine for failure to comply with the Minsk agreements, they stubbornly predict the fall of the hryvnia, and remember Lenin's legacy "on the land"
Period: 17—23 February, 2020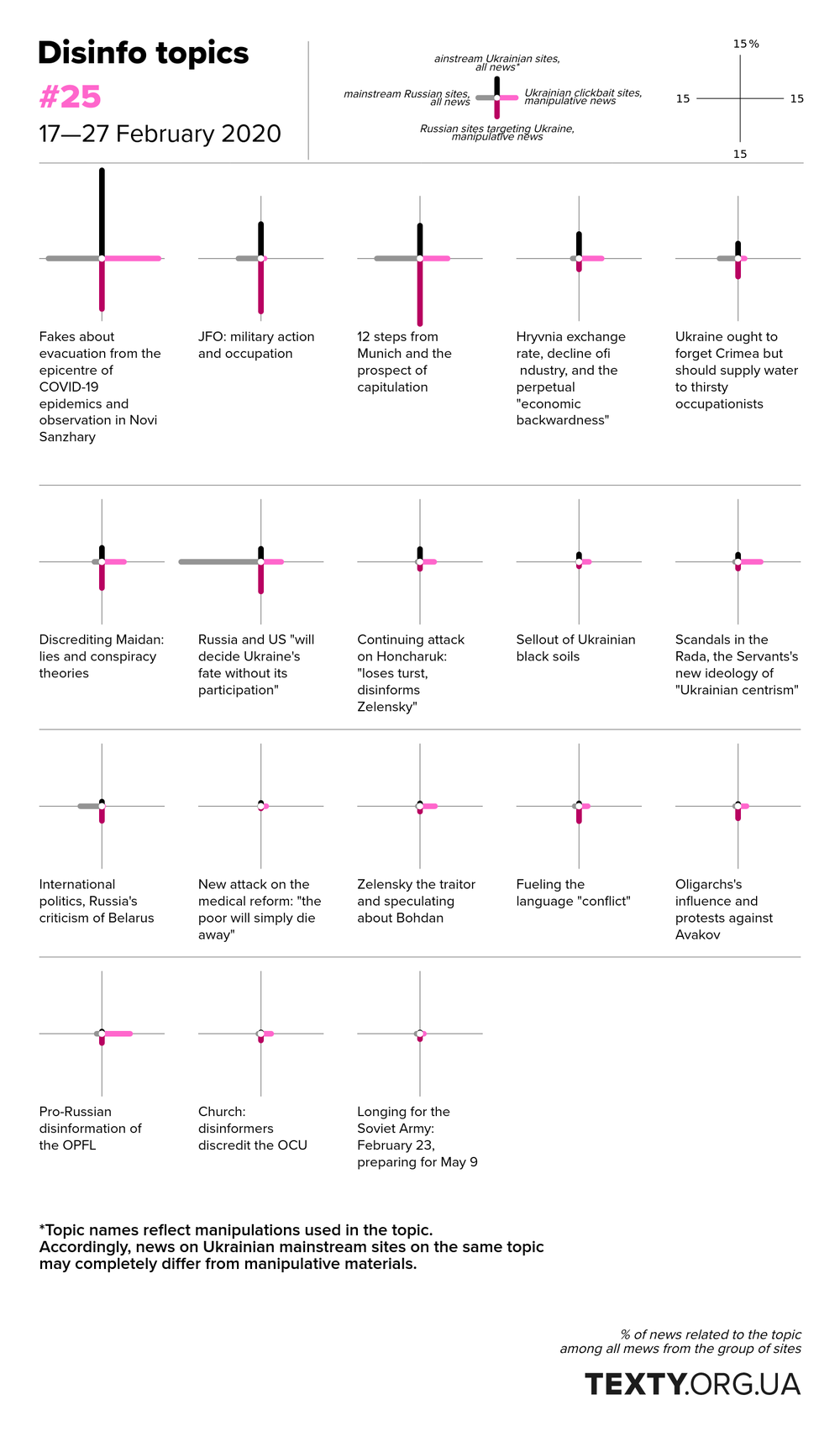 Fakes about evacuation from the epicenter of COVID-19 epidemics and observation in Novi Sanzhary
The evacuation of Ukrainians from Wuhan and their placement for observation in Novi Sanzhary caused a real media boom. Manipulators were disseminating all possible (often absolutely absurd) variants of the root causes of the panic that gripped the locals. All the mistakes of the authorities were exacerbated by comments and injections: "The reaction of citizens to the plane from Wuhan is a direct consequence of the half-decay of Ukrainian statehood." They contributed to the spread of panic mood, writing about "the collapse and decay in the Ukrainian healthcare system which will not be able to provide treatment for coronavirus and prevention of a pandemic." At the same time, they promoted shame of the reaction to the evacuation, adding to the tension: "People do not trust the authorities at all, knowing that they are weak, inept, unable to guarantee anything - neither security, nor protection, nor just honesty." We all have different political views and attitudes towards the authorities, but the cocktail of the above statements polarizes society and works for a single result, the delegitimization of our elected authorities. The authorities, in their turn, should be aware that Novi Sanzhary was actually a laboratory where the Russian Federation has tried many different ways of destabilization, which Russia will certainly try to replicate on a larger scale. The hysterics were facilitated by poor communication from government officials and delaying the evacuation of people.
In their allegations, they kept drawing parallels with the events of 2014 ("Obscurantism is a consequence of our TVs and the whole post-Maidan information agenda"), and Crimea and Donbas ("How sad it is for me to look at what is happening in Novi Sanzhary. And you mumble about Crimea and the Donbas where there are even more Ukrainians who are waiting. And you have already shown that you do not need our compatriots."). Here, they artificially contrast capitulation to neglect of the countrymen.
Theses of Russian sites targeting Ukrainian topics, in general, coincided with manipulative ones. Except, they were even more emotional. They strongly neglected logic, by comparing coronavirus panic with the Revolution of Dignity, just before its anniversary. Russian authors and pseudo-experts promoted the thesis of "not-in-my-backyard" and "split" of Ukrainian society "not along the Dnieper, but along the mentality": "We have again seen the clash of urban civilization and archaic uneducated village." But "along the Dnieper", too, they tried to form a split, writing about the "incredible selfishness and falsehood of ostentatious patriotism" of the residents of the Western regions of the country.
They created many conspiracy theories, forgetting to provide any evidence. If you believe the word of disinformers, "Zelensky's team seemed to have known about the provocations, that's why they lingered with the evacuation of citizens from Wuhan for an unjustifiably long time." And the main political benefit from this situation, according to them, was reaped by Avakov and Poroshenko: "Both political figures are able to mobilize their radical nationalists on a short notice. Both political figures don't value Zelensky's team, sensing its weakness. Both of them don't care about evacuated Ukrainians and the image of the country itself in the international arena."
"12 steps" from Munich and the prospect of capitulation
This week, disinformers justified the onslaught of separatists near Zolote village, and offered scenarios for Ukraine's capitulation. For example, clickbait sites disseminate criticism by OPFL deputies of the separation of troops: "Troops were decided to be separated only at three points. However, if they did this along the entire line of demarcation, then there would be no shooting in Donbas today." Russian sites, as expected, have denied Russian aggression near Zolote village.
Russian sites targeting Ukrainian issues have drawn a parallel between the recent escalation at the frontline and the Battle of Debaltseve, writing something about their "victory". Let us remind you that in February 2015, Ukrainian soldiers left the city of Debaltseve after violent battles with pro-Russian militia and Russian professional troops. The separatists thus violated the Minsk agreements according to which Debaltseve had to remain under the control of the Armed Forces. By the way, troops have already been separated in the area of ​​recent clashes, but as we can see, this did not help. While Russian media praise the Minsk arrangements, Russian-controlled militants continue firing at the collision line, thus violating the first paragraph of the same agreements.
Russian sites targeting Ukrainian topics mocked Zelensky's speech in Munich: "there was a noticeable fatigue on the faces of the attendees, caused by monotony of Ukrainian delegates's speeches", and they rejoiced in the publication of pro-Russian "12 steps": "the difference of this Munich conference from the previous ones is as follows: while before, one proposed to wait for Russia to disintegrate, now for the first time the question arose as to what shall we do if Russia does not disintegrate."
Hryvnia exchange rate, a decline of industry, and the perpetual "economic backwardness"
The disinformers' traditional "impoverishment" theme was among the most popular this week. News of an attempt to launch the land market was added to it. Clickbait sites wrote most of all about economic difficulties, real and fictional. A typical topic for speculation was the hryvnia exchange rate: "How hryvnia can be devalued for the sake of land sellout". For the fourth year now, disinformers have been predicting a sharp fall in the hryvnia exchange rate, yet it remains in the same range after 2016 and even strengthens.
In addition to the hryvnia exchange rate, clickbaiters were mocking the government's plans to stimulate the development of the IT industry: "Almost half of our schoolchildren were unable to reduce fractions in tests, and over a half couldn't add fractions with different denominators... Reserve for the IT industry growth in Ukraine is 100-150 thousand people at most".
Russian websites targeting Ukrainian topics perceive the economic theme from a different angle: "post-Maidan Ukraine drowns", the reason being "enmity with Russia". They write that the Ukrainian industry will not survive without Russian markets. And even if the government finds money to stimulate local industry, "there's simply no one to buy additional products, while domestic demand is shrinking at catastrophic rates." Metallurgy made the largest contribution to the reduction of industrial production. It has suffered as a result of declining international metals prices, the strengthening of the hryvnia and the coronavirus epidemic in China. It is also important that the share of industry in the economy of Ukraine is decreasing every year, now it stands at about 20%. Instead, the services sector is growing.
Manipulative sites continue to fuel the hysteria about the land market. Several sites have published a material that paraphrases the first decrees of Soviet power: "The Question of Peace, the Question of Land."
"But the most important issue, the preservation of the property of Ukrainian peasants on land, is solved by the law quite oppositely; its introduction will automatically entail rampant raiding and capture of land slots either by force or "for debt".
Russian sites also offer their own "solutions" to overcome the economic problems of Ukraine: "I always advise to set more realistic goals, closer ones. In order to catch up with Polish wages, one first needs to reach the Russian level. One does not simply jump over the Russian level. Reach the level of Russia, and for that, at least you should not be enemies with Russia" The minimum wage in Ukraine is already higher than Russia's.
New attack on the medical reform: "the poor will simply die away"
The second stage of medical reform in Ukraine is to start on April 1, 2020. As we have chosen a family doctor, we will now be able to choose narrow-profile specialists, and the state will pay for their services. As in the first stage, disinformers launched a media attack on medical reform. Clickbait sites, for example, disseminate panic rumors: "State healthcare system, in fact, will fail to serve the majority of Ukrainians," and brazen lies: "In practice, this means that state healthcare system virtually ceases to exist for most citizens."
Clickbait sites frighten people with an "uncontrolled spread" of tuberculosis: "Tuberculosis dispensaries are another painful topic. Everyone knows that tuberculosis is a disease of either unemployed or asocial citizens. But they are also citizens, and until recently, they received outpatient care. But now no funding is planned for them, because they are going to shift responsibility for such patients to NGOs".
Russian sites targeting Ukrainian topics sing along that: "70% of Ukrainian hospitals will disappear." And they quote ex-Deputy Minister of Health Zahoriychuk: "Continuing the topic, Zahoriychuk noted that the problem for the Ukrainian healthcare was not only the rejection of an effective Soviet system and the attempt to blindly copy the Western model, but also the fact that many qualified doctors are fleeing Ukraine, because "working as a doctor or a nurse in the present conditions is like hell."
In addition to the aforementioned topics, disinformers disseminated numerous fakes about the events of the Revolution of Dignity, they accused Ukraine of oligarchs's impunity and continued their attack on Honcharuk. The topics of integration of Belarus with Russia and the supply of water to Crimea, which have appeared in the last few weeks, continue to be raised.
Among other things, disinformation sites have spread an overt conspiracy theory: "The proxy war of American crypto-Nazis against Russia." The essence of the text boils down to the US Democratic Party allegedly financing the oligarch Kolomoisky (the role of the oligarch in the story changes) in order to carry out a "coup d'etat'' in Ukraine. They mix everything together, including an anti-virus software producer, anti-Semitism, and political struggles in the US. This famous story about the "Ukrainian Democratic Party server" was mentioned by Trump in the conversation with Zelensky which became the trigger for the impeachment procedure.
Limitations of the study:
In this study, we only regarded the topics which are in line with Russian disinformation campaigns. Most of them are based on real events, as disinformation works more effectively this way. Topic names reflect manipulations used in the topic. Accordingly, news stories on Ukrainian mainstream sites on the same topic may have completely different content from that of manipulative materials.
We take the topics of Russian propaganda in Ukraine from the following groups of materials:
manipulative news from the Russian online publications which write on Ukrainian topics, for the population of the occupied territories
manipulative news from those Ukrainian sites where a significant amount of manipulative news has been spotted. This second category is targeted at Ukrainian audiences and publishes a lot of manipulative news of different ideological orientation
all news from mainstream Ukrainian publications
all materials from mainstream Russian news sites
In the first and second groups of news, the materials were selected by the AI classifier of manipulative news.
Examples of headlines
Fakes about evacuation from the epicentre of COVID-19 epidemics and observation in Novi Sanzhary
Clothes and fruit will disappear. Ukrainian shops may become empty because of coronavirus | khersonline.net
February 20 becomes the National Shame Day of Ukraine | Residents of Novi Sanzhary threaten to burn the sanatorium, with Ukrainians evacuated from Wuhan inside it | e-news.su
"Plague riots" in Ukraine. Who benefits and who organized them | nk.org.ua
Shesler: "Not-in-my-backyard" infection is more scary than coronavirus | ukraina.ru
Corona-Maidan in Ukraine. Ternopil governor's resignation and Zelensky's shame | ukraina.ru
"12 steps" from Munich and the prospect of capitulation
Russia blames Ukraine and the EU of discriminating against the Donbas residents | kompromat1.news
Zelensky publicly humiliated in Munich, Ukraine removed from the agenda | rusvesna.su
Ukrainian politician calls to smash Bandera's freaks in social media | naspravdi.info
DPR's representative calls Zelensky's new border initiatives an attempt to make forget the Minsk agreements | tass.ru
Hryvnia exchange rate, decline of industry, and the perpetual "economic backwardness"
An apotheosis of dementia and obscurantism in economics... | ua24ua.net
Ze authorities robs Ukrainians with tariffs even during a record breaking warm winter - expert | kordon.org.ua
Credit lie of Ukrainian Soros's children | naspravdi.info
Glorious death of Motor Sich. US and China clash over Ukrainian aviation plant | nahnews.org
New attack on the medical reform
The poor will simply die away. Ze authories' medical reform is an uncovered genocide of Ukrainian people | ua24ua.net
Second stage of Ukrainian medical reform. A new step into the abyss | naspravdi.info
Ukrainians lost faith in healthcare: the result of American-style reform | e-news.su
«This is hell». Ex deputy minister tells of critical state of Ukrainian healthcare system | rusvesna.su
Methodology
We searched for topics in 12352 materials in Russian language from:
16 Russian sites (manipulative materials only), oriented at Ukrainian topics: alternatio.org, anna-news.info, comitet.su, crisis.in.ua, e-news.su, glavk.info, mir-lug.info, nahnews.org, naspravdi.info, nation-news.ru, newsland.com, nk.org.ua, odnarodyna.org, rusvesna.su, ukraina.ru, voenkor.info
66 Ukrainian online publications where over 10% of all news about Ukraine have been spotted as being manipulative (manipulative materials only): akcenty.com.ua, antikor.com.ua, argumentua.com, argumentua.life, baza-pravda.in.ua, begemot.media, bessarabiainform.com, beztabu.net, bin.ua, bn24.biz.ua, censoru.net, dialog.ua, dneprcity.net, expres.life, for-ua.life, from-ua.com, glavcom.life, glavred.life, golos.ua, goruzont.blogspot.com, grom-ua.org, hyser.com.ua, inform-ua.info, ivasi.news, khersonline.net, kievpravda.com, kompromat1.news, kordon.org.ua, most-dnepr.info, most.ks.ua, newnews.in.ua, newsmir.info, odessamedia.net, onpress.info, osp-ua.info, person.org.ua, politjournal.com, politobzor.net, proua.com.ua, prportal.com.ua, replyua.net, rnbee.com.ua, rupor.info, skelet-info.org, sobytiya.info, spichka.news, spzh.news, strana.ua, t.ks.ua, timer-odessa.net, tochkazoru.pp.ua, u-news.com.ua, ua-vestnik.com, ua24ua.net, uazmi.org, ukr.life, ukrainianwall.com, ukranews.life, verhovenstvo.com, versii.com, vybor.ua, w-n.com.ua, xn--j1aidcn.org, znaj.ua
10 major Ukrainian online publications (all materials): 24tv.ua, bykvu.com, gordonua.com, interfax.com.ua, news.liga.net, pravda.com.ua, rbc.ua, segodnya.ua, ukrinform.ua, unian.net
15 major Russian publications (all materials): aif.ru, dni.ru, kommersant.ru, kp.ru, lenta.ru, life.ru, newsru.com, pravda.ru, regnum.ru, riafan.ru, russian.rt.com, slovodel.com, svpressa.ru, tass.ru, vz.ru
Manipulation in news was singled out by our improved AI classifier developed in the project We've got bad news. In the monitoring, we only regarded materials about social and political life which are about Ukraine.