Hot topics of Russian disinfo: "Europe in cahoots with Russia", "Donbas's geopolitical energy". Issue #24
According to disinformers, Europe has been "surrendering" Ukraine for a long time, and it wants to be friends with Russia, while the United States only plans to restore Ukrainian control in the Donbas in order to repress pro-Russian citizens and downgrade Putin. Dubinsky and Medvedchuk once again reproduce messages of disinformation; investigation of "Schemes" reporters regarding Zelensky's trip to Oman has been ordered by Poroshenko, and the new head of the President's Office is expected to move closer to Medvedchuk and implement Minsk agreements on Russia's demands. In the meantime, "ordinary people" are experiencing the "budget Auschwitz", and go mad because of January bills.
Monitoring period: 3—9 February 2020
Click on the chart to scale it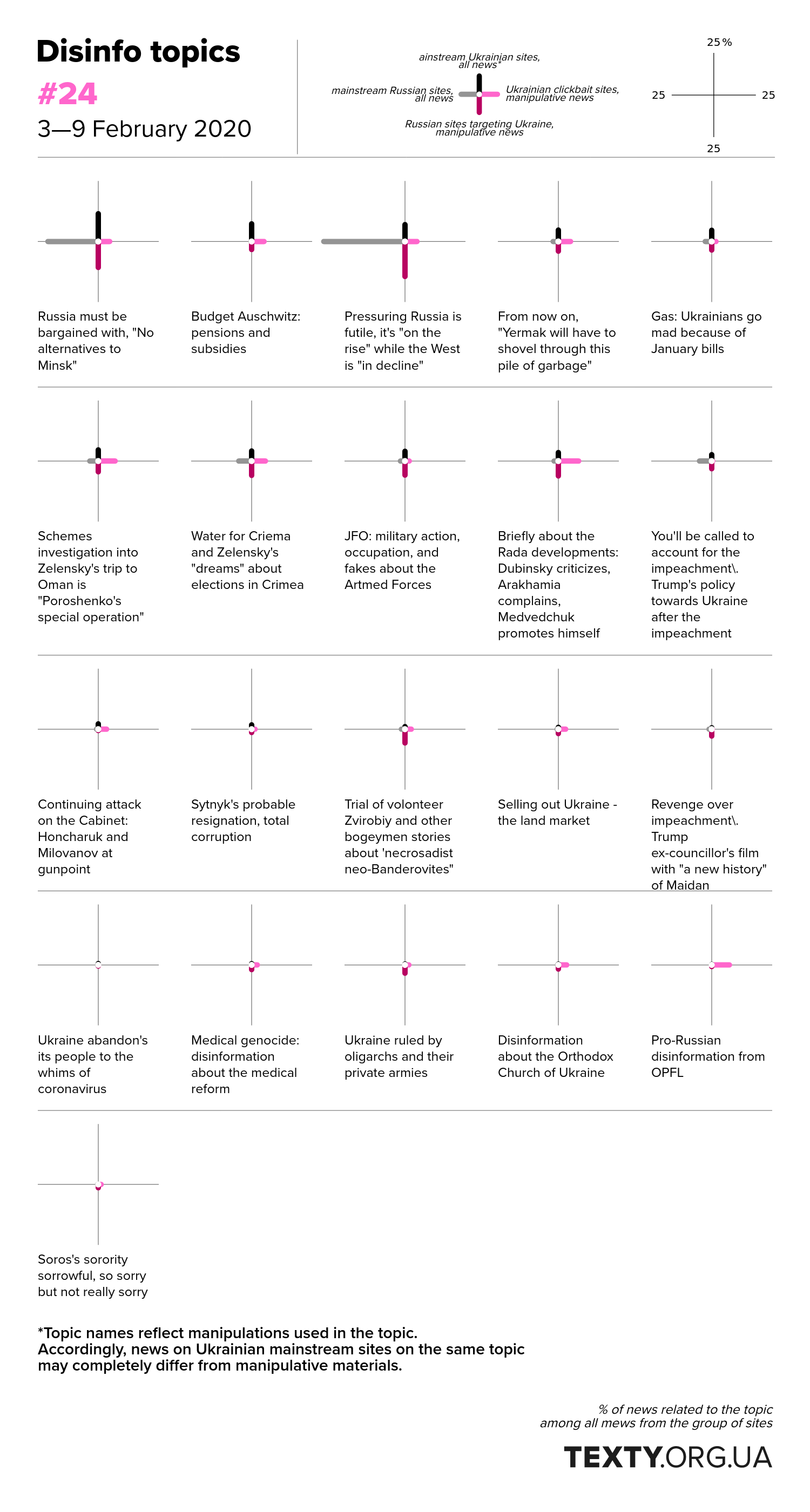 "Russia must be bargained with" - "No alternatives to Minsk"
This week, disinformers on clickbait sites once again write that Ukraine has been left without European support: "Europe is giving up Ukraine, as expected, actually." They also disseminate messages from an anonymous telegram channel that Azarov and Zakharchenko (Minister of Internal Affairs during the Maidan massacre) should become the heads of terrorist pseudo-republics.
Russian sites targeting Ukrainian topics spread disinformation under the title: "Military plans of Ukraine". According to the authors: "For the sixth year, the Ukrainian colony is at war with Russia, and at the same time it is afraid that Russia might actually come to the war." They came to this conclusion because the Ukrainian Foreign Ministry criticized Russia's "peace plan" announced at the Munich Security Conference.
The reason for such bloodthirst is banal: "Deep US State". It is allegedly defining Ukrainian policies and wants to "preserve the anti-Russian regime and put Donbas under control. Then repress all supporters of Russia in the Donbas. As a result, Putin's rating will fall, and then it will be easier for them to overthrow him."
Minsk agreements are of great importance to disinformers: "the fate of the Minsk agreements is closely linked to the fate of Putin, the fate of Russia, the fate of Ukraine. Huge geopolitical energy locked in the Donbas." They write that Ukraine "economically exists at the expense of contacts with Russia." And the Minsk agreements do not work, and for them to start working, an "internal rebirth of the Ukrainian regime" is needed.
Leading Russian publications also reiterate the thesis about Ukraine's bloodlust: "Kyiv has announced a plan to capture the DPR and the LNR." And they also spread the quote of the pro-Russian president of Moldova: "Dodon declares that a strong Russia is needed by all."
Pressuring Russia is futile, it's "on the rise" while the West is "in decline"
Clickbait sites rarely publish long texts on the geopolitics of neighboring countries. They are more likely to disseminate odious quotes. Like, for example, one more Zhirinovsky's babelism with calls for violence and the revival of the empire, or propaganda from the mouth of Putin's spokesman: "Russophobia has become - at least it over the last few years - literally a part domestic state policy in Ukraine."
On the other hand, Russian websites targeting Ukrainain topics produce many texts that try to confuse readers with an abundance of interpretations and versions. There, the United States continues its information attack on Russia "to weaken its geopolitical position in the world" and at the same time establish trade links ("in 2019 Russia became the second largest supplier of oil and petroleum products to the United States, overtaking Mexico"). At the same time as the insidious blocking of Kremlin accounts on Facebook, "the geopolitical tasks of the West began to change: they realized that pressuring Russia is futile, as because of restrictions Russia was developing even more rapidly and establishing closer economic relations with other countries, in particular China." Disinformers are only "sure" about Europe, and they are steadily writing about its rapprochement with Russia. "Remember how Americans "dominated" Europe 10 years ago. Now Europe is seeking friendship with Russia because the latter "on the rise" while the West is "in decline".
"The Soviet Union disappeared, but the raw materials reserves of the USSR remained with Russia, so now they are attacking the Russian Federation. This cold war will end when the United States recognizes that it is no longer the only superpower in the world. There are 3 superpowers already, United States, China, and Russia".
"Europe has a great intellectual potential, but it does not have raw materials, therefore, geographically and practically it would be more logical for it to unite with Russia"
"The West is creating brigades for informational counteraction to Russia, but our country is the place where professional journalists work who truthfully cover events"
"Schemes" investigation into Zelensky's trip to Oman is "Poroshenko's special operation". From now on, "Yermak will have to shovel through this pile of garbage"
Clickbait sites repeatedly wrote of "The Schemes" journalistic team investigation about Zelensky's trip to Oman. Many hypotheses have been produced: for example, that the information about the meeting was leaked by the Americans, that "The Schemes" journalists are still hiding something and that "they will make a big mistake in the OP if they sue The Schemes because then they will have to really tell the whole truth", and also that "the organizers of the information dump there may be the team of ex President Petro Poroshenko, who has retained connections in the Ukrainian intelligence services", or even Medvedchuk himself. However, they provided even less evidence to their hypotheses than The Scheme's journalists did.
But in the Russian sites targeting Ukrainian topics, the investigation has caused a completely different reaction. They in every way denied the fact of the meeting, paying attention to the lack of evidence, not forgetting to ridicule the reaction of nationalists ("Nationalists and Poroshenko's bots go into hysterics about another conspiracy theory about Zelensky's alleged secret meeting with the Russians in Oman").
They also discussed the appointment of Andriy Yermak to the post of chairman of the President's Office in place of Andriy Bohdan. Ukrainian manipulative publications suggested that this would "lead to tougher action by the authorities." The OPFL promoters promoted the idea that Medvedchuk "has every chance of seriously strengthening his own position by becoming an unspoken partner or consultant to the new head of the President's Office." Russian sites targeting Ukrainian issues have written almost nothing bad about Yermak. On the contrary, they suggested that there was now a chance for Ukraine's de-oligarchization ("Bohdan's dismissal is the most obvious indicator of an anti-oligarchic trend") and for the Minsk agreements to become the point again.
"Yermak will have to shovel through this whole pile of garbage. For the next "Normandy Summit" to take place, the Russian side must see the concrete steps of Kyiv. In connection with the appointment of Yermak, some hope appears that the settlement process will start moving"
"As it turned out, Zelensky is also contemptuous of classical diplomacy. The president, like Yermak, is carried away by non-public agreements and secret intrigues in diplomacy - something like "a haberdasher and a cardinal will save France"
"The appointment of Andriy Yermak as the head of the Office of the President of Ukraine symbolically coincided with the fifth anniversary of the Minsk Agreements, which are still skidding in the Ukrainian nationalist swamp"
Briefly about the Rada developments: Dubinsky criticizes, Arakhamia complains, Medvedchuk promotes himself
Dubinsky again provides food and content to clickbait sites. One phrase of his, and already "Servants of the people declared the death of the Ukrainian industry." However, one phrase wasn't enough, so our monitoring features a series of publications criticizing the law on disinformation and the media, statements about Borodyansky's professional unfitness, the death of the Ukrainian industry, and even absurd one, "Ukraine simply will not have money to buy goods abroad, therefore it will be necessary to produce its own".
Russian sites targeting Ukrainian topics also actively quoted Dubinsky. Which is not surprising. His words about default, abandonment of European integration, and the fall of industry perfectly fit into the picture of the world that Russian disinformers paint. They also poured mud on the "freak" Arachamia, who "on the sidelines of the Rada complained to reporters that Viktor Medvedchuk's party does not allow to sell Ukrainian land." The latter was promoted by pro-Russian sites together with clickbait sites, reminding once again that he and his party were the real opposition, which is so frightening the criminal authorities - "For democrats and Soros's nestlings, Viktor Medvedchuk is a figure. (...) turned out the only one who not only did not flee the country, but also is increasing his influence. Look, even the freak Arahamiya accuses him of disrupting land privatization."
"Servants of the people" were going to swiftly pass a law on the sale of land - and they failed!
"Budget Auschwitz": pensions and subsidies
One of the biggest topics for disinformers this week was the economy. They did not tire of repeating the words about the "Budget Auschwitz" that allegedly happens in Ukraine. The reason is low pensions and "Increasing the retirement age" to which "many Ukrainians just will not survive." It should be noted that in Russia the retirement age has been raised since 2019, despite the discontent of pensioners. Raising the retirement age is a normal practice for countries with an aging population with young people entering the workforce later.
Clickbait sites have paid considerable attention to the topic of utility bills. They actively dispersed the horror stories: "They will take your car and refuse you departure abroad - the utility debtors will be brought to a white fever", "They will turn out even those who pay: what awaits the debtors."
Another big topic was the recent decline in industrial production. Disinformers reach the unexpected conclusion that it was related to the pension system: "The task is to push a few million more Ukrainians out of the country and cut a few million more old people from the pension system."
Russian sites targeting Ukrainian topics traditionally attack the NBU. "Inflation and devaluation will sweep away all the NBU's "successes" in one big wave." They also write: "De-industrialization is happening, while the government is telling Ukrainian citizens about the country's successes and the alleged need for economic liberalization."
Finally, we are present a quote in which disinformers have been able to squeeze all the messages with which they shake the situation in the country:
"Every day, Zelensky proves that he is unable to guarantee anything except growing instability. The separation of troops turns into an escalation of the conflict in the area of Zolote village. Promises to reduce utility bills led to their growth. The "new team of pragmatic reformers" actually turned out to be a bunch of cynical money-grubbers, or even completely limited personalities who seized upon fat posts and the state budget. Voter hopes for easing Banderization have been deceived, the Ze team is returning the "trust loan" with a new round of "decommunization", Russophobia, language genocide"
Limitations of the study:
In this study, we only regarded the topics which are in line with Russian disinformation campaigns. Most of them are based on real events, as disinformation works more effectively this way. Topic names reflect manipulations used in the topic. Accordingly, news stories on Ukrainian mainstream sites on the same topic may have completely different content from that of manipulative materials.
We take the topics of Russian propaganda in Ukraine from the following groups of materials:
1) manipulative news from the Russian online publications which write on Ukrainian topics, for the population of the occupied territories
2) manipulative news from those Ukrainian sites where a significant amount of manipulative news has been spotted. This second category is targeted at Ukrainian audiences and publishes a lot of manipulative news of different ideological orientation
3) all news from mainstream Ukrainian publications
4) all materials from mainstream Russian news sites
In the first and second groups of news, the materials were selected by the AI classifier of manipulative news.
Examples of headlines
Briefly about the Rada developments: Dubinsky criticizes, Arakhamia complains, Medvedchuk promotes himself
Ukrainian nationalist savages are hitting bottom after bottom | odnarodyna.org
How weirdos from Western Ukraine force their will on the whole country | e-news.su
Time to send troops to Donbas. Otherwise, how do you withdraw them? Anatoly Wasserman | e-news.su
Servants of the People declare the demise of Ukrainian industry | from-ua.com
"Schemes" investigation into Zelensky's trip to Oman is "Poroshenko's special operation". From now on, "Yermak will have to shovel through this pile of garbage"
Poroshenko's special operation, The infodump about Zelensky and Patrushev allegedly meeting in Oman | proua.com.ua
The infodump about Zelensky and Patrushev allegedly meeting in Oman could be organized by Poroshenko and Medvedchuk | ua24ua.net
«National Corps» threatens to accuse Zelensky of state treason | comitet.su
Zelensky caught, impeachment demanded, New scandal in Ukraine | e-news.su
Poroshenko scared of Yermak and goes at war against him. This didn't happen even under Bohdan | akcenty.com.ua
Zelensky will now implement the Minsk agreements: «patrioteers» seriously scared of Yermak | nahnews.org
Pressuring Russia is futile, it's "on the rise" while the West is "in decline"
Old man going bad. Zhirinovsky "swollen" again. He attacks Kyiv and Lviv now | hyser.com.ua
You decide: Russia offers unambiguous choice to Turkey | rusvesna.su
US lose their world dominance. Europe decides on a union with Russia | nahnews.org
"Budget Auschwitz": pensions and subsidies
Dollar will be getting more expensive. Foreigners stopped dumping currency into Ukraine | укроп.org
They will turn out even those who pay: what awaits the utility debtors | ukrainianwall.com
C: Cynicism. Saga of Zelensky's colonial policy and his Honcharuk. What is RECONQUISTA? - Chaplyha | ua24ua.net
The world will be hit with a financial tsunami stronger than the 2008 storm. Ukraine is in for a disaster | ua24ua.net
Ukraine is in for inevitable default, and that's the mild scenario - expert | kordon.org.ua
Russia must be bargained with - No alternatives to Minsk
«They cultivate the phantom of Russia threat»: Lavrov in Munich criticizes the European Union and world community in general | replyua.net
Medvedchuk: Even Americans say that Ukraine should bargain with Russia | 112.ua
Rada deputies confess that Ukraine is under complete Western governance | nahnews.org
Kyiv refutes Minsk agreements and the Munich "12 steps" initiative | naspravdi.info
Munich Bazaria // Western impotence against Russia and China discussed at the security conference | kommersant.ru
Methodology
We searched for topics in 8306 мmaterials in Russian language from:
16 Russian sites (manipulative materials only), oriented at Ukrainian topics: alternatio.org, anna-news.info, comitet.su, crisis.in.ua, e-news.su, glavk.info, mir-lug.info, nahnews.org, naspravdi.info, nation-news.ru, newsland.com, nk.org.ua, odnarodyna.org, rusvesna.su, ukraina.ru, voenkor.info
66 Ukrainian online publications where over 10% of all news about Ukraine have been spotted as being manipulative (manipulative materials only): akcenty.com.ua, antikor.com.ua, argumentua.com, argumentua.life, baza-pravda.in.ua, begemot.media, bessarabiainform.com, beztabu.net, bin.ua, bn24.biz.ua, censoru.net, dialog.ua, dneprcity.net, expres.life, for-ua.life, from-ua.com, glavcom.life, glavred.life, golos.ua, goruzont.blogspot.com, grom-ua.org, hyser.com.ua, inform-ua.info, ivasi.news, khersonline.net, kievpravda.com, kompromat1.news, kordon.org.ua, most-dnepr.info, most.ks.ua, newnews.in.ua, newsmir.info, odessamedia.net, onpress.info, osp-ua.info, person.org.ua, politjournal.com, politobzor.net, proua.com.ua, prportal.com.ua, replyua.net, rnbee.com.ua, rupor.info, skelet-info.org, sobytiya.info, spichka.news, spzh.news, strana.ua, t.ks.ua, timer-odessa.net, tochkazoru.pp.ua, u-news.com.ua, ua-vestnik.com, ua24ua.net, uazmi.org, ukr.life, ukrainianwall.com, ukranews.life, verhovenstvo.com, versii.com, vybor.ua, w-n.com.ua, xn--j1aidcn.org, znaj.ua
10 major Ukrainian online publications (all materials): 24tv.ua, bykvu.com, gordonua.com, interfax.com.ua, news.liga.net, pravda.com.ua, rbc.ua, segodnya.ua, ukrinform.ua, unian.net
15 major Russian publications (all materials): aif.ru, dni.ru, kommersant.ru, kp.ru, lenta.ru, life.ru, newsru.com, pravda.ru, regnum.ru, riafan.ru, russian.rt.com, slovodel.com, svpressa.ru, tass.ru, vz.ru
Manipulation in news was singled out by our improved AI classifier developed in the project We've got bad news. In the monitoring, we only regarded materials about social and political life which are about Ukraine.
Проект профінансовано National Democratic Institute