Often the electoral geography of Ukraine is narrowed only to the differences between several regions, for example, East and West. This simplification draws artificial boundaries. However, the real picture is much more interesting.
For better experience we recommend to view project on big screen
Let's look at the details and see the behavior of voters in different regions.
This is what the familiar national context looks like: a traditionally high level of support for national democratic forces in the West and the Center, and support for pro-Russian and communist forces in the East and South. But is it really true?
We divided all parties that participated in the parliamentary elections of 2006-2019 into three types:
- national-democratic (typical examples: Nasha Ukraina, Svoboda)
- pro-Russian or communist (Party of Regions, Communist Party of Ukraine)
- populist (Yulia Tymoshenko Bloc, Servant of the People).
Imagine the political preferences of voters in the form of a triangle, where the blue corner indicates the national democratic forces; the red corner, the pro-Russian and communist parties; the yellow, the populist. Any ratio of votes for these three types of political forces can be coded by a point on this triangle.
For example, if voters gave each type of political force 33.3%, we get a position in the middle of the triangle (white dot in the center). This is rare: most likely, some forces will have more support, so the point will shift, respectively, in the direction of the blue, yellow, or red corner.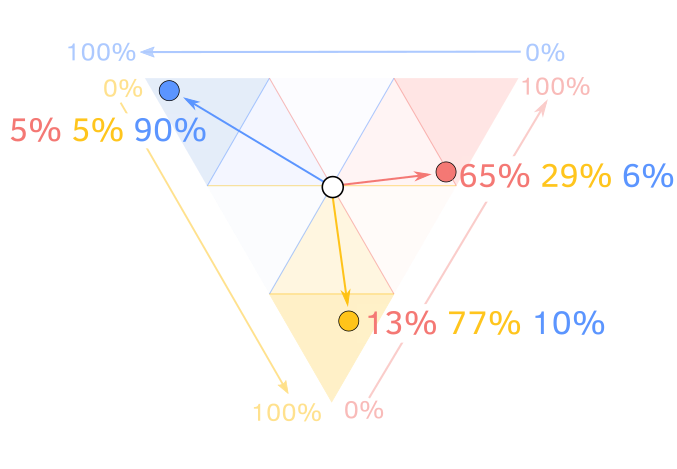 These deviations from the "center" for each polling station in the parliamentary elections are marked on the map by arrow lines, where the beginning of the line is the center of the triangle. The higher the percentage of votes for a particular type of force, the longer and more directed to the appropriate angle is the line. For a quick look, you can simply navigate by color.
In general, both the slope and the color of the lines show the proportion of votes received by the parties in these three directions: the slope to the left or "to the west" (blue arrows) are the national democratic parties; the slope to the right or "to the east" (reds) are pro-Russian; leaning down, the yellows are the populists. Switch between years to compare election results. You can zoom in on the map with the +/- buttons in the upper left corner of the map. One line is one polling station..